Seagal meets Duterte
October 12, 2017 | 4:00pm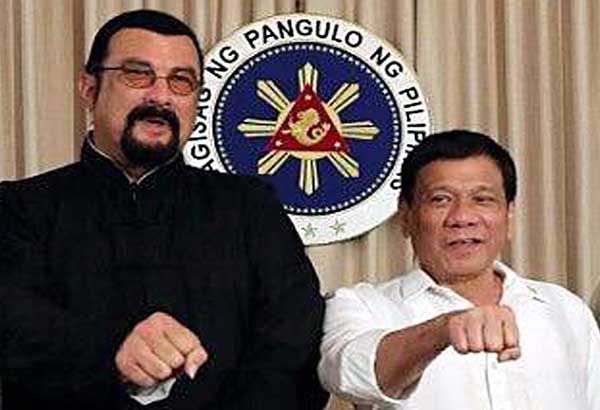 MANILA, Philippines — President Duterte yesterday met with Hollywood action star Steven Seagal who is said to be in the country to look for a location for his new movie.
The 65-year-old actor, accompanied by former Ilocos Sur Gov. Luis "Chavit" Singson, paid a courtesy call on Duterte at Malacañang.
Seagal is doing a movie about illegal drugs and other crimes. Duterte told Seagal that he sees movies as reflections of life.
Duterte infromed the actor that he has a strong campaign against illegal drugs because the problem enslaves people and makes them addicted to a synthetic chemical.
The President said he does not want the Philippines to suffer the fate of many areas in Latin America that were devastated by drug trade and production.
He also told Seagal that he used to have karate lessons.
Before meeting Seagal, Duterte received artist Freddie Luna Cruz, the great grandson of national artist Juan Luna.
Cruz presented a portrait of the President, which he painted last year. He was accompanied by Presidential Consultant for Education Jose David Lapuz.