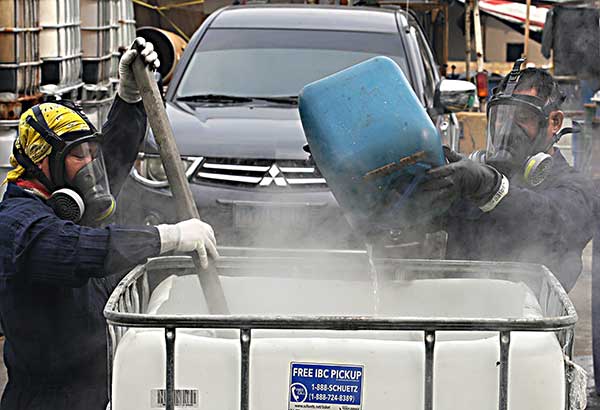 Members of a Philippine Drug Enforcement Agency team add neutralizing agents to shabu precursors as seized chemicals, materials and equipment for manufacturing illegal drugs are destroyed at a facility in Barangay Punturin, Valenzuela yesterday. MICHAEL VARCAS
PNP ends Tokhang, Double Barrel
MANILA, Philippines — The Philippine National Police (PNP) yesterday ceased its operations against illegal drugs following President Duterte's order for the Philippine Drug Enforcement Agency (PDEA) to take the lead in the government's campaign.
PNP chief Director General Ronald dela Rosa said the police would now focus on addressing the killings by motorcycle-riding gunmen, internal security operations and counterterrorism.
This means "Oplan Tokhang," the flagship campaign against illegal drugs, will be halted along with "Oplan Double Barrel Reloaded" and other anti-drug operations in the field, Dela Rosa said.
"All drug enforcement units, from police regional offices down to police stations, are hereby dissolved," PNP operations chief Director Camilo Pancratius Cascolan announced yesterday.
Cascolan said all information gathered by the police and pending surveillance operations related to illegal drugs must be transferred to the PDEA.
"Absolutely, the PNP is hands off in the anti-illegal drugs campaign," Cascolan said.
The PNP's Drug Enforcement Group will remain operational, but its functions are now limited to monitoring and immediate submission of drug-related intelligence reports and information to PDEA.
"If they have good intelligence information, they will just pass it on to PDEA," Dela Rosa said.
Police officers can still arrest drug suspects, provided the offense is continuing. However, the arrested suspects will be immediately turned over to PDEA.
Dela Rosa lamented the opportunity lost to put a stop to the drug menace.
PDEA has fewer than 2,000 officers while the PNP has more than 175,000 personnel, who Dela Rosa said would be taken off the campaign against illegal drugs.
"But this needs to be done. We have to follow it," Dela Rosa said, referring to Duterte's order.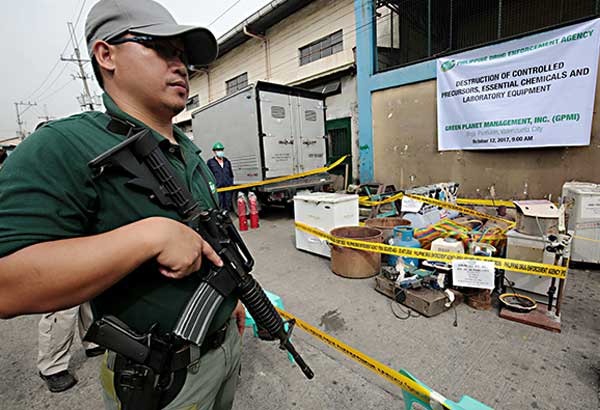 Photo shows a PDEA agent guarding the compound.
MICHAEL VARCAS
Police have reported killing 3,850 people in anti-drug operations since Duterte took office in June last year. He stormed to an election victory after promising 100,000 people would die as he eradicated illegal drugs in society.
Duterte has said as president, he would be "happy to slaughter" three million drug addicts and repeatedly vowed that police would not go to jail for killing in his drug war.
The crackdown, however, has triggered wider violence, with thousands of other people being murdered in unexplained circumstances that rights groups partly attribute to vigilante death squads.
Many Filipinos continue to support the crackdown but a survey last month showed the first major drop in Duterte's popularity, which followed protests triggered by police allegedly murdering two teenagers.
On Wednesday, relatives of two people killed by police filed a case in the Supreme Court calling for the drug war to be declared illegal, likening events in the Philippines to the holocaust in Nazi Germany.
The PNP replied its anti-illegal drugs campaign is consistent with the country's laws.
"We don't see any part of the campaign plan to be unconstitutional or illegal," PNP spokesman Chief Supt. Dionardo Carlos said.
Presidential spokesman Ernesto Abella said Malacañang welcomes the filing of the case as "an opportunity to present the legal and policy basis for the nation's war on drugs."
"In other words, there is now an elevation of the campaign against illegal drugs and so, PDEA has now widened its scope," he said.
Policy shift
Duterte yesterday read a two-page memorandum reminding the PNP that they would be taken off the illegal drugs campaign.
PDEA will take the lead but police must maintain "visibility" as a deterrent against traffickers and users, according to his presidential order.
After reading the memorandum, Duterte told the audience at the launching of a new press briefing site in Malacañang that the United Nations and the "bleeding hearts" in the international community would be satisfied with his decision to remove the PNP from the war against drugs.
Duterte in January made a similar move to give the appearance of sidelining the PNP, describing the police force then as "corrupt to the core" and giving PDEA the lead role in the drug war.
This was in response to revelations officers kidnapped a South Korean businessman under the guise of a drug raid, then murdered him at PNP headquarters.
However, Duterte quickly reinstated the PNP without making any major reforms. Police then announced they were back fighting the drug war with a campaign named "Double Barrel Reloaded."
Malacañang said the shift in policy against illegal drugs does not mean the PNP failed in the campaign.
"It's not a question of failure, it's a question of more effectivity, optimizing the efforts, and they are widening the scope of responsibility," presidential spokesman Ernesto Abella said.
He said the change of operations from PNP to PDEA came after authorities had reported a decline in the street distribution of drugs.
"So we now target higher echelons of the syndicates as well as their protectors in government," Abella said.
He said PDEA would bring the war on drugs to a new level.
"PDEA will also lead in establishing a broad anti-drug coalition, working with agencies, local government units, civil society, church, business, academe and media to push prevention and rehabilitation initiatives," Abella said.
In a forum, Duterte read the memorandum he signed on Wednesday, directing the PNP, along with the National Bureau of Investigation, Armed Forces of the Philippines as well as the Bureau of Customs, Philippine Postal Corp. and all other agencies to refrain from spearheading drug operations. – Christina Mendez, Rhodina Villanueva, AFP