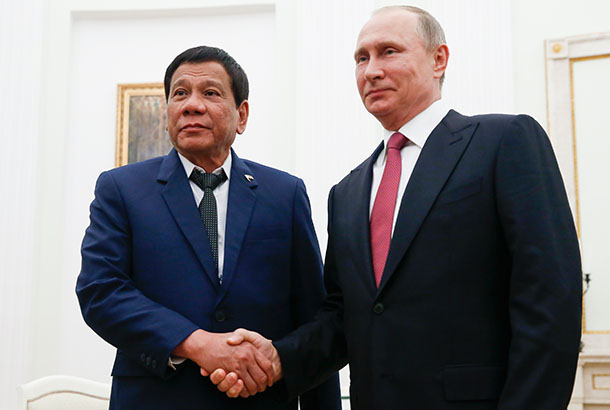 Russian President Vladimir Putin, right, shakes hands with Philippine President Rodrigo Duterte during their meeting at the Kremlin in Moscow. Maxim Shemetov/Pool Photo via AP, File
Duterte says military can expect 5,000 rifles from Russia
(philstar.com) - October 11, 2017 - 10:34am
MANILA, Philippines (Updated 9:11 p.m.) — President Rodrigo Duterte on Wednesday said the Philippine military could expect 5,000 automatic rifles and 20 Army trucks from Russia as troops continue to battle ISIS-linked terrorists in the southern city of Marawi.
Duterte said Russian officials agreed to provide the Philippine military 5,000 Kalashnikov rifles during his visit to Moscow last May.
"We went there (in Russia) almost just below 24 hours. We will have the Kalashnikov…(They will provide) 5,000 (rifles)," Duterte said during the groundbreaking ceremony of Scout Ranger Ville in San Miguel, Bulacan.
"So yung pag 5,000 sa inyo ang baril siguro Kalashnikov na. Mag-aral na lang kayo ng Russia para makumpleto niyo."
Security officials told Duterte that the donation was supposed to be a secret but the president made the announcement nevertheless.
"Expect the arms to come in… It's useless keeping it a secret. Anyway, a lot of people they'll know if they dock the ships there. They will ask what is being discharged," he said.
First developed and manufactured in Russia during World War II, AK-47s or Kalashnikovs, named after its inventor Mikhail Kalashnikov, was later replicated and mass-produced by China.AK-47s or Kalashnikovs, named after its inventor Mikhail Kalashnikov, was later replicated and mass-produced by China.
Last May, Duterte
flew to Russia for a four-day 'landmark' visit
to seal bilateral agreements on security, legal assistance and trade. But he was prompted to cut short his five-day visit in Moscow after a band of homegrown terrorists overran Marawi City on May 23.
The agreements include defense cooperation, military and technical cooperation, a treaty on mutual legal assistance in criminal matters, a treaty on extradition and a memorandum of understanding on cooperation in the field of security between the two countries' national security councils.
Defense Secretary Delfin Lorenzana, who also took part in the groundbreaking ceremony in Bulacan, told reporters that a Russian ship would deliver the rifles and other equipment on October 22.
Meanwhile, the official turnover of Russian equipment and arms would be on October 25, Lorenzana said, adding that the armaments were donated by Russia to the Philippines with no conditions attached.
"Ang mga equipment na ibibigay nila sa atin ay 5,000 Kalashnikov rifles. It has about one million rounds ng bala at saka 20 units ng army trucks, yung malalaking truck. Yun ang ibibigay sa atin," Lorenzana said.
"Grant iyan at no cost. Gusto nilang tumulong sa atin to fight terrorism. Sila rin kasi is also fighting terrorism sa kanilang bansa and they want to help the worldwide fight against terrorism. Iyan ang kanilang rason," he added.
Asked if Manila and Moscow are open to the possibility of holding joint military exercises, Lorenzana said such cooperation could happen in the future. However, both countries are yet to ink a defense agreement, he also noted.
"Wala pa tayong agreement for that. Pero ang sabi nila, kung wala pang agreement na hindi sila makapunta dito, pwede na tayong magpadala sa kanila. Small groups lang. Siguro squads or platoon to of course observe their exercises. And then later on to participate," the defense chief added.
The Philippines, a former American colony, had been one of the United States' key allies in the Asia-Pacific for decades. The two nations are bound by a mutual defense pact.
But Duterte has sought to realign Manila's diplomatic and defense alliances toward China and Russia, while repeatedly threatening to reduce or even junk ties with Washington after former US President Barack Obama criticized Manila's deadly drug war.
After repeatedly cursing at the US for supposedly meddling with the Philippines' affairs, Duterte recently said
he is now adopting a friendlier stance
toward Washington as he acknowledged that the superpower has been helpful to the Philippines.
As Filipino security forces struggle to liberate a small pocket of Marawi City from the hands of Islamist militants, the Philippines turned to the United States to train its soldiers in urban warfare, according to the US Embassy in Manila.
Meanwhile, in the same media interview, Lorenzana said he expects the Marawi siege to end "in the next few days."
"Ang sabi ng mga commanders doon three days ago, tatlong ektarya na lang ang kiniclaim nila. That was three days ago. So ngayon baka isang ektarya na lang. So baka within the next few days, we hope na matapos na iyan," he said. — with Alexis Romero who reported from San Miguel, Bulacan