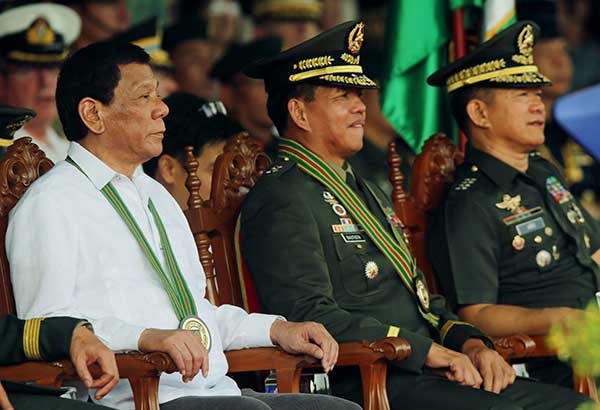 President Duterte sits with new Army chief Maj. Gen. Rolando Bautista during a change of command ceremony at Fort Bonifacio in Taguig yesterday. At right is Armed Forces chief Gen. Eduardo Año. KRIZJOHN ROSALES
Duterte to troops: Oust me if I lie to you
(The Philippine Star) - October 5, 2017 - 4:00pm
MANILA, Philippines — Badgered by critics for allegedly lying about his wealth, President Duterte is inviting the military to oust him if he is proven to be a liar.
"Please oust me if I tell a lie to you," Duterte said in remarks before officers and men of the Philippine Army at change of command ceremonies yesterday.
Duterte attended the transfer of command of the Philippine Army from Lt. Gen. Glorioso Miranda to Maj. Gen. Rolando Bautista.
The President said the military should not be affected by criticisms against him specifically regarding his alleged ill-gotten wealth that opposition Sen. Antonio Trillanes IV wants investigated.
"Never mind my politics. Pang-ano lang 'yan, pampatawa lang 'yan (It's just to make you laugh). May trabaho… never mind about 'yung ano… huwag kayong maniwala dyan (My job… never mind about it, don't believe it)," he said, referring to claims by his detractors.
Duterte repeated his statement that he is ready to step down in case a big faction of the military declares a junta. He also reiterated that his wealth could never exceed P40 million "and that is my lifetime savings, including my hereditary properties, guns."
The President also told members of the Philippine Army to be "loyal to the flag" rather than to personalities.
On Wednesday, Duterte declared his critics from the Liberal Party are conspiring with communist rebels to remove him from post.
"Maintain your loyalty to the Constitution and to the flag. Do not nurture a personal or a person diyan. Kaming lahat diyan sa gobyerno, dumadaan lang (We in the government are just passing through)," Duterte pointed out.
"But it behooves upon you, I said, to see to it that this country will grow, prosper until the end of time," he said.
AFP perks
In the same event, Duterte also reiterated that he has prioritized the modernization of the Armed Forces of the Philippines and has ordered the increase in salaries of the police and the military, effective January.
"I would want to leave the presidency with a strong Army and a strong police," he said.
In his speech, Duterte also cited the need to improve the country's infrastructure and airports to allow the country to continue in its path to prosperity.
"And I know that my Armed Forces and my police, PNP need to upgrade and new equipment to cope with the present challenges of today, especially terrorism," Duterte said.
At the same time, he bewailed the loss of many innocent lives in the battle to liberate Marawi City from IS-inspired Maute group terrorists.
"And that is why to show my solidarity with you and of course the pain that I… my soldiers and my policemen are dying. And that is why if I could make it sometimes, I go to Marawi just to be with you and talk to you," he said.
Duterte said he feels the sacrifice of the soldiers and the people they are fighting for as he is the one who declared martial law in Mindanao.
"Because I declared martial law. I sent you there for some to die, to be brutal about it. I do not want it. I would never have thought I would have done it," he added.
Duterte justified anew the need for an iron hand response to quell terrorism in Mindanao.
"But because of the terroristic activities all over the world, we have to meet the challenges and in the process, talagang i-declare ko or else, I will be impeached for not only ignorance but maybe the outright gross negligence of a President," he said.
He maintained he needed to impose martial rule "for the higher interest of the nation because our duty, my duty are fundamentally the same," he said.
In his remarks, Duterte sounded like he was ruling out a peace deal with communist rebels, which he said is "not good for the country."
"You can just imagine we are fighting the New People's Army (NPA). At this stage, I am not ready to talk to them," Duterte said.
"If it's for the nation, it would be okay. But the way that it is now… maybe it would take some time to, maybe another president to do it," he added.