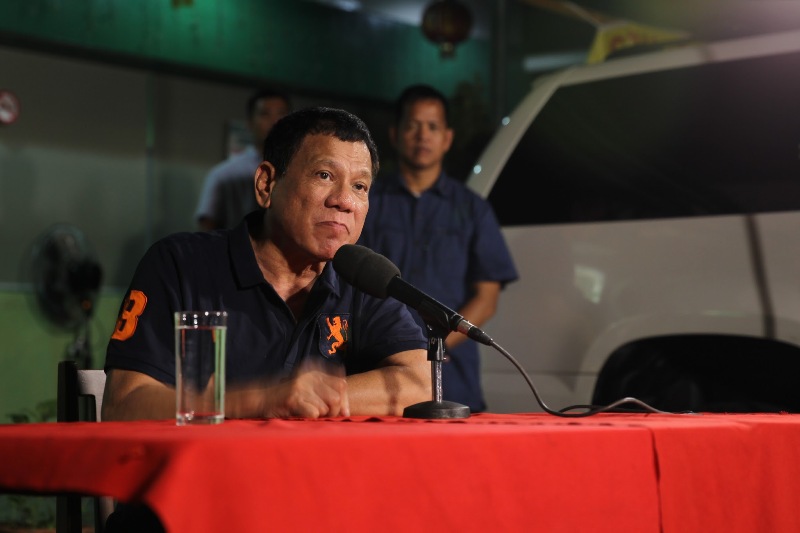 Members of the political opposition, communists and other groups said yesterday President Rodrigo Duterte had been accusing his critics of destabilization attempts or plotting to oust him every time he needed to divert public attention from scandals hounding his administration. PPD/Karl Norman Alonzo, File
LP senators, Reds deny conspiracy to oust Duterte
(The Philippine Star) - October 5, 2017 - 4:00pm
MANILA, Philippines — What else is new?
Members of the political opposition, communists and other groups said yesterday President Duterte had been accusing his critics of destabilization attempts or plotting to oust him every time he needed to divert public attention from scandals hounding his administration.
Senators Francis Pangilinan and Paolo Benigno Aquino IV of the Liberal Party both stressed there was no truth to the President's allegations and that a year since Duterte assumed office, all he could say when bombarded by criticisms was that he was being forced out by the yellows and now by the Reds or communists and other groups in a conspiracy against him.
Pangilinan, LP president, described Duterte's allegations as a "fake ouster plot."
"They're (administration) just looking for something to divert attention of media and the public from the controversies of corruption, drug smuggling of the Davao group, and the ineffective war on drugs that only resulted in killings every day," Pangilinan said.
Pangilinan and Aquino bewailed Duterte's lack of tolerance for dissent as they noted how he had been harassing those criticizing him.
Pangilinan said the government will become a dictatorship if the people will not take action. He said LP members will hold a meeting in the coming days to discuss the party's next course of action amid Duterte's persecution of them.
Sen. Panfilo Lacson, who belongs to the majority in the Senate allied with the President, said he was perplexed by this claim of Duterte because it was lacking in basis.
Lacson doubted that a people power movement would be possible at this time when the President continues to enjoy a very high approval and trust rating at around 82 percent.
Lacson added the military component, which is essential in any move to remove a president, was also not present. He noted that Duterte continues to have a strong relationship with members of the Armed Forces of the Philippines.
To top it all, Lacson and Pangilinan pointed out that two of the the country's top security officials, Defense Secretary Delfin Lorenzana and Armed Forces of the Philippines chief of staff Gen. Eduardo Año have both stated that they have not received any information about a plot to remove the President.
"During our hearing on the budget of the DND (Department of National Defense), categorically, Senator (Antonio) Trillanes (IV) asked if there was a move to destabilize and both the the DND and AFP leadership, both Secretary Lorenzana and AFP chief Año said there was none," Lacson said.
"So there's no basis. I don't know if something cropped up between then and now, because he is saying this, if he received a new intelligence report," he added.
The militant Bagong Alyansang Makabayan, the Communist Party of the Philippines and Tindig Pilipinas, a newly created cause-oriented group, also said there was no conspiracy between the Reds, yellows and other groups.
Tindig Pilipinas said Duterte is resorting to his "usual propaganda" as calls for him to sign a bank waiver to answer once and for all the allegations of Trillanes that he amassed ill-gotten wealth while he was still an official in Davao City mounted.
Pangilinan also said it is not a destabilization move when they ask for the truth about the P6.4-billion shabu shipment that sneaked into the country early this year.
"If at all, it exists as a product of his creative imagination," Tindig Pilipinas said, adding the government must learn to respect people's exercise of their democratic rights.
Aquino also said Duterte had been coming out with fabricated statements like the bank accounts of Trillanes, which the President later admitted inventing.
Bayan said "the President is the one creating his own ghosts" as it pointed out that the group is part of a broad movement fighting tyranny and a return to dictatorship.
Bayan and CPP said there was no such thing as alliance between LP and communists.
"It (Bayan) stands against extrajudicial killings, martial law, and political repression under the Duterte regime," Bayan secretary-general Renato Reyes said.
He added the broad movement involves different groups and personalities with different political affiliations. "Church groups, students and artists are also part of the growing movement."
"The movement has always been transparent with its goals. The #LunetaRally was no conspiracy," Reyes said.
Reyes said Duterte should explain why the Department of Justice is backing what appears to be a pro-Duterte vigilante group in the form of the Citizens National Guard, which listed the yellows or the political opposition and communists as enemies of the state.
"Also, more alarming than the imagined Left-Yellow conspiracy is the proliferation of disinformation using government resources," Reyes said.
The CPP also foresees a clampdown on the political opposition with the alleged conspiracy being peddled by Duterte himself.
"It appears that such claims aim to set the stage to clamp down on the political opposition and all other forces standing up against moves to establishing Duterte's authoritarian rule," the CPP said.
The CPP added "what Duterte claims to be a 'conspiracy' is, in fact, the broad community of various political and social groups which have been roused to make a stand and act against relentless killings by police, soldiers and vigilantes, aerial bombardment against communities, militarization and threats to bomb Lumad schools, suspension of the writ of habeas corpus and martial law in Mindanao, heightened campus repression and other acts of fascist tyranny of the Duterte regime." – With Rhodina Villanueva, Jose Rodel Clapano, Artemio Dumlao