Trillanes claims Duterte had P2 billion in bank transactions
October 3, 2017 | 11:36am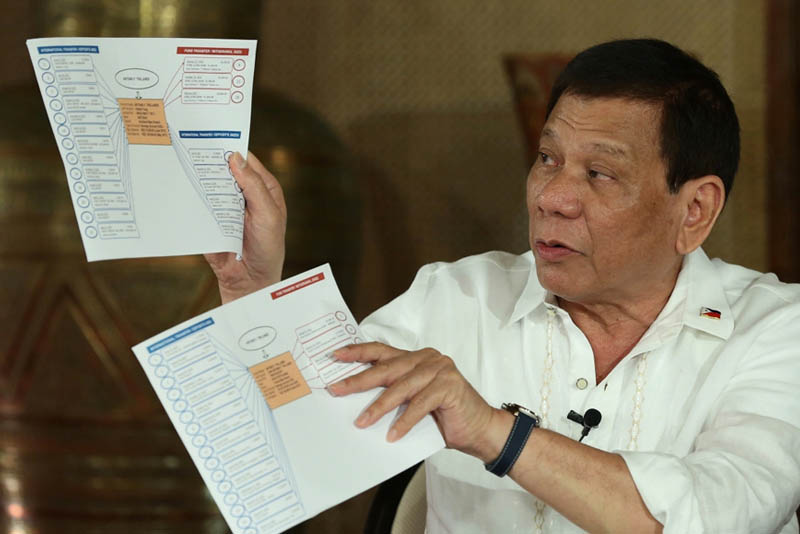 MANILA, Philippines (Updated 10:57 p.m.) — President Rodrigo Duterte and his family have more than P2 billion worth of questionable transactions in their bank accounts, according to Sen. Antonio Trillanes IV, as the senator continues to challenge the chief executive to sign waivers that would allow the scrutiny of his bank transactions.
Trillanes also reiterated his call for the president to sign a waiver that would pave the way for the probe of these accounts which could prove Duterte's guilt or innocence.
"Para malaman kung totoo ito o hindi at para malinis mo yung pangalan mo dun sa mga naniniwala pa sa'yo na hindi ka kurakot lalo na yung mga sundalo at PMAer, yang mga sundalo na sinusubo mo ngayon dyan sa gyera sa Marawi," he said in a privilege speech on Tuesday.
"Ipakita mo na hindi ka kurakot. Pirmahan mo ang waiver."
Trillanes alleged that the president's supposed accounts had 13 deposits of P50 million or more every April and October from 2006 to 2015.
"Hindi po ito kampanya. Hindi po ito campaign funds. Hindi rin po ito yung sinasabi niyang college student pa lang siya meron na siyang P3 million. Itong flagged accounts na ito nagsimula ng 2006 up to 2015," Trillanes said on the Senate floor.
There were also 21 transactions involving the deposit of between P40 and P50 million during the said period, according to the senator.
"Ang highest amount of transaction in a single day ay P193 million. Ito ay nangyari noong Oct. 7, 2013," he said.
Trillanes also bared that a certain Samuel Cang Uy, whom he described as a close friend of the Duterte family, deposited at least P10 million in the bank accounts of his children and partner Honeylet Avanceña every six months.
This happened for a period of more than two years and totaled P118 million, according to Trillanes, one of the fiercest critics of the president since last year's national election campaign.
Duterte, a former Davao City mayor, also bought insurance worth P20 million for each of his four children, for a total of P80 million, on April 1, 2014.
He bought these using actual cash, according to the senator.
The total amount of these transactions from Sept. 2006 to Dec. 2015 was P2 billion, which, according to Trillanes, was highly questionable since Duterte was just the mayor of Davao City then and did not have any business.
"From Sept. 2006 to Dec. 2015 total amount of credits ay tumatagingting na mahigit na P2 billion. Yan po ang pera ni Mr. Duterte," said the senator.
He also mocked the president's vow before soldiers that he would allow himself to be shot should more P40 million was found in his bank accounts.
"Kung makikita ito ng mga sundalo M-16 na machine ang gagamitin sa'yo kasi marami ito kasi mauubos yung magasin kung P40 million ang hinahanap mo," Trillanes said.
Trillanes has been a thorn in the side of the president since last year when he accused Duterte of owning P211 million in an account in the branch of the Bank of the Philippine Islands in Julia Vargas, Pasig City.
He has also accused a president's son and son in law of owning hundreds of millions of pesos in several local banks, a claim they denied.
The president has also turned the table on the senator and claimed that he had several offshore accounts.
Trillanes was able to disprove that he did not have a DBS account in Singapore, and Duterte later admitted "inventing" the account number supposedly to fool the senator.
More recently, the chief executive claimed that Trillanes had closed his DBS account online before he went to Singapore to dispute his claims.
However, a spokesman for the Singapore bank said that closing one's account online was not possible as this should be done at the home branch.