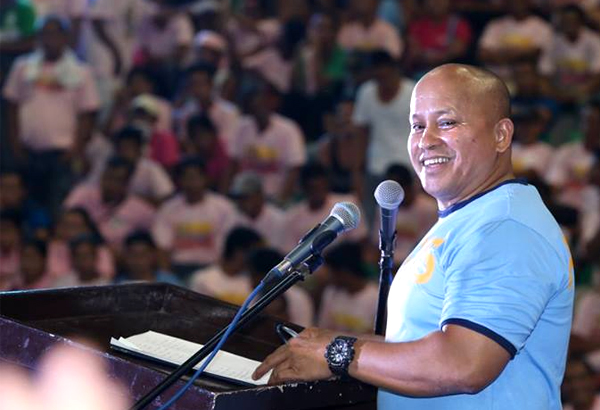 For police chief Bato Dela Rosa, critics to the government's drug war are ingrates. File Photo.
Bato to critics of drug war: "Inggrata kayo"
(philstar.com) - October 2, 2017 - 4:00pm
MANILA, Philippines—Critics to the government's war on drugs are ingrates, according to Philippine National Police Director General Ronald "Bato" Dela Rosa.
In an ambush interview at the sidelines of an LRTA event, Dela Rosa told critics: "You can criticize us to high heavens, but I can tell you straight sa mata: Inggrato kayo."
"Nakinabang din kayo sa peace and order na dinulot ng war on drugs. You can criticize us… Inggrato kayo," Dela Rosa added.
The police chief said that he is not addressing a specific person, but are addressing critics in general.
"Mga anak mo, pumapasok na walang kaba, walang takot dahil bihira na ang krimen sa kalsada," Dela Rosa added.
According to the SWS Survey on the second quarter of 2017, there are fewer Filipinos fell victim to common crimes but fear of crimes remains. Respondents fearing unsafe streets eased a bit in Metro Manila and Balance Luzon, but went up by 13 points in Mindanao, President Rodrigo Duterte's home region, to 55 percent.
According to the latest statistics released by the PNP, there are 6,225 drug-related deaths since July 2016.
But human rights group tally more than 12,000 deaths under the 15 months of the administration's war against illegal drugs.
Drop boxes are only a starting point
Dela Rosa also assured that the newly institutionalized use of "drop boxes" nationwide to collate information on drug syndicates and suspects only serves as a starting point.
"Hindi naman ibig sabihin na lahat ng nasa drop box, kino-consider na totoo," Dela Rosa said, adding: "At least, may starting tayo."
He illustrated that someone can put in a name because "kalaban kita o karibal kita sa chicks," not because one is believed to be involved in the illegal drugs.
The authorities will then "validate kung talagang drug pusher."
The Commission on Human Rights has immediately flagged the move of the DILG as susceptible to abuses. "This also violates the right of any person to be head before he/she is condemned. A person's honor, as well as the reputation of his/her family, would also be harmed," the CHR said.
The death of 17-year-old Kian Delos Santos, believed to be in the hands of Caloocan cops has sparked public outrage.
During the Senate probe on Delos Santos' killing, sacked Caloocan police chief Senior Superintendent Chito Bersaluna said they "validated" the teen's alleged drug involvement through some social media posts after he was killed.
According to the defense of the sacked Caloocan cops filed before the Department of Justice, Delos Santos also brought death upon himself. Their counter-affidavit reads: "[I]f Kian Delos Santos did not involve himself in the illegal drug activities, then he would not be involved in any 'Oplan Galugad' and he does not need to open fire at our patrolling drug officers."
No case or complaint was filed against Delos Santos before he was killed on August 16.