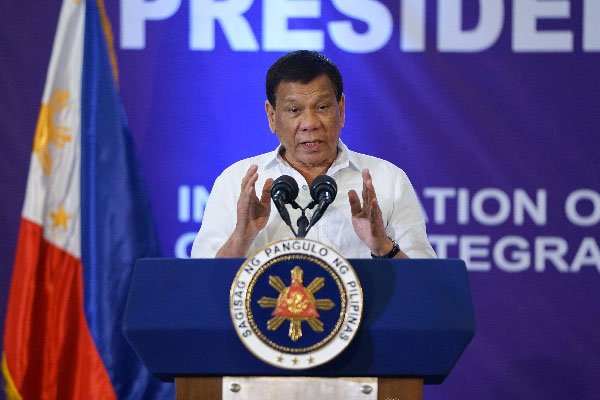 President Rodrigo Duterte, in his speech during the oath taking ceremony of the newly installed officers and members of the Integrated Bar of the Philippines (IBP) Davao City Chapter at the SMX Convention Center in Lanang, Davao City on September 30, 2017, reiterates that he will enforce the law equally to any citizen in line with his intensified campaign against illegal drugs. PCOO/Released
Deputy ombudsman: Duterte wealth probe treated with 'confidentiality'
MANILA, Philippines — The overall deputy ombudsman maintained on Monday that the Office of the Ombudsman had observed confidentiality in its probe into the alleged bank accounts that President Rodrigo Duterte supposedly co-owned with his children.
According to Overall Deputy Ombudsman Melchor Carandang, their investigation was in relation to a complaint filed even before the 2016 elections or before Duterte won the presidency.
Carandang said that he was perusing the documents shown to him by journalists in responding to media inquiries on the status of the complaint more than a year after its filing and in stating that the ombudsman had requested the Anti-Money Laundering Council to provide a report on the president's bank transactions as part of its investigation.
"Overall Deputy Ombudsman Melchor Arthur Carandang maintains that the Office of the Ombudsman has observed confidentiality in the Ombudsman investigation on the complaint against then Mayor Rodrigo Duterte, which complaint was filed, in fact, even before the 2016 elections," Carandang said in a statement released to the media.
In a speech before members of the Integrated Bar of the Philippines in Davao City, Duterte accused Carandang of going "public" with documents which he claimed were "falsified."
The president said that Carandang disclosed the said documents to the public despite knowing that the Anti-money Laundering Council had not given authority to release them.
"Sabi ng money laundering, ba't may nagkuha doon sa loob, binigay kay Trillanes, binigay kay Carandang, p***** i**** Carandang ka, you are holding a fabricated, to your sorrow, you will realize that," he said.
Duterte also wondered why his case was prioritized over those that had been pending with the ombudsman for a long time, accusing the office of "selective justice."
The chief executive also threatened Carandang to "pray" if the country would be enveloped by chaos because of his actions as he shunned recognizing the jurisdiction of the anti-graft agency over his case.
"Imagine this, Carandang, mag-, magdasal ka lang, Carandang. I'm not threatening you. Pagka nagkal****-l**** ang Pilipinas, uunahin kita," the president said in his expletive-laden speech.
Last week, Carandang, in an interview with reporters, said the ombudsman was launching a fact-finding probe into the supposed presidential bank accounts.
The overall deputy ombudsman claimed that based on the report they received from the AMLC, the said first family accounts had millions of pesos.
The watchdog of the Bank Sentral ng Pilipinas had denied that it was the source of the report, saying that it has yet to evaluate and act on the request of Carandang for the accounts' history to be investigated contained in a letter the AMLC received on September 6.
Presidential Legal Counsel Salvador Panelo cautioned Carandang against disclosing the details of the president's accounts, saying that he might face administrative cases for this.