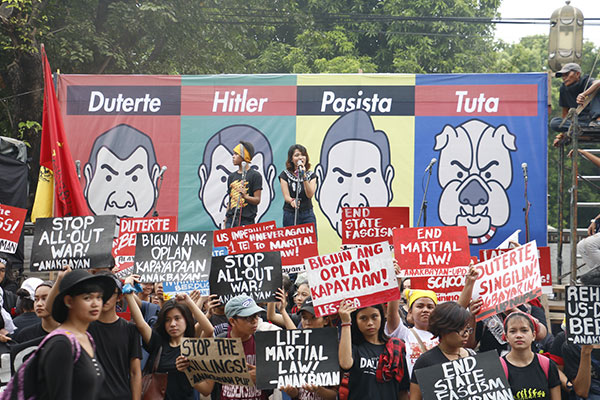 In this Sept. 21, 2017 file photo, the stage where rallyists held a program bore the words "Duterte, Hitker, Pasista, Tuta." The latter three words are staple chants during protests. Philstar.com/Efigenio Toledo IV
PUP activists slam alleged gov't attack on students' rights
MANILA, Philippines — A number of student activists and organizations of the state-run Polytechnic University of the Philippines decried the alleged government-led "repression" of students.
The group called Movement Against Tyranny on Wednesday reported that the students' rights in PUP are "under attack."
This was after outraged students and organizations raised alarm over the alleged "wave of actions" perpetuated by the PUP President Emmanuel De Guzman. The students described the supposed actions as "tyrannical" and "Marcosian."
"Kumakaharap tayong mga iskolar ng bayan sa papatinding hamon. Pinapatay ang mamamayan habang inaatake ang ating mga demokratikong karapatan. Kinakailangan ang ating mapagpasyang pagtindig at paglaban," Anakbayan PUP said on a Facebook post.
"Tumitinding represyon at panggigipit sa mga iskolar ng bayan. Upang pigilan ang lumalakas na paglaban ng kabataan at mga iskolar ng bayan, pinatitindi ang represyon sa mga estudyante lalo na sa PUP," it added.
Among the concerns raised by the students were:
Student regent removed, replaced by admin-appointed representative

Admin closed down student offices and tambayans; took over campus publications

Mandatory ROTC for Senior High School Students, mandatory drug-testing

Implementation of "no overnight policy" to students

Student council elections suspended

New fees, mandatory uniform implemented

Police forces deployed in campus
During the National Day of Protest last September 21, PUP student activists were among those at the forefront of youth protests against President Rodrigo Duterte. They protested Duterte's martial law and extrajudicial killings.
Due to this, the Movement Against Tyranny said student leaders "are being targeted by the government through the PUP administration in an attempt to weaken the growing anti-fascist protests."
"The campus security personnel nailed the doors of the student office shut, forcibly removed the students and threatened that they will be arrested and brought to the police if they try to assert their rights," Rejhon Modesto, president of Alyansa ng Nagkakaisang Konseho ng Polyteknikong Unibersidad ng Pilipinas said.
Modesto added that the board of regents Karl Paulie Araneta was ousted because he allegedly represented the student opposition to the administration's plans to implement new fees and policies and "takeover student institutions." On the other hand, the control of campus student publications will pave way for the control of funds, printing and distribution, among others.
"They are attacking student organizations to be able to implement corrupt fee collection schemes and policies," Modesto said.
The student leader claimed that the university administration have collected tuition fees and other school fees despite the prohibition. He cited energy, exam and facility rental fees.
In a report by Interaksyon, however, De Guzman denied the student leaders' claims that they replaced Araneta. He said the regent's term had ended last March 2017 and he turned out not to be enrolled for a year making him disqualified from holding the post citing the Republic Act 8292 on regent post.
"They hid the fact he wasn't enrolled," De Guzman told Interaksyon in a phone interview.
Modesto thinks the government is behind the alleged movement against students.
"We think Malacañang and their agents are behind these dirty tricks aimed at terrorizing Iskolars ng Bayan. They are terrified by the growing youth movement calling for an end to tyranny, dictatorship and fascist rule. If the Duterte minions think they can scare us, they are dead wrong," the student leader said.
The student activists and organizations then called for nationwide campus protest against repression and fascism as well as other issues such as extrajudicial killings, national ID system, oplan tokhang and martial law, among others.
The campus protests are slated on September 29 and October 6. The first is a walkout protest against fascism and repression while the second is a student's protest against martial law and repression.