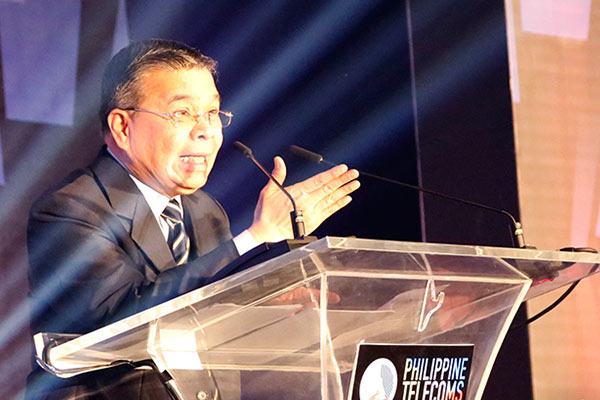 "Good governance being the North Star of the Duterte administration, Mr. Salalima may want to shed light on certain incidents in the department he once headed," Presidential spokesman Ernesto Abella said. i.gov.ph, File
Ex-DICT chief dared to substantiate corruption claims
Helen Flores
(The Philippine Star) - September 23, 2017 - 4:00pm
MANILA, Philippines — Malacañang yesterday challenged resigned Department of Information and Communications Technology (DITC) Secretary Rodolfo Salalima to substantiate his claims that he opted to leave the Cabinet of President Duterte due to corruption and interference.
"Good governance being the North Star of the Duterte administration, Mr. Salalima may want to shed light on certain incidents in the department he once headed," Presidential spokesman Ernesto Abella said.
Abella was reacting to reports quoting Salalima as telling employees of the DICT that he resigned from office due to "corruption and interference."
Salalima yesterday bade farewell to DICT employees. He read the letter of resignation he submitted to the President.
"In public service, there are things we should do because it is the right thing to do. Similarly, there are things we should not do because it is not right to do so. Never must we surrender our morality for transient happiness. There is nothing better than love of country. There is nothing better than love for the Filipino people," Salalima said.
He reportedly tendered his resignation last Thursday.
Duterte said Salalima resigned out of "delicadeza," and confirmed he submitted his letter of resignation on Wednesday night.
Duterte said he is looking for the best replacement for Salalima, who formerly worked as chief counsel of a telecommunications firm and was his classmate at the San Beda law school.
Abella said Salalima cited personal and work-related reasons for his resignation.
One of the reasons the President reportedly cited was "conflict of interest" as the basis for Salalima's resignation.
Sen. Ralph Recto urged Duterte to immediately appoint a new DICT secretary to replace Salalima.
Recto stressed continuity in the appointment of a new DICT secretary so that there would be no disruption of the projects and reforms in the ICT sector.
He said the DICT should have a deep talent pool from which the President can choose a replacement.
According to Recto, broadband should be considered as the third utility behind power and water because of its importance in the daily lives of people.
In the national budget, Recto noted the government has allocated billions to provide fast, free and fair internet connections for the people.
"So I hope that the DITC, despite being the youngest department, has a deep talent pool from where secretary Salalima's replacement will be picked so there will be no, to use a telco term, service interruption," Recto said.
"In the government's 'Build Build Build' we should not only make mortars, but also portals. Not just roads but also information highways," he added.
Recto urged the President "to make sure that the new DICT secretary he appoints will not only be able to realize this campaign promise of his but also work in making internet fast and reliable." – With Marvin Sy, Rainier Allan Ronda, Edith Regalado