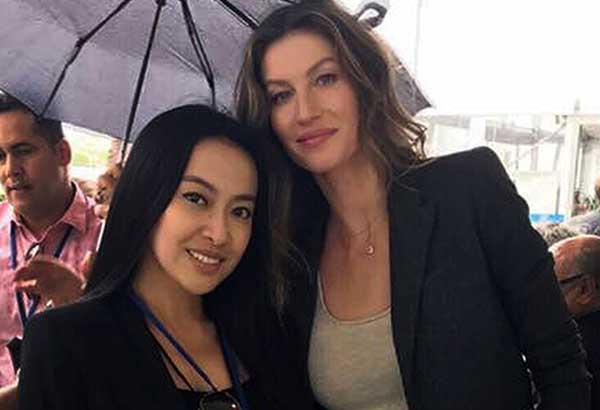 Photo from Mocha Uson's blog shows the PCOO assistant secretary with Brazilian supermodel Giselle Bundchen, an ambassador of the United Nations Environment Program, at the UN headquarters in New York City on Sept. 20.
Trillanes sues Mocha for cyber libel
MANILA, Philippines — Sen. Antonio Trillanes IV yesterday filed criminal and administrative charges against Communications Assistant Secretary Esther Margaux "Mocha" Uson for reporting online his alleged bank accounts.
"The era of fake news is over," Trillanes said after submitting a 20-page complaint before the Office of the Ombudsman.
In the administrative charge for grave misconduct, Trillanes asked for Uson's immediate dismissal and perpetual disqualification from holding public office.
Uson shrugged off the case.
"She should get ready to explain herself to the ombudsman. Apparently, she will be needing good lawyers because these are grave charges," he told reporters.
Assisted by lawyer Reynaldo Robles, Trillanes also accused Uson of violating the Anti-Graft and Corrupt Practices Act, Code of Conduct and Ethical Standards for Public Officials and Employees, falsification and/or use of falsified documents under the Revised Penal Code and three counts of cyber libel.
The complaints cited Uson's posting in her Facebook account on Sept. 8 the alleged fake news reported first by Davao Breaking News – a Facebook page being run by freelance journalist Ben Tesiorna – on the senator's purported offshore bank accounts. The post also included several computer-printed documents supposedly pertaining to bank details and transactions.
But Trillanes maintained that the accounts, as published by Davao Breaking News and recently disclosed by President Duterte, were all fake.
"I was able to prove that these are all bogus bank accounts... What was published by Davao Breaking News, which was shared by Mocha Uson and Erwin Tulfo, was different from those disclosed by Duterte. But all these accounts I verified with the DBS Bank in Singapore (and) the bank said these accounts do not exist," Trillanes said in a combination of English and Filipino.
The senator said the publication or sharing of fake news through social media is tantamount to cyber libel.
"They spread information that maligns my credibility as a public official," Trillanes said, adding that Uson used her position to "cause undue harm to another party."
"As a responsible senior government official, she should set a higher standard. She should have verified the truthfulness of an information before sharing it," he stressed.
Trillanes vowed to file separate criminal charges against Tulfo and Tesiorna in a regular court.
"The era of fake news is over. Those who spread fake news shall be held liable under the law. Let this be a lesson to those who have a penchant for sharing fake news," he added.
He also plans to cite Uson for continuing to practice her profession as an entertainer.
"Her continued practice of profession, her (dance) performance and serving as manager of Mocha Girls – that's prohibited under the law. As a government official, you should have one job, one source of compensation unless specifically authorized by law," Trillanes said, referring to the Mocha Girls show at the Resorts World Manila in Parañaque City despite Presidential Decree 1869, which bans government officials from casinos.
Uson remains unfazed by the charges, saying, "We will wait for it Mr. Senator" in her blog.
Presidential spokesman Ernesto Abella said in a press briefing yesterday that Trillanes is free to file charges as he stressed that Malacañang is not into the practice of fabricating "fake news."
"I think it's clear we don't do stuff like that… We stand on the platform of integrity of communication… Do we sanction (people spreading fake news)? No, I don't think so," Abella said.
Uson also defended herself from critics who questioned her presence at the UN General Assembly in New York, saying she was not there to represent the Philippines but to cover the event as the assistant secretary for social media.
She also parried accusations that the government is spending too much for her trips abroad. "You are all mistaken. If you look at my pictures, I carry my own camera during my interviews. I don't have my own crew," Uson said in Filipino.
Meanwhile, former social welfare secretary Judy Taguiwalo slammed actress Vivian Velez for claiming that she joined an activity that was also attended by former president Benigno Aquino III and other members of the Liberal Party (LP).
Taguiwalo on Thursday night posted screenshots of Facebook conversations showing Velez's allegations that she attended the unveiling of the Jose W. Diokno monument at the Commission on Human Rights (CHR) and was seated next to Sen. Bam Aquino, Vice President Leni Robredo and the former president.
"That is not me!" Taguiwalo said in Filipino. "First, I am not a yellow. I was never a yellow. Second, I am out of the country, visiting family."
A clearer photo posted by former Ateneo school of government dean Tony La Viña showed that the woman was not Taguiwalo but former CHR chair Aurora Reciña.
Velez has yet to address the matter, although her post – which was previously public – is no longer available and appeared to have been taken down.
Taguiwalo was President Duterte's social welfare secretary until last month, when the Commission on Appointments voted to reject her appointment. The relationship between the administration and the left, of which Taguiwalo is a part, has since turned sour. – With Cristina Mendez, Janvic Mateo