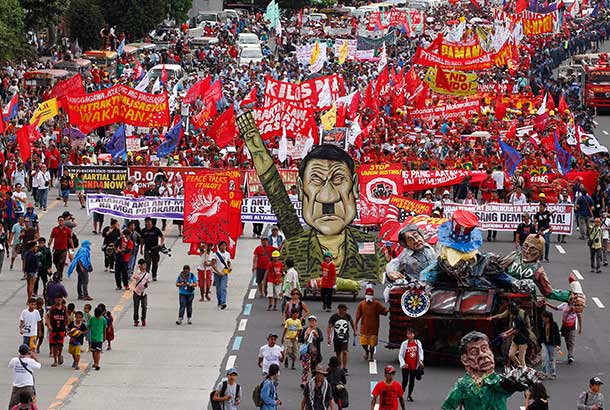 Thousands of protesters march towards the Lower House with an effigy of President Rodrigo Duterte, lower right, to demand that he deliver on a wide range of promises he made in his first state of the nation address last year, from pressing peace talks with Marxist guerrillas, which is currently on hold, to upholding human rights and the rule of law Monday, July 24, 2017 at suburban Quezon city northeast of Manila, Philippines. It was the first time that the leftists protesters have displayed an effigy of Duterte. AP Photo/Bullit Marquez
LIST: Rallies on 45th anniversary of martial law declaration
MANILA, Philippines — Several groups and universities are set to stage rallies in various areas to protest dictatorship and tyranny as the country marks the commonly acknowledged 45th anniversary of the declaration of Martial Law by ousted dictator Ferdinand Marcos.
Martial law was actually declared on September 23, 1972 but Proclamation 1081 was dated September 21.
President Rodrigo Duterte declared September 21 a "National Day of Protest" and suspended classes in all levels in public schools as well as work in government offices. The declaration also let companies in the private sector and private academic institutions to suspend their classes and work.
Duterte clarified that September 21 is "not a holiday" but all those who want to protest against the government, the police are free to hold protests for the occasion.
Prior to this, several groups already planned to hold protests even without Duterte's declaration. They organized concerts as well as the ringing of bells for the said demonstrations.
Among the big blocs leading the various nationwide simultaneous protests are Movement Against Tyranny and Tindig Pilipinas while Duterte supporters including members of the dominant PDP-Laban party, Federation for Federalism and Kilusang Pagbabago are slated to hold their own rallies.
Aside from the militant and youth groups, minority groups from various provinces as well as labor and transportation groups will join the protests against the war on drugs, extrajudicial killings, a repeat of martial law among, others.
The National Capital Region Police Office said 10,000 are expected to join the militant groups in the protest at the Rizal Park.
Here is a list of areas and schools where protests will be held in Metro Manila:
Manila
Luneta - The Luneta rally is organized by Movement Against Tyranny. The group encourages attendees to wear black and bring bells.
Look: Performers and speakers at today's #FightTyranny #LunetaRally pic.twitter.com/4nTE60oEqr

— Mvnt Against Tyranny (@TheMovementPHL) September 21, 2017
Mendiola

University of the Philippines Manila

University of Santo Tomas - Cultural minority groups are currently holding protest before the University

Eulogio "Amang" Rodriguez Institute of Science and Technology

Far Eastern University

De La Salle - College of Saint Benilde

De La Salle University

St. Scholastica's College Manila

Philippine Normal University

Technological University of the Philippines

Polytechnic University of the Philippines

Plaza Miranda - The ruling party PDP-Laban is slated to hold a rally in this area.
Quezon City
Ateneo de Manila University - The Sanggunian ng mga Paaralang Loyola ng Ateneo de Manila organized activities to commemorate the victims of martial law.
University of the Philippines - Diliman
Commission on Human Rights - Human rights advocate group Tindig Pilipinas encourages attendees to its protest to wear white.
Camp Aguinaldo - Activists from southern Tagalog region are holding a protest against extra-judicial killings and the martial law in Marawi City.
A number of schools and organizations in Luzon provinces including Baguio City; Malolos, Bulacan; Clark, Pampanga; Los Baños, Laguna, Cagayan; Bayombong, Nueva Vizcaa; Isabela; Lingayen, Pangasinan; Naga City, Camarines Sur; Palawan City and Tuguegarao are slated to protest.
For Visayas, some major universities in Cebu City; Iloilo City; Miag-ao, Iloilo; Palo, Leyte; Tacloban are slated to stage rallies.
On the other hand schools in provinces in Mindanao such as General Santos City; Davao City; Lanao del Norte; and South Cotabato are also joining the day of protest.