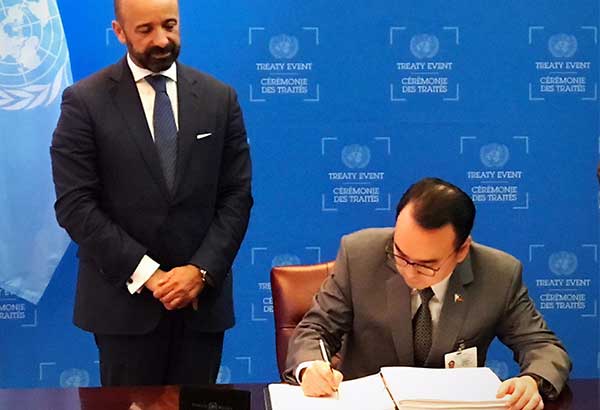 Foreign Affairs Secretary Alan Peter S. Cayetano signs the Treaty on the Prohibition of Nuclear Weapons on the sides of the 72nd Session of the United Nations General Assembly in New York on Wednesday, 20 September 2017. Looking on is UN Undersecretary for Legal Affairs Miguel de Serpa Soares. DFA/Released
Philippines signs UN nuclear ban treaty
MANILA, Philippines — The Philippines was among the 121 United Nations (UN) member-states that adopted the Treaty on the Prohibition of Nuclear Weapons, affirming its stand against nuclear weapons.
The treaty is the first legally binding international agreement that comprehensively prohibits nuclear weapons, seeking their total elimination.
"The world will only be safe if we eliminate all weapons of mass destruction. As a signatory, the Philippines stands ready to contribute to the work ahead," Foreign Affairs Secretary Alan Peter Cayetano said.
Cayetano is in New York for the 72nd session of the United Nations General Assembly. He will deliver President Rodrigo Duterte's message to the international community on Saturday.
The Philippines' top diplomat noted that the treaty presents an opportunity for states with nuclear weapons to show that they are committed to nuclear disarmament and the UN Charter.
DFA Sec. Cayetano signed the Treaty on the Prohibition of Nuclear Weapons on the sides of the #UNGA in New York | via @patriciaviray pic.twitter.com/nU9EY6gzW9

— Philstar.com (@PhilstarNews) September 21, 2017
RELATED: 50 nations ink UN nuclear ban treaty opposed by big powers
"Our signing of the treaty today affirms our unequivocal commitment to put nuclear weapons firmly on the path of extinction, a cause of the highest priority embodied in our country's constitution," Cayetano added.
According to the International Campaign to Abolish Nuclear Weapons, there are nine countries in the world with nuclear weapons. The US and Russia account for the bulk of 14,900 nuclear warheads.
Other countries that have nuclear weapons are the United Kingdom, France, China, India, Pakistan Israel and North Korea.
Foreign Affairs Assistant Secretary Bayani Mercado added that the adoption of the treaty reaffirms the universal aspiration of a world free from nuclear weapons.
"The treaty acknowledged global geopolitical dynamics that call for the elimination of nuclear weapons before these weapons could annihilate humanity," Mercado said.
The pact bans signatories from developing, testing, producing, manufacturing, otherwise acquiring, possessing or stockpiling nuclear weapons "under any circumstances."
UN Secretary-General Antonio Guterres calls the pact "an important step towards the universally held goal of a world free of nuclear weapons."
Supporters of the pact say it is time to push harder toward eliminating atomic weapons than nations have done through the nearly 50-year-old Nuclear Non-Proliferation Treaty.
The UN recently imposed a sanction against North Korea following its intercontinental ballistic missile tests. The Philippines, as chair of the Association of Southeast Asian Nations, has repeatedly called on Pyongyang to stop its nuclear missile tests. — with Associated Press
RELATED: North Korea to ASEAN: Distinguish danger of nuclear issue vs 'America First' policy