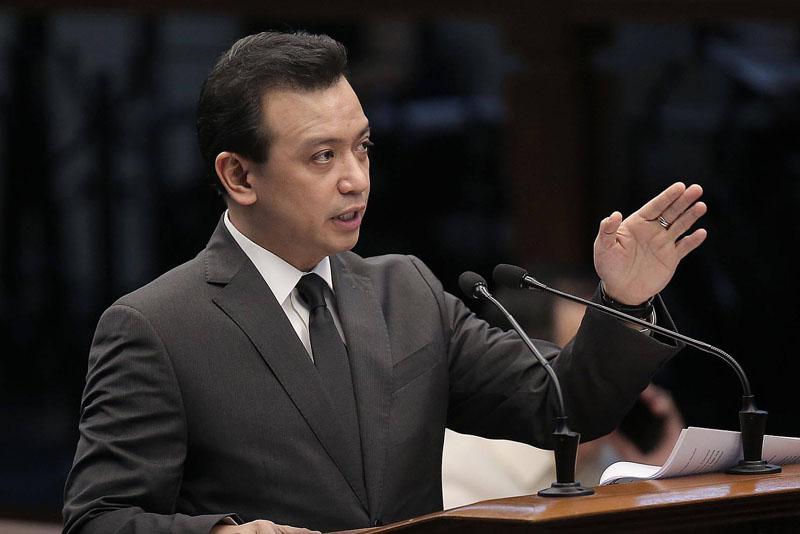 Sen. Antonio Trillanes IV continued to defend himself yesterday from allegations that he has secret offshore bank accounts, saying the country's Anti-Money Laundering Council (AMLC) can easily verify their existence. Senate PRIB/Alex Nuevaespaña, File
'AMLC can verify foreign accounts'
(The Philippine Star) - September 17, 2017 - 4:00pm
MANILA, Philippines — Sen. Antonio Trillanes IV continued to defend himself yesterday from allegations that he has secret offshore bank accounts, saying the country's Anti-Money Laundering Council (AMLC) can easily verify their existence.
The senator stressed the reason he signed 12 waivers "unconditionally" is to allow the AMLC to open any of his bank accounts abroad as alleged by President Duterte.
"As I keep on stressing, AMLC has the power to access foreign accounts either held singly or jointly," Trillanes said.
He said Duterte was trying to divert public attention from his challenge for him to also issue a waiver for his bank accounts, which he said had billions of pesos in proceeds from corruption.
Trillanes said the President "just keeps on burying himself in lies" in trying to attack him.
"He's (Duterte) trying to change the conversation. Why doesn't he want to sign the waiver so the truth about his BPI bank accounts will come out?" Trillanes said.
He also said the Office of the Ombudsman has already dismissed the charges of treason filed against him in connection with his backchannel talks with Beijing in 2012 as Philippine and Chinese forces were at a standoff over Scarborough Shoal that year.
Duterte earlier said Trillanes was able to open his accounts abroad when he was engaged in the secret talks with China.
Trillanes denied making money during his backchannel negotiations with Chinese officials during the previous administration and that what he achieved there was to defuse tension between the Philippines and China over the West Philippine Sea dispute.
According to the President, Trillanes started accumulating money during those trips he made as the backchannel negotiator and that he opened bank accounts in various countries including Singapore and Switzerland.
The President said many of the accounts opened by Trillanes were joint accounts and used names such as Antonio Trillanes, Trillanes Jr., the second and the third so that he could deny ownership of these.