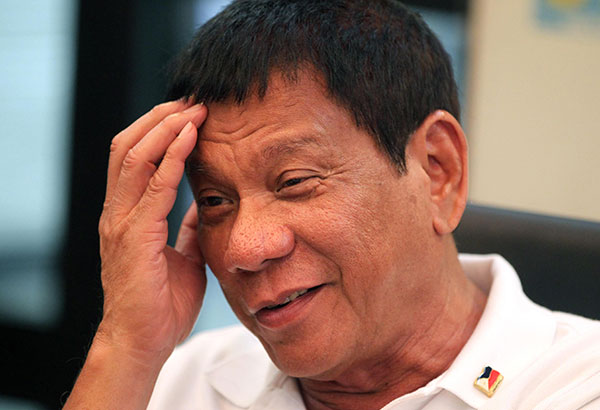 "When you are an investigating agency and you are empowered to investigate and to prosecute recommendation, itong g***** Gascon na 'to (this foolish Gascon)," the President said. File
Rody: CHR deserves P1,000 budget
MANILA, Philippines — President Duterte yesterday maintained that he is not against the Commission on Human Rights, but said chairman Chito Gascon should have seen the P1,000 CHR budget coming since he has been accusing the administration of wrongdoing.
"Congress allocated P1,000 for the office because congressmen are angry at (Gascon)," Duterte said in a press briefing that lasted until past midnight yesterday.
Duterte also said Gaston should have seen the reduced budget coming since he has been accusing the administration of wrongdoings and focusing the CHR efforts on the drug suspects killed during police operations, but mum on the security officers killed on duty.
"Gascon, since he is pro-yellow, he opens his mouth in a most inappropriate way and he conducts the business of being CHR. Walang alam (he knows nothing)," the President said.
Duterte said he was irked by Gascon because the CHR chairman questioned martial law in Mindanao during the first few days of its implementation.
He accused Gascon of being biased because he has "already concluded that there are violations."
"When you are an investigating agency and you are empowered to investigate and to prosecute recommendation, itong g***** Gascon na 'to (this foolish Gascon)," the President said.
"How are you supposed to be neutral? You act as the cop, then you also play as the prosecutor. Then when you decide to prosecute, you are the judge.
"Ang ibig sabihin, tanga. Palibhasa nga hindi nga abogado (It means, stupidity. Because you are not a lawyer). And if you are not sure of yourself or where you stand, you might as well just maybe shut up.
"Kaya sabi ko, 'pag makita ninyo 'yan, isali niyo, barilin ninyo 'yan. (So I said, when you see him, include him, shoot him). You're obstructing a war there. Magtanong-tanong ka sa mga sundalo (ask the soldiers)," he added.
But Duterte maintained that he is not against the CHR and will not destroy institutions.
"For me, since it is really an organ of government… it's in the Constitution. Maybe someday, they might review their decision. I'm not here to destroy institutions," he said. – With Delon Porcalla