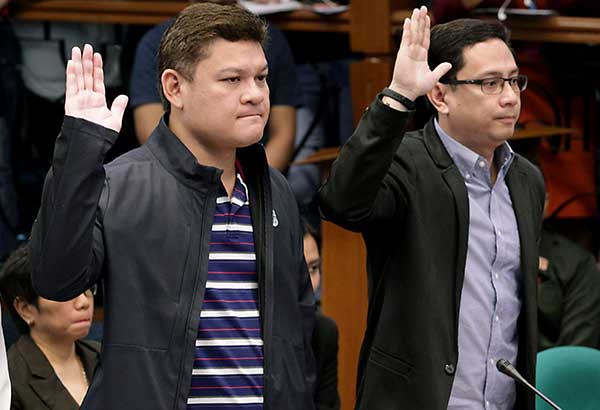 SHOW MY TATTOO? NO WAY! Presidential son Paolo Duterte and son-in-law Manases Carpio take their oath during the Senate probe yesterday on the P6.4-billion shabu from China. GEREMY PINTOLO
Pulong to accusers: Karma will get you
(The Philippine Star) - September 7, 2017 - 4:00pm
MANILA, Philippines — Davao City Vice Mayor Paolo Duterte yesterday denied allegations that he was involved in drug smuggling and warned that the "law of karma" would catch up with those trying to destroy him and his family.
President Duterte's eldest son and his brother-in-law Manases Carpio testified for the first time before the Senate Blue Ribbon committee that is conducting an inquiry into the smuggling of P6.4 billion worth of shabu from China through the Bureau of Customs (BOC) last May.
Sen. Antonio Trillanes IV has accused the vice mayor and Carpio, husband of presidential daughter Davao City Mayor Sara Duterte-Carpio, of leading the so-called Davao group that facilitates smuggling at the BOC.
"Once and for all I now have the time to deny any and all baseless allegations thrown against me," the younger Duterte told the committee chaired by Sen. Richard Gordon.
Duterte said he accepted the invitation of the panel as a "gesture of respect" for the Senate and his appearance was "for the Filipino people and to my fellow Davaoeños whom I serve."
Invoking his right against self-incrimination, Duterte said: "I cannot answer the allegations based on hearsay."
Apparently referring to Trillanes, he said: "A senator once said that we are a family of murderers and I am untouchable."
"Every dog has his day. The law of karma will operate, especially to those with evil intent," he said, quoting a text message from an official from Davao City.
Carpio, a lawyer by profession, also denied involvement in smuggling activities, saying his being seen at the BOC was because he represents a client in a case involving the bureau.
Carpio lamented that he and his brother-in-law were being publicly crucified based on rumors and expressed willingness to cooperate with the committee.
Malacañang downplayed the insinuations hurled by Trillanes that the younger Duterte is a member of an international drug syndicate.
Although he cited the seriousness of the senator's allegations, presidential spokesman Ernesto Abella said the accuser must provide convincing evidence to prove his claims. "That's pretty drastic," Abella said.
"I'm saying that, you know, those are very serious allegations. And he better… He needs to have some pretty substantial evidence to support that statement."
The hearing yesterday was a one-off appearance of the two before the Senate.
Inappropriate
During the hearing, Duterte was visibly irked and glowered at Trillanes, who asked him questions on his bank accounts.
"Your honor, do I have to answer this irrelevant question? This is not part of the inquiry," Duterte said, turning to Gordon when Trillanes asked him if he was willing to issue a waiver to open his bank accounts.
Duterte invoked his right to privacy and denied Trillanes' allegations that he had hundreds of millions of pesos as of end 2015 in his bank accounts.
Duterte's legal counsel Rainier Madrid said Trillanes tried to make a spectacle and humiliate his client, particularly in trying to force him to strip and show his tattoo, but failed.
Trillanes claimed Duterte has a colored tattoo of a dragon on his back, indicating a bind with the Triad, an international criminal organization in Southeast Asia.
Madrid said his client was close to acceding to Trillanes' demand to show his tattoo but he advised against it.
He said he expected Trillanes to show something "explosive" as he promised the media days ago to pin down his client, but had nothing to show yesterday.
"I thought it would be explosive show of witnesses, 'I've many documents.' Where are they? He only presented the body he wanted to see. Is he gay? It's against my professional duty to let my client be exposed under those silly circumstances," Madrid later told reporters.
When asked why he advised Duterte against exposing himself to dispute Trillanes' allegations about the tattoo, Madrid said it would be inappropriate.
"It's a question of procedure, I don't like my client to be laughed around by people who try to make (a fool) of him," he said.
Madrid said Duterte was intent on ferreting out the truth in defending himself but the same was not the case for Trillanes.
"He is not accusing, he is fishing for information because he doesn't have information. That's how smart he is. Remember he is a military propagandist, he is a master of deception. Propagandist deception, you mislead with lies. And then based on lies you manipulate people's minds," he said.
He said Duterte has no regrets and has no plans yet to get back legally at Trillanes and he won't allow his client to be lured into the senator's "propaganda game."
Presidential legal adviser Salvador Panelo said Trillanes was trying to distort the good image of President Duterte by putting his son and son-in-law in the crosshairs of unsubstantiated allegations during the Senate inquiry.
He described Trillanes as "an epitome of falsehood in this country" and a "walking nonsense" for desperately trying to link the brothers-in-law with illegal activities.
"(Trillanes) has engaged in malicious propaganda against the President through his son-in-law and the son. He produces documents obviously he prepared himself because he cannot point the source… this is the same strategy he made against the President during the campaign," Panelo said.
Madrid agreed with the observation that Trillanes' target was not the younger Duterte but his father, who turned down the senator's overtures last year to be his runningmate.
He noted that Trillanes again brandished bank records of members of the Duterte family that he "hacked."
They were the same records, Madrid said, that Trillanes presented before and after the elections in his continuing attempt to discredit the President.
"I told him if you can't divulge your sources that means you are a hacker. He violated the law. He's a criminal. Now he wanted again to resort to – he did not even disclose where he got his information, why will we dignify something questionable, whose sources he can't reveal?" Madrid remarked.
Madrid said Trillanes should have authenticated the bank records to give his allegations credence.
Despite the grilling, Duterte has no regrets about appearing, as the inquiry was part of the democratic process.
Abella said the appearance of the younger Duterte and Carpio before the Senate "demonstrates that both gentlemen are willing and ready to face malicious allegations intended to impugn their character and credibility."
"The President has said on numerous occasions that he would not interfere and he believes that both Vice Mayor Duterte and attorney Carpio can hold their own at the Senate," Abella said.