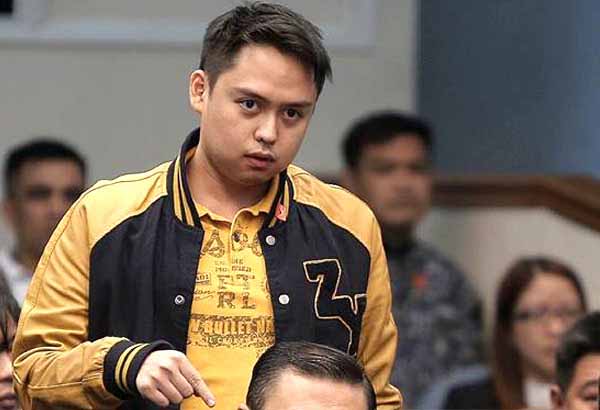 Bureau of Customs broker Mark Taguba clears Davao Vice Mayor Paolo "Pulong" Duterte and lawyer Manases "Manse" Carpio in Customs anomalies. Senate PRIB
Taguba clears VM Duterte, Sara's husband from Customs mess
AJ Bolando
(philstar.com) - September 1, 2017 - 8:40am
MANILA, Philippines — Embattled Bureau of Customs broker Mark Taguba clarified Friday that he never tagged Davao Vice Mayor Paolo "Pulong" Duterte and lawyer Manases "Manse" Carpio in the P6.4 billion shabu shipment from China and in the "tara" system.
"I had never testified, nor will i ever testify that Vice Mayor Paolo Duterte and/or Atty. Manse Carpio were involved in the shipment of illegal drugs into the country," Taguba said in a statement through his legal counsel laywer Raymond Fortun.
Taguba added that his knowledge of Duterte and Carpio were mere "hearsay" as he was only transacting with "Tita Nanni" and "Jack" of the supposed "Davao Group."
READ: Trillanes: Panel 'lawyering' for Paolo Duterte, Sara's husband
He admitted in the Senate investigation on Thursday that he gave P1 million to alias Jack intended for "Pulong" — whom the Customs broker identified as Vice Mayor Duterte.
He reiterated today that he never met Duterte and Carpio, husband of Davao City Mayor Sara Duterte, in person as he was sorry dragging the names of the two.
Taguba also apologized for the "proliferation of fake news" stemmed from his statements during the Senate probe.
"I am making this statement to clear Vice Mayor Paolo Duterte and Atty. Manse Carpio from any involvement in the shipment of illegal drugs into the country, and any anomalies in the bureau of customs," Taguba continued.
His frequent mention of Duterte and Carpio in the Senate hearing prompted Sen. Antonio Trillanes to ask the Blue Ribbon Committee to invite the two individuals.
READ: Broker paid P5 M to alleged representative of Paolo Duterte
Trillanes said that the son and son-in-law of President Rodrigo Duterte should be given a chance to clear their names from the anomalies brought by the shabu shipment that went through the green lane of Customs.
"I believe we have enough information that would warrant the invitation for both attorney Mans Carpio and Vice Mayor Paolo Duterte to this committee hearing," the senator said.
Senate Majority Leader Vicente Sotto III, meanwhile, countered Trillanes' idea and said that it should be studied first as it is a mere hearsay.