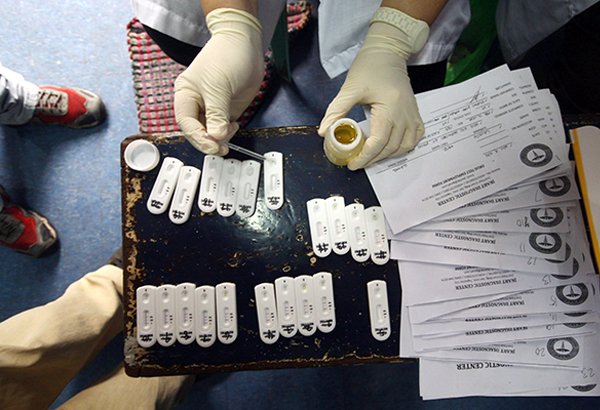 The CHR said Republic Act 9165 or the Comprehensive Dangerous Drug Act of 2002 specifically provides that drug tests must be conducted by "government forensic laboratories or by any of the drug testing laboratories accredited and monitored by the (Department of Health) to safeguard the quality of test results." File
CHR: House-to-house drug testing unlawful
Janvic Mateo
(The Philippine Star) - August 24, 2017 - 4:00pm
MANILA, Philippines - The conduct of house-to-house drug testing in slum areas in Quezon City is against the law, the Commission on Human Rights (CHR) said yesterday.
The CHR cited possible violations of a person's right to privacy and presumption of innocence by suspecting drug addicts in slum areas.
"From a human rights perspective, there is a violation of the presumption of innocence. The policy should be considered for further study before being fully implemented," CHR Chairman Chito Gascon said.
"It is a kind of intervention that, when properly applied, might be useful. Our worry is when someone tests positive, they would be included in the drug list and might be later killed," he added.
The CHR said Republic Act 9165 or the Comprehensive Dangerous Drug Act of 2002 specifically provides that drug tests must be conducted by "government forensic laboratories or by any of the drug testing laboratories accredited and monitored by the (Department of Health) to safeguard the quality of test results."
"There is no provision in the law stating that police forces can conduct drug tests," the CHR pointed out.
In a separate statement, the National Union of People's Lawyers (NUPL) agreed house-to-house drug testing is illegal and unconstitutional.
"It violates the right to privacy, presumption of innocence and basic human dignity. It is against unreasonable searches and against the right to self-incrimination," NUPL said in a statement.
"It is even legally useless as the results taken should be inadmissible and incompetent evidence in court as these were taken by non-experts and without counsel. It is anti-poor and discriminatory," it added.
The NUPL also questioned why the house-to-house drug testing was conducted in poor communities and asked whether this will also be done in condominiums and gated subdivisions.
The CHR also cited a Supreme Court decision in 2014 ruling that mandatory drug testing is a violation of the right to privacy and the right against self-incrimination or testifying against oneself.
"Mandatory drug testing can never be random and suspicionless. The ideas of randomness and being suspicionless are antithetical to their being made defendants in a criminal complaint," read the ruling.
The CHR said the house-to-house drug testing might violate the right to privacy of citizens as prescribed in the 1987 Constitution.
Quezon City Police District director Chief Supt. Guillermo Eleazar maintained there was no violation when they conducted drug testing on the residents of Payatas.
He said the residents volunteered for drug testing that was initiated and funded by barangay officials.
Meanwhile, the Student Council Alliance of the Philippines (SCAP) has launched an online petition asking the Commission on Higher Education (CHED) to scrap its mandatory drug testing in schools. – With Kurt Adrian dela Peña