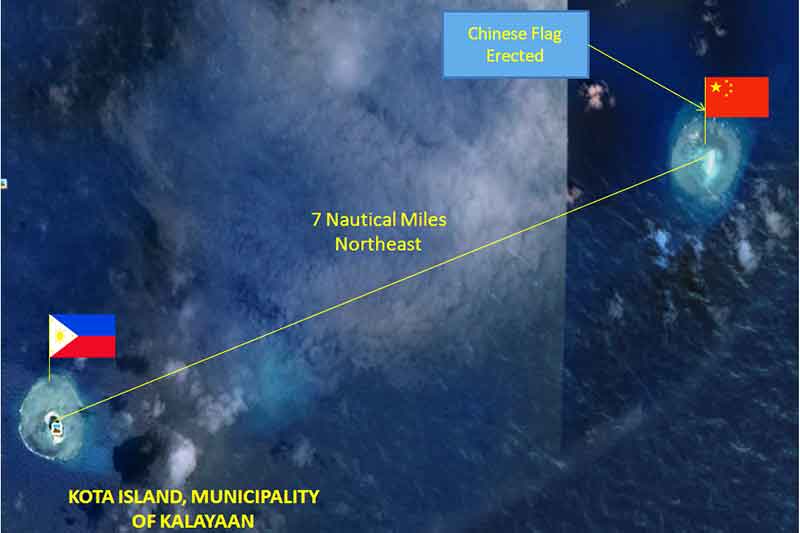 Citing unnamed "very reliable source", Presidential Spokesman Ernesto Abella said no Chinese flag has been put up on a sand cay near Kota Island. Magdalo Party-list/Released, file
Palace: No Chinese flag off Philippines-controlled Kota Island
MANILA, Philippines — Malacañang on Thursday denied that China has planted its flag in a sand cay near the Philippine-controlled Kota Island in the West Philippine Sea, the portion of the South China Sea that Manila claims.
Presidential Spokesman Ernesto Abella said a "very reliable source" had told him that there were no China flags off the Kota Island, which is part of the Kalayaan Island Group.
"I inquired about that and apparently, as of this stage, there is no flag, you know, as of this stage," Abella said in a press briefing.
But Abella confirmed the presence of civilian ships in the area.
"It seems that the place, in itself, is subject to many…passers-through and in fact, there are evidences of people who do park there," the presidential spokesman said.
"But these are not military but mainly these are citizens…and not white or gray ships," he added.
White and gray ships refer to Coast Guard and Navy ships, respectively.
Earlier, Magdalo party-list Rep. Gary Alejano revealed that a Chinese flag has been planted on a sand cay located seven nautical miles off Kota Island, a development that he said proved the continuous activities of China in the West Philippine Sea.
Alejano, a former military officer and a critic of the Duterte administration, said the flag was mounted on a steel pipe and was discovered last July. A Chinese ship erected the three meter high flag on the sand cay, the lawmaker added.
He said China's activities in the West Philippine Sea and the Philippines' exclusive economic zone are "concerning" and urged the government to be transparent on issues related to the maritime dispute.
China claims about 90 percent of the South China Sea including the Kalayaan Island Group while the Philippines, Vietnam, Malaysia, Brunei and Taiwan have overlapping claims.
China's expansive maritime claim was invalidated by a Hague-based tribunal last year but the Chinese government dismissed the ruling as "illegal."
President Duterte has vowed to discuss the arbitral ruling with Chinese officials within his term but maintained that it would be foolish to quarrel with China over conflicting maritime claims.