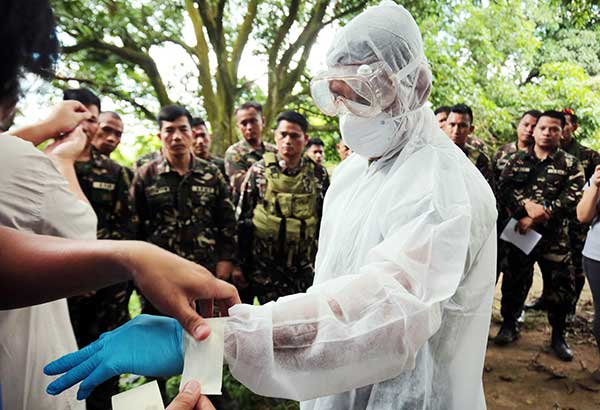 In this Aug. 17, 2017 photo, a soldier is dressed in protective clothing by two veterinarians as other Army men watch during a safety orientation in San Luis, Pampanga. Around 300 soldiers are being tapped to help cull fowls in the town following a bird flu outbreak. MICHAEL VARCAS
Bird flu strain in Philippines transmissible to humans, DA says
MANILA, Philippines — The Department of Agriculture has confirmed that the first bird flu case in the country is an H5N6 strain, one that can be passed on to humans, but assured the public that transmission rate is "very, very low."
Test results from the Australian Animal Health Laboratory showed that the avian influenza first detected in San Luis, Pampanga, and that has spread in Jaen and San Isidro in Nueva Ecija, is positive for the N6 strain subtype.
"H5N6 is one of the strains that could be transmitted to humans. With this strain, it causes low morbidity, which is the infection and transmission, and an even lower mortality or death rate among humans," Arlene Vytiaco, head of the DA-Bureau of Animal Industry's animal disease and control division, said in a briefing on Thursday.
Since the outbreak last August 11, the DA was only able to determine the H-subtype and had to send samples to Australia for further testing of the partner subtype.
Vytiaco explained that the H5N6 strain is relatively new as it emerged only in 2013 compared to the more virulent H5N1 strain which can also be transmitted to humans.
"Worldwide since 2013, only less than 20 cases have been detected and mostly in China. Compared with the N1 which had a 58 percent mortality rate among humans in 2004," she said.
In Southeast Asia, three countries—Myanmar, Laos, and Vietnam—have the H5N6 strain and yet no human case transmission have been reported.
"In Myanmar alone, it is already endemic to them. Ever since they had an outbreak, it's been present until now but no mortality case has been detected," Vytiaco said.
Despite the low transmission rate, the DA still warned the public to be cautious and immediately report should there be flu-like symptoms especially to residents of the affected areas.
"We are doing everything to contain it, the fact that it did not further spread to other areas is a sign that we were able to contain. But, we cannot be complacent and we have to complete the protocols before declaring that we are free from it," Vytiaco said.
Transmission pattern
Transmission from animals to humans can be through direct contact, either by respiratory secretion or fecal materials.
"Once it had a contact with your hand and body then say you accidentally scratch your eyes, there is port of entry already. It can also be through the contaminated materials that can be sources of infection," she said.
"Another is through the chicken dung when dried, it becomes feather dust which could mix with the air we breathe," she added.
The department said symptoms are general and similar to the ordinary human influenza which includes cough, colds, fever and lack of appetite, among others.
"We encourage that should there be early signs, they should go to the nearest DOH (Department of Health) clinics or satellite centers to have themselves checked," Vytiaco said.
It would take 84 more days before the DA declares that the country may be bird flu free as the process will still include disinfection, rest period, restocking and cleaning in the next few months.
However, this is not an assurance that the case may no longer re-occur as this first bird flu may lead to a more susceptible Philippines to the virus.
"There's always the possibility if we do not change the bad ways we've done before. We really have to emphasize early reporting and early detection for us to have a rapid action and be able to immediately address the problem," Vytiaco said.
Duterte to join chicken boodle fight
To allay fears of the consuming public, Agriculture Secretary Emmanuel Piñol said President Rodrigo Duterte himself will join a chicken boodle fight in San Fernando in Pampanga on Monday.
"The president will personally eat balut, chicken and fried itik to say that it is safe to eat chickens and other poultry products," he said.
"He will also acknowledge the support of the LGUs (local government units) and Army who helped. And award the first payments to farmers whose fowls will be culled in efforts to clean up the area," Piñol added.
Meanwhile, a total of 470,640 poultry heads have been culled in San Luis and the P51 million compensation has been downloaded to the region.
For Nueva Ecija, over 170,000 heads have already been culled and operations are expected to be finished today.