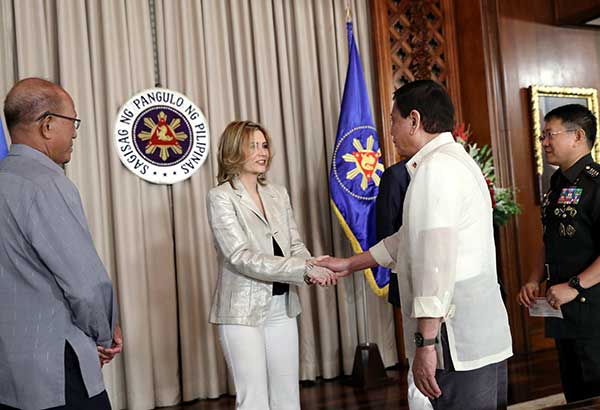 Photos show President Duterte welcoming Monica Louise Prieto-Teodoro at Malacañang for the signing and turnover of a deed of donation to the AFP on Tuesday.
Duterte meets Teodoro, wife at Palace
MANILA, Philippines - President Duterte met with former defense secretary Gilbert Teodoro and his wife, Monica Louise Prieto-Teodoro, separately in Malacañang the other day, triggering speculations that the couple might get Cabinet posts under the administration.
Presidential Communications Operations Office Secretary Martin Andanar would not comment on the speculations or on whether the Chief Executive tried to patch up any personal differences between the two.
Malacañang said the President witnessed the turnover of the deed of donation from Teodoro's wife to Armed Forces of the Philippines chief Gen. Eduardo Año.
The cash donation is to contribute to the government's efforts to rebuild Marawi City, which remains under martial law until Dec. 31 this year.
Duterte also had a short meeting with Senate President Aquilino Pimentel III who turned over 60 binoculars to the AFP, which came from an anonymous donor.
Duterte then met with Teodoro but details of the meeting were not disclosed.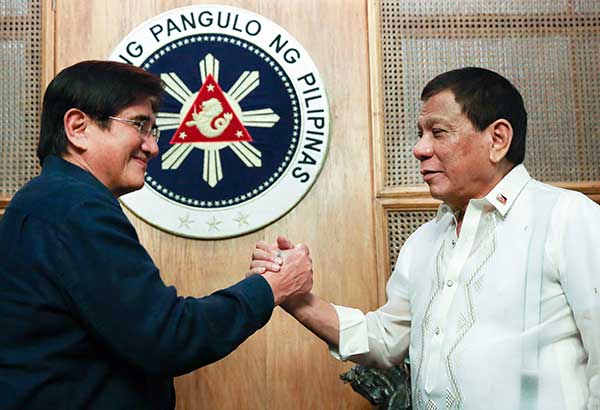 Sen. Gringo Honasan during a meeting with members of the Reform the Armed Forces Movement yesterday.
Teodoro only shared on his Facebook account the photograph that showed Duterte witnessing his wife's turnover of donation but there was no photo of the couple together.
The former defense secretary, who had turned down an offer from Duterte to head the same portfolio under his administration, wished his wife well for her "unwavering commitment to children and to the welfare of Filipino soldiers and their families."
According to Teodoro's post, his wife donated P1 million as chair of the Golden Rooster Foundation Inc. for the benefit of the children of AFP casualties in the Marawi siege.
"I pay tribute to her championing children's welfare, spearheading the creation of the standing committee on child welfare, passing the largest number of child welfare bills into law, creating the Amor village in Tarlac for abandoned children and battered women, the premier such center in the country per DSWD, and other activities sans publicity," he said.
"And now helping a sector close to her heart and to our country's – the Filipino soldiers and their families. I am truly privileged! May you continue your good works! Love you!" Teodoro wrote as talks circulated that his wife might replace Social Welfare and Development Secretary Judy Taguiwalo, whose appointment was rejected by the Commission on Appointments yesterday.