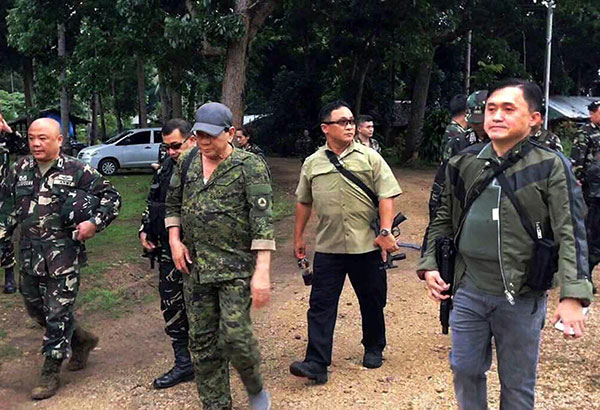 Wearing Army camouflage attire, President Duterte and his aides visit a military camp in Iligan City after a failed attempt to visit Marawi City. PCOO, release
Duterte on 'lousy' uniform: I went there as a CAFGU
MANILA, Philippines — President Rodrigo Duterte has responded to criticisms that he did not wear the military uniform properly during his aborted visit to strife-torn Marawi City last month.
Photos of Duterte in military attire drew flak from critics who claimed that he did not wear the battle dress uniform appropriately. The president wore a ball cap and sneakers, his sleeves rolled up, and top button open, revealing a white undershirt.
Among those who criticized Duterte was Magdalo party-list Rep. Gary Alejano, a retired Marine, who called the president's wearing of the military attire "lousy."
Duterte defended his own version of the combat attire, saying he wore it as a militiaman or a member of the Civilian Armed Forces Geographical Unit (CAFGU). CAFGUs are under the operational control of Army units and wear uniforms similar to those of regular units.
"I was criticized for not wearing the uniform properly because I folded my sleeves and my topmost button was open. I really do not close my topmost button. You know that," the president said.
"Besides, I am commander of all Armed Forces — Navy, Air Force, Army, CAFGU. I went there as a CAFGU. So I removed the Duterte patch and the Velcro and the 'president,'" he added.
Duterte said as commander-in-chief, he can select the unit where he belongs.
"I came there as CAFGU. I can select the unit. I am a CAFGU so it's okay," he added.