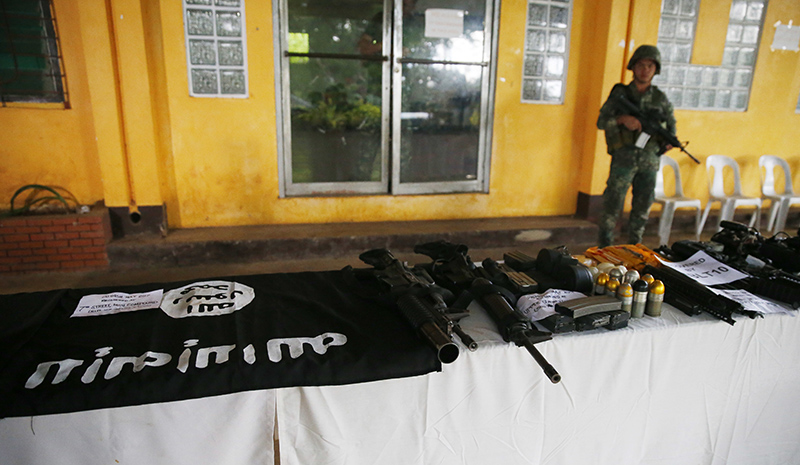 President Duterte raised the specter of more terror attacks in Mindanao during a hastily called three-hour meeting with leaders of the Senate and the House of Representatives on Tuesday night in Malacañang. AP/Bullit Marquez, File
Duterte bares new IS threat in Mindanao
Paolo Romero
(The Philippine Star) - August 2, 2017 - 4:00pm
MANILA, Philippines - President Duterte warned congressional leaders of a new Islamic State (IS)-inspired terror threat in Mindanao that could be "bigger" than the attack on Marawi City, Senate Majority Leader Vicente Sotto III said yesterday.
Duterte raised the specter of more terror attacks in Mindanao during a hastily called three-hour meeting with leaders of the Senate and the House of Representatives on Tuesday night in Malacañang.
Aside from Sotto, also present during the meeting were Senate President Aquilino Pimentel III, Speaker Pantaleon Alvarez, Senate Minority Leader Franklin Drilon, House Majority Leader Rodolfo Fariñas and Senators Francis Escudero, Sonny Angara and Panfilo Lacson.
Sotto said the way he understood it, around three areas in Mindanao are under threat from IS-inspired Maute, which is being supported by other extremist groups like the Abu Sayyaf and the Bangsamoro Islamic Freedom Fighters.
"The security situation will be very serious if we don't confront it now, nip it in the bud. I think that is the message of the President, what he wanted to relay to us. He wanted us to support and help him nip it in the bud so that it does not escalate into a larger problem than what we have now in Marawi City," Sotto told reporters.
Maute militants undertook a massive attack on Marawi City last May 23, prompting Duterte to declare martial law over Mindanao.
Sotto said he sensed a strong urgency in Duterte's tone when he spoke of new terror plots outside Marawi City.
As of July 29, 45 civilians, 114 government troops and 471 rebels have reportedly been killed in the battle for Marawi City.
The military yesterday said 11 more terrorists were killed as government troops closed in to encircle the commercial district of the city still under control of Maute gunmen.
Remain vigilant
During the meeting with lawmakers, Duterte called for closer regional security cooperation with Indonesia and Malaysia to contain the Islamic militants.
Lacson said Duterte did not provide details but it was enough for those present to support his request for additional soldiers and policemen.
"When it's the commander-in-chief who says there are new threats we better believe him because he has many sources of intelligence," Lacson said.
"So we did not question anymore. We did not ask for details anymore. Suffice to hear from him that there are threats," he said.
He said on hindsight, Duterte did the right thing in declaring martial law in Mindanao. – With Jaime Laude, Roel Pareño, Michael Punongbayan