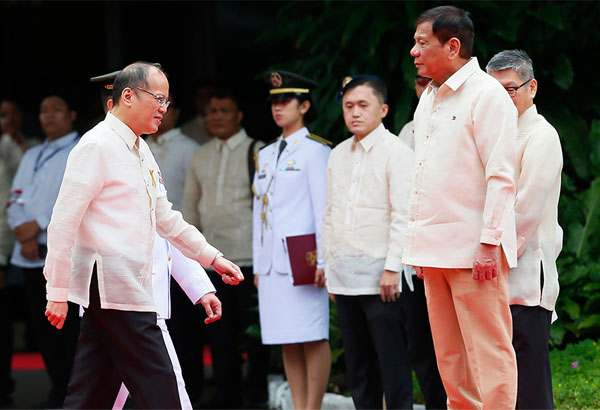 President Rodrigo Duterte blasted former President Benigno Aquino III following his criticism of the campaign against illegal drugs. File
Duterte fires back at Aquino over comments on drug war
MANILA, Philippines — President Rodrigo Duterte on Wednesday blasted his predecessor Benigno Aquino III over remarks on the government's brutal campaign against illegal drugs and threatened to behead the former president if he gets involved in narcotics.
Duterte's latest tirade, in which he accused some of the former president's aides of being connected to narcotics, came after Aquino questioned the effectiveness of the government's war on drugs.
"Sabi ni PNoy [Aquino] parang walang nangyari. Sige, pumasok ka sa droga, PNoy, kung hindi kita pinutulan ng ulo buwang ka. Anong walang nangyari. Gago ka," said the president who regularly uses colorful language when he or his policies are criticized.
Duterte said that some of Aquino's aides and generals were involved in the trade of illegal drugs in the country during his administration.
He also accused a former aide to former Interior Secretary Manuel Roxas of being connected to illicit drugs.
Duterte said at the anniversary of the Bureau of Internal Revenue: "Mga generals mo noon, yang aide mo, aide ni [Manuel] Roxas puro nasa droga konektado."
The president particularly zeroed in on Vicente Loot, a former police official and now mayor of Daanbantayan in Cebu, whom he accused of threatening him.
"Number 1 diyan yung bata niyo si General Loot. Isa pa yang ulol na yan. I don't know kung nandito si Loot. P****g ina mo, huwag mo ako takutin general ka," he said.
In a report by The Freeman on Tuesday, Loot said that the Criminal Investigation and Detection Group regional office in the Central Visayas had "cleared him of alleged involvement in drugs and criminal activities, his alleged failure to implement the anti-drug and criminality programs of the Department of Interior and Local Government, as well as his alleged unexplained wealth."
"It's also very clear during (the) Senate investigation that I am a victim of influence peddling by subordinates who want to take advantage of my name," Loot said. "Anyway, I'm willing to submit myself again to any investigation if so required to clear my name."
Aquino's comments
During the 8th death anniversary of former President Corazon Aquino on Tuesday, her son said that during the first year of Duterte's administration, the number of drug users was still at 1.8 million, unchanged from the figure reported when he left office June last year.
"Nung kami, 1.8 million at sa isang taon nitong all-out na kampanya laban sa drugs, 1.8 million pa rin ang sinasabi ng survey, at survey na nila yan," Aquino told reporters.
Duterte and his subordinates have since said that the number of drug users in the Philippines is closer to 4 million, citing intelligence reports.
'Cynicism borne of a history of political opportunism'
Ernesto Abella, presidential spokesperson, touted the government's achievements in its drug campaign, saying that it resulted in the surrender of more than 1.3 million drug suspects.
"With all due respect to former President Aquino, the results of PRRD's anti-illegal drug campaign speak for themselves," Abella said in a statement. "Comments like the above from past leaders imply a jaded cynicism borne of a history of political opportunism."
For Salvador Panelo, the chief presidential legal counsel, Aquino's comments were "shamelessly cocky and an outrageous chutzpah."