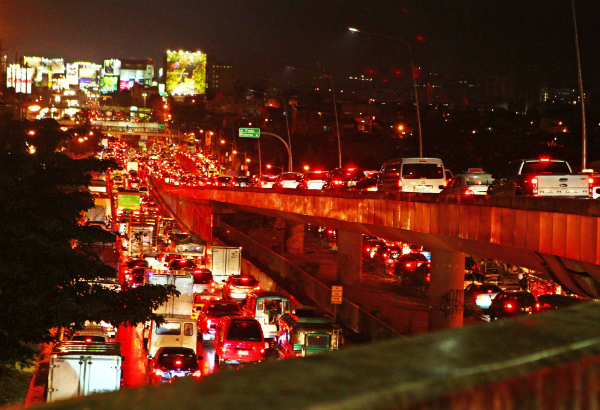 The Department of Public Works and Highways has unveiled an ambitious P107-billion traffic decongestion program that aims to address the worsening traffic problem in the country, which is estimated to cost the economy P2.4 billion a day. File
DPWH unveils P107-B traffic decongestion plan
MANILA, Philippines - The Department of Public Works and Highways (DPWH) has unveiled an ambitious P107-billion traffic decongestion program that aims to address the worsening traffic problem in the country, which is estimated to cost the economy P2.4 billion a day.
In a forum last week, Public Works Secretary Mark Villar said one project under the program is the Luzon Spine Expressway Network that will connect 18 major expressways throughout the country and decongest the 24-kilometer EDSA.
"As of today, our existing expressway network is 385 kilometers long. By the end of this administration, we will have almost doubled this expressway network to 655 kilometers," Villar said.
Villar said when the ambitious project is finished, travel time to various areas of the country would be significantly reduced.
"Today, to go from Metro Manila to La Union will take you almost seven hours. When this is finished it will be three hours and 10 minutes," he said.
Travel from North (La Union) to South (Camarines Sur) will likewise be reduced to eight hours from nineteen at present once the Luzon Spine is completed, Villar added.
As part of the project, DPWH has been implementing projects on various expressways around the country.
For instance, it is now working on the alignment of the Tarlac-Pangasinan-La Union Expressway to the Rosario, La Union exit.
"Once this is finished, you can go from Manila to Baguio in less than three hours and after we've done the Rosario exit, we will continue the TPLEX to La Union and we will cross to Ilocos Sur," Villar said during the forum organized by World Trade Center Manila.
The Rosario exit will be finished by next year, he said.
Another project is the Plaridel Bypass Road that will ease traffic in the province of Bulacan.
"This is also a major project that we are targeting to finish later this year. This year we have 200 bypass roads in many provinces that we will be constructing over the next few years," Villar said.
Another project is the North Harbor Link which would enable trucks coming from the country's ports to go straight to the North Luzon Expressway (NLEX).
"They can go straight to NLEX in about 10 minutes. This is a very significant project, the NLEX Harborlink. It will also decongest EDSA because trucks don't have to go to EDSA and other roads in Manila. We can expect that later this year or early next year," Villar said.
Manila Skyway Stage 3, meanwhile, will connect the South Luzon Expressway and then straight to Balintawak.
"The result of this is that it will reduce traffic time from Buendia to Balintawak from two hours to about 15 to 20 minutes. This, we are targeting to finish by late next year," Villar said.