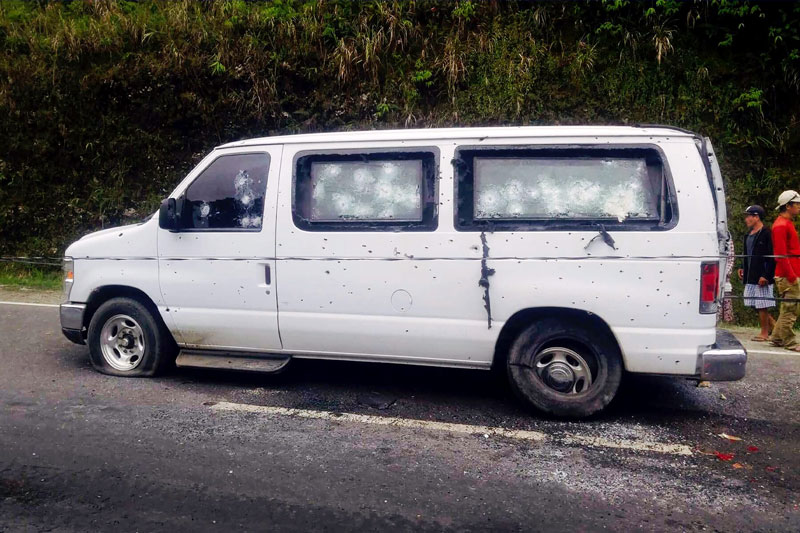 Photo shows the bullet-riddled van of the Presidential Security Group, which was ambushed by New People's Army rebels in Arakan, Cotabato yesterday. Inset shows a wounded PSG man being carried off for medical attention in Cotabato. AFP, EPA
NPAs ambush PSG convoy in Cotabato
MANILA, Philippines - A militiaman was killed and five members of the Presidential Security Group (PSG) were wounded when they traded shots with suspected communist rebels in military uniform who put up a "checkpoint" along a highway in Arakan, North Cotabato yesterday.
Hours later, two Marines were killed in a separate attack by New People's Army (NPA) rebels in Palawan.
PSG commander Louie Dagoy said 10 of his men were in two vehicles when they figured in the encounter with NPA rebels posing as soldiers manning the checkpoint.
Arakan police chief Argie Celeste said a militiaman not with the presidential guards was shot dead when he tried to pass through the same checkpoint. The name of the fatality was not immediately available.
Brig. Gen. Gilbert Gapay, deputy commander of the Davao City-based Eastern Mindanao Command (Eastmincom), said one of the wounded PSG personnel is in serious condition due to a gunshot wound in the stomach.
"The other four only sustained minor injuries," Gapay said.
Operations were underway to pursue the rebels, who withdrew toward another village.
One police agent was kidnapped by the rebels, police said.
Pursuing government forces later captured two of the suspected attackers in Leon Postigo, Zamboanga del Norte.
Police said Joseph Delfin Aradillos and Junjun Anta were taken into custody after they were discovered on board separate Red Cross ambulances being rushed to hospital for gunshot wounds.
A group of policemen manning a checkpoint flagged down the convoy and saw the two wounded suspects who were believed to have taken part in the attack in Arakan.
PSG spokesman Lt. Col. Michael Aquino said their vehicles were approaching the checkpoint when they noticed that the gunmen were not soldiers but rebels. He said four PSG men were injured.
It was not clear why there was a discrepancy with the police count.
Aquino said the PSG men fired first at the gunmen, who numbered around 50.
Northern Mindanao police director Chief Supt. Timoteo Pacleb said the PSG personnel were on their way to Cagayan de Oro when they figured in the firefight with the NPA rebels around 6:15 a.m.?Pacleb said the two-vehicle convoy of the PSG attempted to pass through the road checkpoint manned by some 50 men wearing military uniform. ?He said the group initially stopped to coordinate with the supposedly on-duty military personnel but one of the PSG men noticed something awry.?"Our PSGs noticed that the shoes of the men in military uniform were boots different from those officially issued for military personnel, prompting them to retreat. The armed men, who turned out to be NPA rebels, fired at them," Pacleb said.
Gapay added the rebels belong to the NPA's Guerrilla Front 56 headed by a certain Ka Jingoy.
In the Palawan attack, officials said the two Marines were on their way to a market in Barangay Magara, Roxas town, when they were shot at close range by suspected NPA rebels.
Their identities were not immediately available.
However, Capt. Cheryl Tindog, spokesperson for the Armed Forces of the Western Command (Wescom), said the military sees the attack as retaliation after government forces earlier captured a rebel training camp in Brooke's Point.
Last Tuesday, suspected NPA rebels planted an improvised explosive device (IED) along a road in Barangay Tarusan, Bataraza, Palawan.
The landmine exploded, disabling a military truck from Barangay Bono-Bono en route to Rio Tuba for a community support program.
One Marine identified as Private First Class Garry Estapia was injured.
The military denounced the NPA's use of an IED "as a shameful and gutless act that can't be anything more than placing the lives of innocent civilians in the area in grave danger."
"The (communist rebel) has always been like this – a violator of international humanitarian laws by using roadside IEDs from past to present – if it is already losing against government efforts that ensure civilians do not get enticed anymore by their depraved philosophies," Wescom said in a statement. – Roel Pareño, Jaime Laude, Michael Punongbayan, AP?