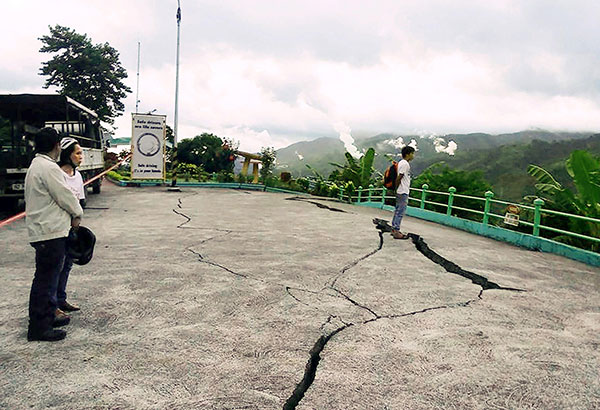 A "very strong" aftershock hit Leyte and nearby provinces yesterday, causing injuries and damage in some areas, the Philippine Institute of Volcanology and Seismology said. AFP
Magnitude 5.4 aftershock rocks Leyte
MANILA, Philippines - A "very strong" aftershock hit Leyte and nearby provinces yesterday, causing injuries and damage in some areas, the Philippine Institute of Volcanology and Seismology (Phivolcs) said.
The tremor, measuring magnitude 5.4, hit at 9:41 a.m., with its epicenter traced to 15 kilometers northeast of Ormoc City, Leyte.
The quake was felt at Intensity 6 – classified as very strong – in Ormoc City and Intensity 5 – strong – in Kananga, Leyte.
It was also felt at Intensity 4 in Mayorga and Tacloban City, Leyte and Mandaue City, Cebu; Intensity 3 in Loay and Jagna, Bohol and Cebu City; and Intensity 2 in Lapu-Lapu City and Cadiz City, Negros Occidental.
Another aftershock of magnitude 3.3 hit Ormoc City at 9:49 a.m. It was felt at Intensity 3 in Kananga.
A magnitude 4.1 aftershock hit at 4:41 p.m. and was felt at Intensity 4 in Ormoc and Intensity 3 in Palo, Leyte.
As of yesterday, at least 687 aftershocks, ranging from magnitude 1.5 to 5.4, were recorded from the magnitude 6.5 tremor that hit Leyte last Thursday, of which 17 were felt.
Phivolcs had warned aftershocks may continue to occur in areas near the epicenter of last week's quake for several days to weeks.
Five injured, dozens fainted
At least five people were injured, including three children, when the magnitude 5.4 tremor struck yesterday morning. The two adult males jumped from the window of the second floor of Pongos Hotel in Ormoc City.
They were identified as Alexander Balane and Edgar Tabaco, both in their 40s. Reports said they jumped out the window because the door of their hotel room would not open. Balane and Tabaco are from the LED Management Training Services in Quezon City.
The injured children were identified as Ian Daniel Sanchez, 11; Janaly Payod, 11; and Jayvee Moremonte, 11 – all from Sitio Maglahug in Barangay Gaas.
As of yesterday afternoon, the victims were recovering in hospital.
Meanwhile, dozens of students of the Ormoc City National High School and Ipil National High School lost consciousness or panicked after the strong aftershock.
Three school children were limping as they were helped out of St. Peter's College.
Ormoc City Mayor Richard Gomez suspended classes from nursery to senior high school levels yesterday and today to prevent further accidents in schools.
He also ordered the Office of the Building Official to inspect all buildings in Ormoc City to ascertain the safety of schools and other structures.
In Tacloban City, Mayor Cristina Romualdez also suspended classes and work in offices of the city government.
A backhoe clearing the power plants of the Energy Development Corp. in Barangay Tongonan was buried in a landslide, but the unidentified operator was spared injury, according to Energy Secretary Alfonso Cusi, who was monitoring the progress of repairs of the power plants.
As of yesterday, 98 percent of Eastern Visayas still had no power supply. Restoration of power was interrupted by heavy rains last Sunday afternoon.
Ormoc City under state of calamity
Ormoc City was declared under a state of calamity following the damage caused by the very strong aftershock.
The declaration was recommended by Gomez and Undersecretary Ricardo Jalad, civil defense administrator and National Disaster Risk Reduction and Management Council (NDRRMC) executive director.
Jalad said it was necessary to place Ormoc under a state of calamity to enable officials to release and use calamity funds, 30 percent of which is intended as Quick Response Fund.
According to Ormoc's Rapid Damage and Needs Assessment, the city needs around P270 million to rehabilitate damaged government infrastructure. This does not include the cost of relocating two villages, Lake Danao and Tongonan, and the construction of a water system that would solve the city's water supply problem.
City Treasurer Delia Vilbar said Ormoc only has P119 million in disaster fund. The fund came from the mandatory appropriation of five percent from its annual funds, including accumulated excess funds from previous years where no calamities happened.
Public Works Secretary Mark Villar promised Gomez and his wife, Ormoc City Rep. Lucy Torres-Gomez, that he would find ways to help the city with its proposed P2.2-billion Lake Danao Water System.
Last Thursday's quake left two deaths, 200 injuries, over a thousand houses partially damaged and more than 700 completely ruined, according to the NDRRMC. – With Lalaine Jimenea, Miriam Desacada