Panic, destruction after deadly quake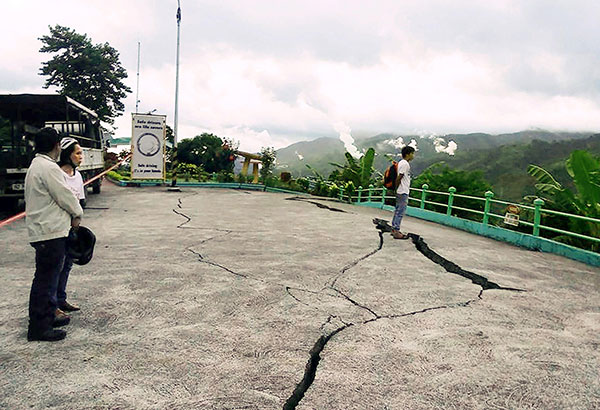 KANANGA, Leyte – Residents fled their houses in panic as 297 aftershocks were felt after a magnitude 6.5 earthquake rocked the province on Thursday, resulting in the deaths of three persons and injuries to 72 others.
Mayor Rowena Codilla yesterday placed the town under a state of calamity, citing the heavy damage caused by the earthquake.
Rescuers pulled out 13 people trapped in a collapsed commercial building here, two of whom died, according to Manuel Garduque of the Municipal Disaster Risk Reduction and Management Office.
Garduque said the woman, who was in critical condition when she was rescued, died seven hours after she was rushed to a hospital in Ormoc City.
The Department of Social Welfare and Development (DSWD) identified the male fatality as Jerry Movilla, 43, who was class president of the DSWD-organized skills training for security guards. The training was on its fifth day when the earthquake hit.
In Ormoc, Senior Supt. Ramil Ramirez told The STAR in a separate interview that an 18-year-old woman, identified as Rhissa Rosales, died in Barangay Cabuynan in the city when her house collapsed.
Rosales' family told authorities she was able to hand to them her three-month-old baby before the wall fell on her.
National Disaster Risk Reduction and Management Council (NDRRMC) spokesperson Mina Marasigan said those injured were from this town, Ormoc and Carigara.
Six of those rescued alive were identified by the NDRRMC as Miriam Superales, 42, of Barangay Hiluctugan; Jevy Omulon, 38; Ana Nicole Geraldez, 7; Sancho Geraldez, 4, of Baranga Rizal; Irene Flores of Barangay Poblacion and Edgar Cabahug of Jaro, Leyte.
"We were able to retrieve and rescue them because they were still able to contact their families while they were trapped inside the building," Garduque said.
Bohol and Samar islands, Biliran and parts of this province remain without power while Cebu, Negros and Panay may also suffer occasional power interruptions because of supply deficiency, the Department of Energy said.
Geothermal plants in the province, its main source of power, were hit, according to the provincial government.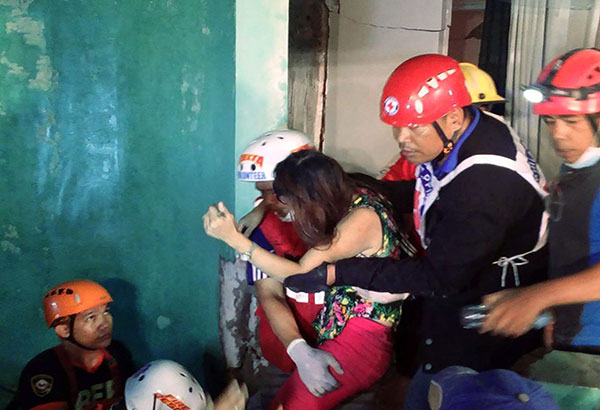 Photo shows rescuers carrying a woman from the rubble of a destroyed building in the town of Kananga. AFP
Presidential Assistant for the Visayas Michael Lloyd Diño appealed to Cebuanos to send more water and generator sets for residents of this town and Ormoc.
Diño said Ormoc City Mayor Richard Gomez told him that water is the immediate need of the people. Businessmen and civic-minded individuals from Cebu immediately sent bottled water to help the residents.
All schools in the province were closed while the provincial and city governments of Ormoc and Tacloban also suspended work as authorities assess the damage caused by the earthquake.
"Some residents ran out of their homes when they felt aftershocks. Some had panicked but many stayed calm because we just had an earthquake drill and they know what to do in times of disaster," Office of Civil Defense regional spokesperson Pebbles Lluz told AFP.
The earthquake damaged houses and schools, left cracks in highways and caused landslides, authorities said.
Local airlines cancelled flights to Ormoc. Hundreds of passengers bound for Ormoc were stranded at the Ninoy Aquino International Airport Terminal 3.
Civil Aviation Authority of the Philippines spokeman Eric Apolonio said the Ormoc airport was damaged and only small aircraft could be accommodated.
"The center of the earthquake was in mountainous villages so we will only get a clearer picture of the impact once we reach these areas," Marasigan said.
The quake hit at a depth of around six kilometers, the US Geological Survey said.
Warnings issued
The chief of the Philippine Institute of Volcanology and Seismology (Phivolcs), Renato Solidum, warned residents of this province against possible landslides and collapsing buildings as aftershocks continued to rattle the province.
Solidum said aftershocks of smaller magnitudes are expected in the coming days. "Aftershocks are normal from a strong earthquake. People who reside near the quake's epicenter could still experience these but they should not worry," he said over dzBB.
However, he warned those who reside in steep mountainous areas to be vigilant against landslides. "If it's been raining and there's an earthquake, landslides are more likely to occur," he said.
Solidum cited the landslide that hit the village of Guinsaugon in St. Bernard, Southern Leyte on Feb. 17, 2006, resulting in a huge number of fatalities.
"The (Guinsaugon) landslide was triggered by a moderately sized earthquake that was preceded by 10 days of continuous rain," Solidum said.
Solidum said Thursday's tremor was caused by a movement of the Philippine Fault-Leyte segment.
He said the fault passes near an "inactive" stratovolcano in Biliran and not offshore. Earthquakes that are generated in this kind of fault are usually not large as the high temperature in the area reduces the quake's strength, Solidum said.
He said tsunamis were not expected to occur after the quake, nor will it trigger an eruption of the volcano.
Assistance ready
President Duterte stands in solidarity with the victims of the earthquake, presidential spokesman Ernesto Abella said yesterday.
"We condole with those who have lost their loved ones and we continue to stand with those who have loved ones who have been hurt," Abella said.
On the President's orders, Abella said concerned agencies would deploy all resources to find survivors and speed up recovery efforts in the affected areas.
"We continue to call on the resilient spirit of the Filipino to close ranks against the vicissitudes confronting our people," Abella added.
"No matter what, we will rise again and we will rise into our destined greatness," he said.
The DSWD said it was coordinating with the local governments to ensure that the victims would be provided relief assistance.
The National Food Authority said there is enough rice supply in Eastern Visayas and prices remain stable.
All government-run hospitals are on code blue alert, the Department of Health said. This is to ensure that they could attend to the medical needs of residents in the quake-affected areas.
The Department of Labor and Employment said there were no reports of closures of commercial establishments or displacement of workers due to the earthquake.
The Department of Public Works and Highways said it has begun inspecting the structural integrity of various infrastructure in the affected areas, including roads and bridges.
Public Works Secretary Mark Villar said all roads in the provinces remain passable.
Philippine National Police regional director Chief Supt. Elmer Beltejar, who conducted an inspection of the building that collapsed, ordered an investigation to determine whether the owner of the building and other building officials could be held liable for negligence and violation of the building code.
In February, a magnitude 6.5 earthquake killed eight people and left more than 250 injured outside the southern city of Surigao. The following month, a magnitude 5.9 tremor killed one person there in March.
Before the Surigao quakes, the last fatal earthquake to hit the country was a magnitude 7.1 tremor that left more than 220 people dead and destroyed historic churches in Bohol in October 2013.
Two mild earthquakes also hit Jabonga, Agusan del Norte on Thursday but there no damage was reported.
Finance Secretary Carlos Dominguez III said the Japanese government offered its sympathies and assistance to the Philippines and earthquake victims.
Sen. Loren Legarda called on all local communities to intensify disaster preparedness and minimize, if not eliminate, deaths and injuries as well as damage to structures. – With Jaime Laude, Rudy Santos, Louise Maureen Simeon, Danessa Rivera, Mayen Jaymalin, Rainier Allan Ronda, Christina Mendez, Mitchelle Palaubsanon, Lalaine Jimenea, Janvic Mateo, Evelyn Macairan, Mary Grace Padin, Ben Serrano, Marvin Sy, AFP