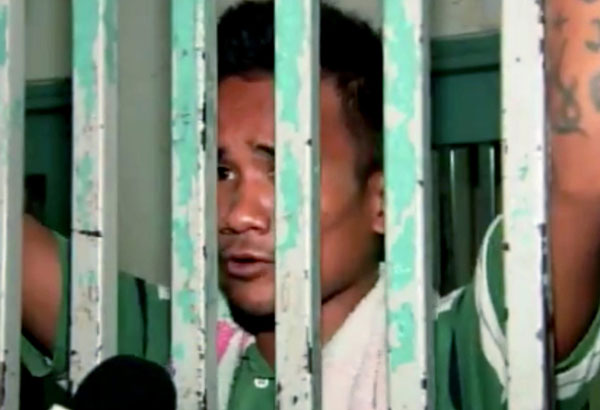 Bulacan massacre suspect Carmelino Ibañes claims being tortured by police in this video grab from an ABS-CBN News interview in his jail cell at Camp Olivas in Pampanga the other day. EDD GUMBAN
Massacre suspect recants, claims torture
(The Philippine Star) - July 6, 2017 - 4:00pm
MANILA, Philippines - After admitting to committing the crime, the primary suspect in the massacre of a family of five in San Jose del Monte City in Bulacan recanted his statement on Wednesday, claiming that he confessed out of fear of the police, whom he accused of torturing him to make him own up to the crime.
"Kaya nasabi ko po 'yun, natatakot lang po ako sa mga pulis (I said that only because I was scared of the police)," Carmelino Ibañes, 26, told ABS-CBN News in an interview in his jail cell at Camp Olivas in Pampanga.
He added: "Kasi po tinorture po ako nila sa likod... Binalutan po nila ako ng plastic sa ulo, tapos, inanuhan po ako ng martilyo sa kamay kaya nasabi ko po 'yun (They tortured me at my back…They covered my head with plastic, then they hit my hand with a hammer – that's why I made the confession)."
When he was asked how many they were when they executed the gruesome killings, Ibañes did not answer the question, but claimed he knew nothing about what happened since he was drunk.
He said he was at home when the police came, and he voluntarily went with them.
He added that he surrendered because he feared for his life, since police told him that if he went home, something bad might happen to him.
But in an interview with Ted Failon in his program Failon Ngayon, Central Luzon police director Chief Supt. Aaron Aquino denied that the police tortured Ibañes.
"Do you see any marks on his body? That we made him suffer? There's none. We will never do that," he said.
Earlier, Ibañes also admitted raping both Aurora Dizon and her daughter Estrella Carlos, two of the victims, while he and his cohorts alias Tony and alias Inggo were drunk and high on drugs, and that he did so "at the spur of the moment."
Ibañes, however, tested negative for drug use last week.
Aguirre vows justice
As this developed, Justice Secretary Vitaliano Aguirre II yesterday vowed justice in the gruesome massacre.
Aguirre met with Dexter Carlos, the security guard husband of Estrella, in the former's office at the Department of Justice (DOJ).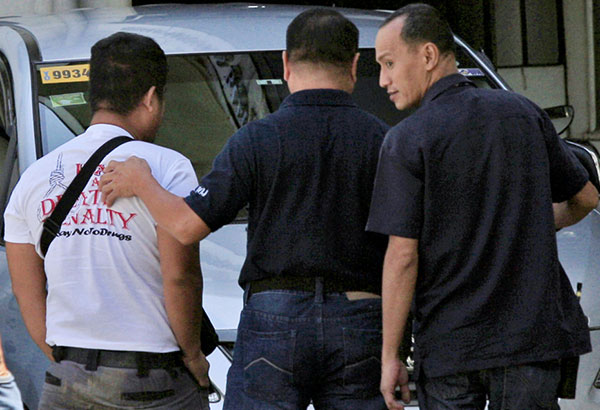 Photo shows Dexter Carlos, who lost his family in the brutal attack, arriving at the Department of Justice main office in Manila. The DOJ has provisionally placed Carlos under the witness protection program.
EDD GUMBAN
"Losing one's family to criminals is a very hard experience for anyone, we should help him get the justice he deserves... The (DOJ) is more than willing to extend any assistance that he may need in getting justice for what was done to his family," Aguirre said.
Apart from the legal assistance being provided by the Public Attorney's Office, Carlos was also given security under the DOJ's witness protection program (WPP).
Upon Aguirre's offer, Carlos applied for WPP protection and was placed under provisional coverage.
Earlier this week, Aguirre ordered the National Bureau of Investigation (NBI) to conduct a parallel probe on the massacre.
Two days after the incident, the PNP presented Ibañes to the media.
Two other suspects reportedly tagged by Ibañes – Rolando Pacinos alias "Inggo" and Roosevelt Sorima – have been killed.