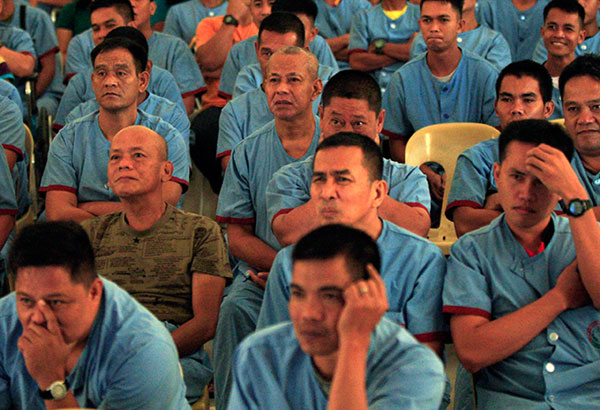 Soldiers wounded in the Marawi siege watch a special viewing of the Pacquiao-Horn bout at the Army Hospital in Fort Bonifacio, Taguig City yesterday. EDD GUMBAN
Loss brings misery to Marawi, troops
(The Philippine Star) - July 2, 2017 - 4:00pm
MANILA, Philippines - Millions of boxing fans in the Philippines, including those displaced by fighting with Islamist militants, walked away in stunned disbelief as boxing legend Manny Pacquiao lost his world title to Australian Jeff Horn in a major upset yesterday.
Pacquiao, 38, an elected senator, lost to Horn in a surprising unanimous decision.
Residents of war-torn Marawi City had hoped for a respite by watching the 12-round fight in evacuation centers, but their idol's defeat silenced cheers and prompted many to stand up even before the announcement was over.
"We were expecting his hand to be raised as a winner but you cannot always win," provincial government spokesman Zia Alonto Adiong said after helping organize a public viewing in the war-ravaged city.
"Our morale is at its lowest but Pacquiao remains a symbol of resilience. In the same way that he is already a boxing icon, this crisis does not define who we are," he said.
Maute group extremists who went on a rampage in Marawi on May 23 have triggered intense fighting that has killed more than 400 people and forced nearly 400,000 people to flee their homes.
In Manila, soldiers wounded from the clashes in Marawi watched a bloodied Pacquiao from screens set up in a military hospital.
Pacquiao, a reserve lieutenant colonel, had bled profusely from cuts to the head high above both eyes, prompting boos from crowds gathered in gymnasiums in the capital.
"Pacquiao lost, but a battle is really like that. He is a true soldier because even if he is wounded he keeps attacking the opponent," Armed Forces chief Gen. Eduardo Año told reporters.
Pacquiao's rags-to-riches story, from high school dropout to millionaire world boxing champion in an unprecedented eight weight divisions, is a huge source of pride in the Philippines.
In keeping with tradition, many Filipinos watched Pacquiao's fight, which took place around midday yesterday, in public places, including in restaurants and watering holes.
However, crowds have gradually become thinner as Pacquiao hits the twilight of a glittering career.
"I don't think he lost. He was cheated! He still came out a strong fighter," construction worker Rudy Merano said after watching the fight in a public square in Marikina City.
"But I think Pacquiao should retire and just focus on being senator. He is clearly ageing," he said. – AFP