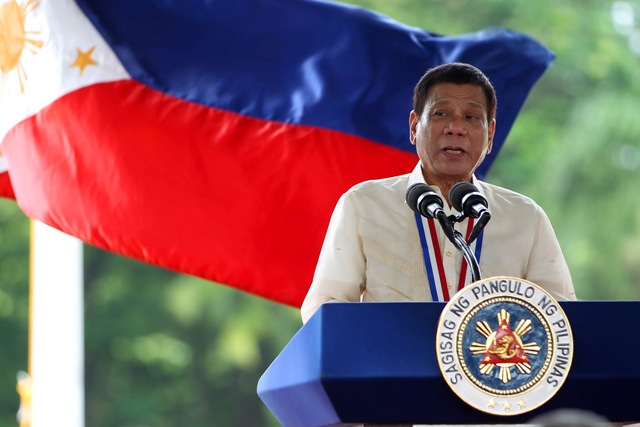 "I do not make any assessment. I only make assessment after my term," President Rodrigo Duterte told reporters in an interview in Clark, Pampanga Wednesday night. PPD/Ace Morandante, File
(The Philippine Star) - June 29, 2017 - 4:00pm
Rody to nation: Judge me fairly
MANILA, Philippines - Like a roller coaster ride, there's no telling how his administration has fared until the ride is over.
This was President Duterte's take on his first year in office as he declined to assess his performance as the country's chief executive.
"I do not make any assessment. I only make assessment after my term," the President told reporters in an interview in Clark, Pampanga Wednesday night.
"It's a roller coaster actually. While you are there, it's a roller coaster. So, it should be at the end of the ride," the 72-year-old Duterte said.
If he is unable to finish his term, Duterte said he is leaving it up to the public to judge his administration with "fairness."
"If I don't exist anymore by that time, you make your own assessment. Just be fair," he said. "If I get to live, then I'll tell you."
The President marks his first year in office today in Davao City where he plans to spend most of his time in the next few weeks.
His Communications Secretary Martin Andanar said he would rather have survey firms measure the Chief Executive's performance.
"It's hard to grade oneself. Like what you said, it is self-serving," Andanar told reporters.
"Let us just look at the results of the latest surveys on our President. The trust ratings of SWS and Pulse Asia, where 75 percent all the way to 72 percent who believe in President Duterte, supports his policies," Andanar added.
Communications Assistant Marie Banaag said the President wants to spend his first year anniversary with soldiers in Marawi City if permitted by his security advisers.
"The President wished to be in Marawi but, of course, that is tentative. The President wished to make the people of Marawi feel that we are behind them, the government is behind them and the President has never left Marawi," Banaag said.
The Palace also scoffed at an assessment made by the Human Rights Watch that Duterte's first year was a "human rights calamity."
"We don't feel good about the comments of the Human Rights Watch. But we have also to be firm – and we have to realize that the President stood and won on a platform of genuine change," she explained. "He wanted a better life for the Filipino people."
"Well, Human Rights Watch should not brush aside all the programs, especially the enforcement side. How many operations have been conducted by the enforcement agencies, anti-drug agencies? It is not a joke to enforce 62,000 anti-drug operations in a year," Banaag said.
"That's so much sacrifice. And of course, also, we have around 1.3 million drug surrenderers," she added.
"The government is doing something about these through the inter-agency committee on anti-illegal drugs," she pointed out.
Banaag reiterated that the government has been acting on cases of illegal drugs and working vigorously to ensure that lives are not wasted.
High grades
Not surprisingly, House allies have given Duterte high grades, with Ako Bicol Rep. Rodel Batocabe giving him an 8.7 mark in a scale of one to 10, with 10 being the highest.
Allies dominate the House, led by Speaker Pantaleon Alvarez.
1-Ang Edukasyon Rep. Salvador Belaro Jr. gave the President 8.0 while Quezon City Rep. Winston Castelo lauded Duterte for what he believed was his skillful handling of martial law.
Batocabe, president of the Party-list Coalition Foundation, noted the substantial improvement in the country's peace and order, the infrastructure boom, as well as Duterte's being a "good communicator."
"The economic reforms initiated by his predecessors are being continued by his economic managers, thereby making the Philippines a rising economic star," the Bicolano lawmaker pointed out.
Assistant Majority Leader Belaro, for his part, said the 8.0 grade "gives ample room for more accomplishments in the years ahead" or the remaining five years of the Duterte administration.
Castelo commended Duterte and the security forces for their "professionalism" amid the conflict in Marawi City, as attested to by the Commission on Human Rights in a report last June 24.
For Quezon Rep. Danilo Suarez , the leader of the pro-administration minority, the President was in the learning stage and should be given more time to adjust.
"Let's give it to him. His first year was his learning curve. Remember that he was a reluctant candidate," Suarez told a news forum in Quezon City. On a scale of 1 to 10, he would give Duterte a six.
"He wasn't prepared, unlike the candidate I supported, who lost, unfortunately," he said. Suarez backed then vice president Jejomar Binay.
Asked in what areas Duterte did well, Suarez said it was in the anti-drug war.
"His election campaign promise was to rid the country of illegal drugs by killing all drug lords. So far, 2,600 drug suspects have been killed in police operations, while 7,500 have died under mysterious circumstances," he said.
But he lamented none of the more than 10,000 killed was a drug lord. "The big-time drug personalities are still pursuing their illegal activities, partly because they are protected by the police. I hope the President will focus his attention on them and their protectors," he said.
Ifugao lawmaker Teodoro Baguilat Jr., for his part, gave Duterte a grade of four but lauded his achievements in the peace talks, economy and infrastructure.
Duterte, Baguilat said, "needs to drastically improve his performance if he really wants to use his considerable political capital to deliver on his promise of real and effective change."
Meanwhile, the militant Bagong Alyansang Makabayan (Bayan) will lead a march to Mendiola today to press for more reforms under the Duterte administration.
"We are pressing President Duterte to fulfill his promise of change amid the worsening economic and political crisis. The people demand nationalist and progressive change, not another slew of broken promises," Bayan secretary-general Renato Reyes said.
"While there have been some positive developments the past year, these remain secondary to the more dominant reactionary, anti-people, pro-foreign trends in the regime," he said.