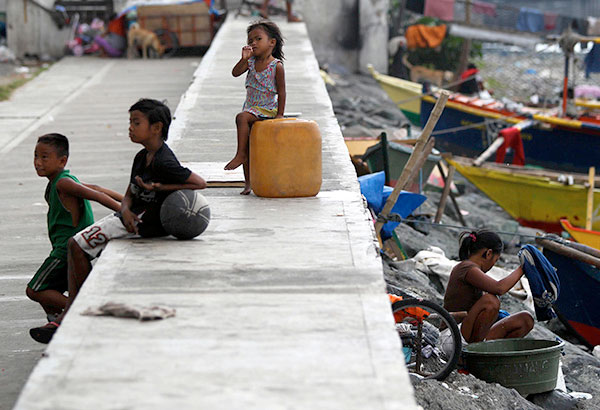 "Children are recruited and exploited as soldiers, mostly in conflict-affected areas in Asia and the Middle East. Children are not only used by armed groups as combatants, but also as spies, helpers and porters," the ILO said. STAR/Edd Gumban, File
ILO: Children in war-torn areas recruited as soldiers, spies
MANILA, Philippines - About 250 million children worldwide live in areas affected by clashes and a majority of them are recruited to work as soldiers and spies, the International Labor Organization (ILO) reported yesterday.
"Children are recruited and exploited as soldiers, mostly in conflict-affected areas in Asia and the Middle East. Children are not only used by armed groups as combatants, but also as spies, helpers and porters," the ILO said.
The agency said these children could also become victims of sexual exploitation and abuse.
Earlier, there were reports that a local terror group with links to the Islamic state (IS) is recruiting children in Mindanao to fight as soldiers.
The report said most of the Maute and Abu Sayyaf fighters are in their 20s and that boys as young as four years old are being used as soldiers in the frontline.
The Department of Labor and Employment (DOLE) is urging government agencies and civic organizations to put an end to child labor in Marawi and other areas affected by clashes.
Labor Secretary Silvestre Bello III said Filipinos must unite and join the fight against child labor.
Bello was reacting to reports that children in Marawi are being recruited by the Maute group as combatants or spies.
He said child labor could be eradicated through cooperation among government agencies, civil society organizations, local government units, media, parents and children themselves.
The ILO considers the recruitment and use of children as soldiers one of the worst forms of child labor.
It said the fighting forces millions of children into child labor or into the hands of traffickers.
"In times of conflict, in times of disaster, it is the children who often pay the heaviest price," the ILO said.
Aside from the dangers brought by armed clashes, the ILO said that child soldiers suffer physical and psychological abuse, harsh duties and punishments and are exposed to alcohol and drugs.
"These leave deep scars in children's minds and reintegrating them into society when the conflict is over is complicated."
Children displaced by conflict and disasters move out of their homes and become vulnerable as they find themselves separated from their parents and relatives, the ILO said.
To help stop child labor, UNICEF Philippines, in partnership with the Makati Business Club (MBC), yesterday launched the Children's Rights and Business Principles (CRBP) to guide the private sector in responding to calls for respect and support for children's rights.
"The level of children's rights protection in the Philippines is relatively low. The official figure of child labor in the Philippines is somewhere at 1.7 million children. It is quite high," UNICEF Philippines representative Lotta Sylwander said.
"They say their families are poor so children have to work. But then we say if the children have to work, at least the work should be limited so the children can still go to school, have some time for recreation and play because they need that to develop," Sylwander said.
MBC executive director Peter Perfecto said a lot is being done in the private sector but there is still much that the business community can do in taking care of children, women and human rights.
Ayala Group chairman Jaime Augusto Zobel de Ayala said the CRBP underpins the commitment of the government, private sector and civil society to uphold children's rights and ensure that businesses have nothing but a positive impact on their lives.
Aside from those exposed to clashes, almost 70 million children are affected by natural disasters each year.
The ILO said children from countries such as the Philippines and Myanmar are more at risk to natural disasters and are likely to suffer the most, as they are more vulnerable to child labor, trafficking and abuse. – With Richmond Mercurio