ARMM: More than 183,500 displaced by Marawi crisis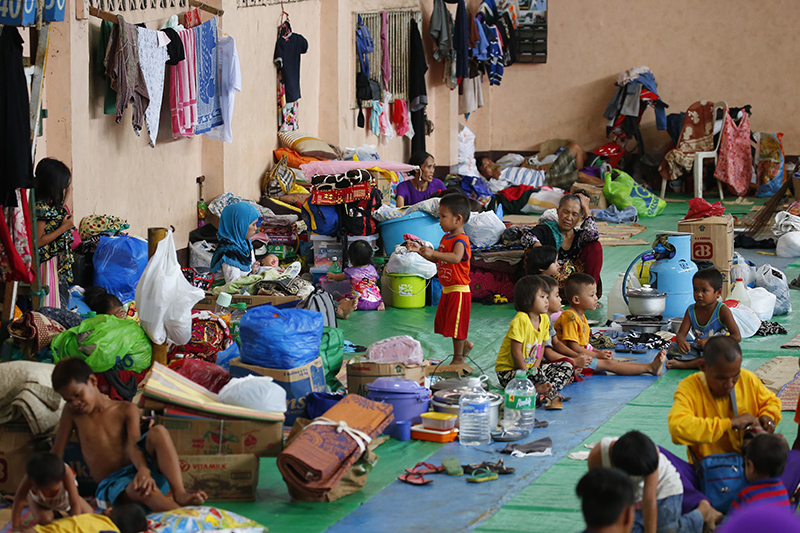 MANILA, Philippines — The number of internally-displaced people (IDP) from Marawi City is now 183,557 and there is no clear timeline on when conflict-stricken barangays will return to normal.
Officials confirmed to The STAR Tuesday that the remains of 22 dead villagers were recovered from scenes of gunfights in the past 19 days, all have been identified by their relatives.
The Humanitarian Emergency Assistance and Response Team (HEART) of the Autonomous Region in Muslim Mindanao (ARMM) operating under the supervision of ARMM Gov. Mujiv Hataman, announced on Tuesday that the 183,557 displaced Marawi City residents are now in evacuation sites or in houses of relatives.
The HEART said 42,495 of these IDPs are house-based, or in houses of relatives in safe areas in Lanao del Sur, in Iligan City and in nearby municipalities in Region 10.
The DepEd-ARMM is now establishing temporary learning centers in school campuses near evacuation sites to enable displaced school children to proceed with their studies.
John Magno, regional secretary of DepEd-ARMM, said their activation of the makeshift learning centers is closely coordinated with education officials in Iligan City and in Lanao del Norte, both under Administrative Region 10.
Hundreds of teachers still missing
The crisis management committee of Lanao del Sur province and HEART are still searching for more than 600 missing teachers employed in Marawi City.
ARMM Vice Gov. Haroun Al-Rashid Lucman, also regional social welfare secretary of the autonomous region, said Tuesday that municipal social welfare offices in Lanao del Sur have enlisted the help of barangay officials to trace their whereabouts.
"The mayors have also been requested to help. We are optimistic of breakthroughs in the coming days," Lucman said.
Ana Zenaida Unte, assistant superintendent of DepEd-ARMM's Marawi City Schools Division, said they found four of the missing teachers on Monday.
They had fled to Saguiran town when terrorists attacked their villages on May 23.
Unte said the four teachers — Tanjirea Mascara, Baisnang Deron, Baimona Tomawis and Zhayna Sabarat — are all in good condition, now in houses of relatives in Saguiaran town in the first district of Lanao del Sur.
Police intelligence officials in Marawi City, capital of Lanao del Sur, said the teachers who are still unaccounted for could have fled to faraway places, scared by threats from the Dawlah Islamiyah to execute teachers imparting a mainstream education curriculum of a "Kuffar" government to Marawi's children.
The term kuffar is Arabic for non-believer, or one whose religion is not Islam.
"These terrorists are feared for their brutality on those who are for them munafiq (hypocrite) Muslims collaborating with the government," said a police chief inspector, who asked not to be identified for security reasons.
Siblings Omar and Abdullah Maute, founders of the Dawlah Islamiya, whose members now include Abu Sayyaf bandits led by Isnilon Hapilon, are known for their arrogant hurling of insults in public against school teachers and Islamic theologians who disagree with their extreme interpretation of verses in the Qur'an.
Chief Supt. Reuben Theodore Sindac, director of the ARMM regional police, said the chiefs of police in all of Lanao del Sur's 39 towns are now helping locate the missing teachers.
Marawi City has 1,424 teachers and only almost 700 have reported their present locations to their division office after hostilities erupted in their villages on May 23.