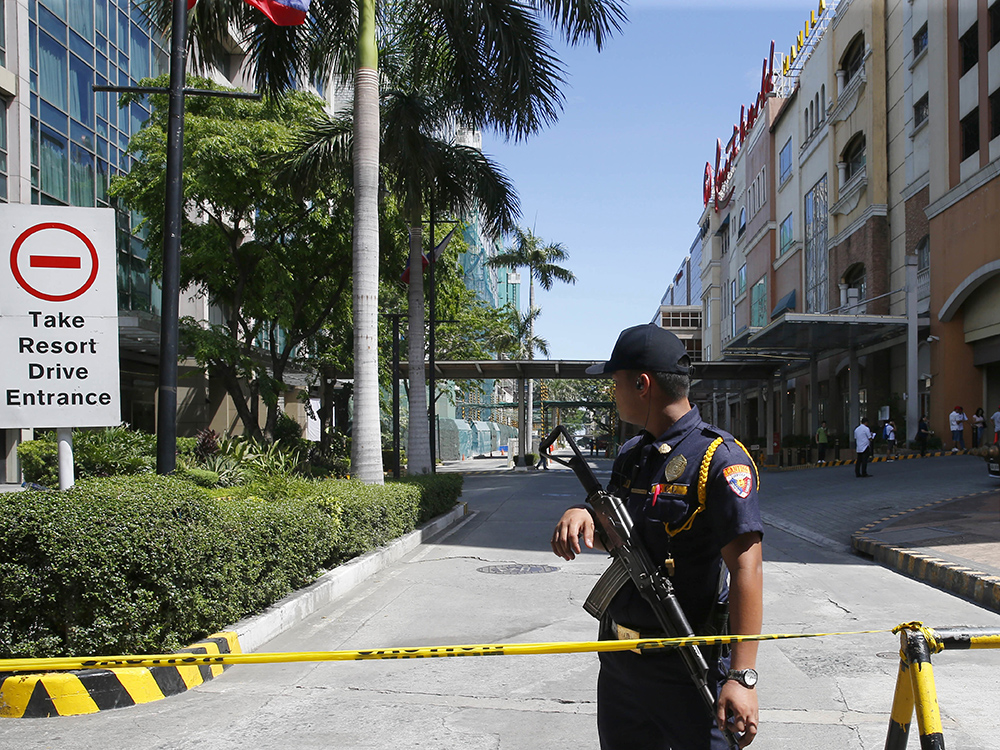 The Philippine Amusement and Gaming Corp. (Pagcor) suspended yesterday the license granted to Resorts World Manila (RWM) to operate casinos, pending the results of an investigation into the June 2 attack that left 38 persons dead, including the gunman. File
Pagcor suspends Resorts World license
MANILA, Philippines - The Philippine Amusement and Gaming Corp. (Pagcor) suspended yesterday the license granted to Resorts World Manila (RWM) to operate casinos, pending the results of an investigation into the June 2 attack that left 38 persons dead, including the gunman.
Pagcor suspended the Provisional License (PL) granted to Travellers International Hotel Group to operate casinos and other gaming facilities under the business name of RWM.
"With the suspension, RWM must cease and desist all gaming operations while investigation on its liability regarding the June 2 incident is ongoing," Pagcor said in a statement.
The gunman identified as Jessie Carlos stormed into the casino hotel in Pasay City and set fire to the premises, killing 37 guests and employees and injuring more than 50 individuals. The gunman later committed suicide.
"The said suspension will remain until RWM rectifies its serious security lapses and deficiencies – which caused not only the loss of lives and damaged properties but also placed the Philippine gaming, tourism and hospitality industries in bad light," Pagcor said.
"Non-compliance with the order shall cause Pagcor to impose other sanctions as may be warranted under existing laws," it said.
The country's gaming regulator is also requiring all integrated resorts to submit security and safety protocols to make sure that such incidents will not happen again.
The management of RWM has sought the services of security experts abroad to look into their security and safety protocols a few days after a gunman went on a rampage inside the casino hotel.
"We will rebuild and make Resorts World better and stronger. A big part of this is to bring in world experts," RWM's chief operating officer Stephen Reilly said in a statement yesterday.
Reilly said that they tapped the firm Blackpanda to review the security and safety protocols of RWM as well as to identify areas for improvement, recommend risk reduction measures and guide them through its implementation.
Blackpanda, which covers more than 1,000 missions across 50 countries, specializes in crisis response, risk management and security consulting.
It is composed of individuals who have served at the highest levels of military Special Operations units in the US, Canada, New Zealand and the Philippines.
"The recent breach in our security and the resulting loss of lives is truly regrettable and we cannot let it happen again," Reilly said.
Reilly said he has seen some lapses in security after he reviewed the surveillance videos.
"At the moment we try to ascertain exactly how many weaknesses there were, why some people did not stand on their posts and that is something we are going to address very quickly," Reilly said in an interview over ANC.
During a House hearing last Wednesday, Reilly admitted that lapses in security enabled gunman Jessie Carlos, an alleged disgruntled casino gambling addict, to enter the casino on June 1, terrorize and cause panic among the guests and employees and torch gaming equipment that left dozens dead from smoke inhalation.
Carlos later committed suicide by shooting himself in a room on the fifth floor of the hotel complex where he had holed himself up.
"I say there's lapses in security. When we played the first videos, I pointed out there should have been security personnel posted on certain points and they were not present. We admit openly there were some lapses in security," Reilly told lawmakers.
Isabela Rep. Rodolfo Albano lll filed a bill yesterday imposing a P3,000 entrance fee for casino gamblers.
He said he introduced the measure "to protect poor people who become poorer if they go to the casino."
"This bill seeks to strengthen regulation of the participation or engagement of citizens in casino gambling by ensuring that those who enter casinos and similar gaming establishments have the minimum resources to engage in gambling," he said.
He said the Resorts World tragedy brought to public attention the sad state of regulation and administration of gaming and gaming establishments in the country.
Albano added that his proposed entrance fee is similar to the charge Singapore collects from casino goers.
He said the P3,000 fee "will serve as a deterrent to those who lack the resources to go to the casinos to gamble."
Albano joined his colleagues in their ocular inspection of the casino-hotel on Wednesday.
"I would just like to make sure that the facility is as hardened as possible upon entry," said Reilly.
However, he is not keen on putting heavily armed personnel on the casino floor as it might be offensive to their guests and affect the image of the casino complex as a family destination. – With Robertzon Ramirez, Jess Diaz, Emmanuel Tupas, Mary Grace Padin