27 M students return to school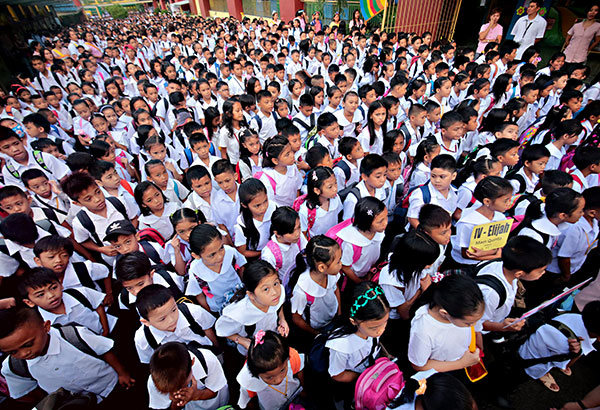 MANILA, Philippines - There is little threat to schools posed by terrorist activity, Education Secretary Leonor Briones said, with increased safety measures implemented by the Philippine National Police (PNP) as over 27 million students returned to school yesterday.
Speaking during the flag-raising ceremony at the Corazon Aquino High School in Baseco compound in Manila, Briones said initial reports showed that no major issues were encountered during the opening of classes in over 53,000 public elementary, junior and senior high schools across the nation.
"So far, so good," she added.
In a press conference, Briones said that while the threat posed by terrorist activity in Mindanao would not affect schools in Metro Manila, the victimization of students through thievery was "anticipated and ongoing."
"Many school kids have money in their pockets for snacks or whatever, and those who go to private universities carry money for their tuition, so it's a very attractive magnet for (thievery)," she said.
"Even before the dramatic incidents in Marawi City and recently here in Manila, we were already preparing. What we are doing is heightening the level of security arrangements in light of the additional challenges we are now facing," she added.
Manila District Police chief Joel Coronel said the PNP remains vigilant despite the absence of imminent security threats.
"We have been receiving reports that there are no threats imminent or actual at the moment, but nonetheless our police personnel will be here to secure the opening of classes," said Coronel, who also attended the public school opening yesterday.
Coronel said the PNP set up 116 police assistance desks across 77 public elementary schools and 36 public high schools, with 12 PNP personnel deployed to each school from 6 a.m. onwards.
The number of PNP security personnel had been increased due to the unrest in Marawi City and the recent robbery and attack at Resorts World Manila.
Displaced students from Mindanao
At the assembly, Briones also acknowledged the students from families displaced by the Marawi siege.
"Let us welcome them because all children deserve an education, regardless of where you come from," she said.
The number of students displaced had risen from 5,000 to 20,000, according to the Department of Education (DepEd).
The DepEd said the safety of Marawi students remained "topmost priority" but noted that these learners do not have the necessary school records required to transfer to another school because of their sudden relocation.
Back-to-school problems
Joining Briones at the program is former president and Manila Mayor Joseph Estrada, who pledged support for the more than 100 public schools located in the capital.
Some 22.9 million students returned to public schools nationwide based on DepEd's enrollment projection. Over the following weeks, another four million students are expected to start classes in the more than 22,000 private schools across the country.
DepEd said the total number of students enrolled in basic education programs in the country may reach as high as 27.7 million if those enrolled in alternative learning programs are taken into account.
Despite the record-high number of enrollees this year, Briones said the DepEd has yet to receive reports of usual back-to-school problems such as crowding in congested public schools.
"The signals are already visible. The enrollment process was generally peaceful. The turnout is as expected… The opening is very orderly," she said.
Briones is expected to hold a press conference in Malacañang today to present data on the opening of classes.
DepEd Assistant Secretary Nepomuceno Malaluan said only a small percentage of schools face problems that need immediate intervention.
Lack of classrooms
While problems are minimal, DepEd officials yesterday admitted that the situation is far from perfect.
Undersecretary for Administration Alain Pascua admitted that only 51.9 percent of the target 107,920 classrooms have been completed so far.
"In Metro Manila, the total number of classroom shortage is about 18,000 classrooms… This is computed based on ideal situation. The ideal situation is one shift, 40 to 45 students per classroom," Pascua said. – With Sheila Crisostomo