Duterte: Marawi crisis over in 3 days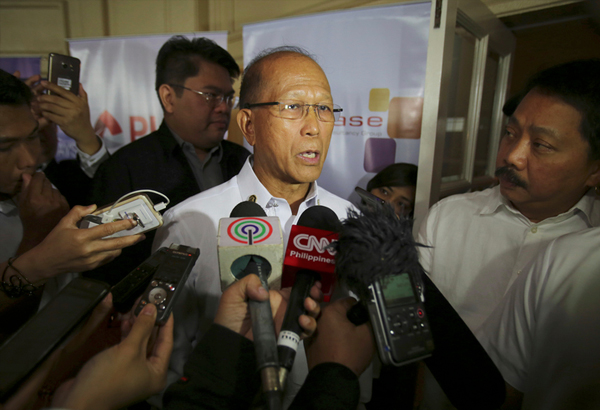 MANILA, Philippines - The government now believes the terrorist Islamic State (IS) is behind the Marawi City siege because of the manner by which the militants have been fighting, according to Defense Secretary Delfin Lorenzana.
"Yes, we believe this is IS because you know normally in this kind of conflict, the local armed groups will just scamper away and maybe hide in the mountains. But surprisingly, this group just held out there and were waiting to fire it out, maybe to the last bullet," Lorenzana said in a press conference in Marawi City on Saturday night.
He noted that one proof that IS is behind the Marawi siege is the entry of foreign fighters, which he said is puzzling. Two Indonesians, two Malaysians, two Saudi nationals, one Yemeni, one Indian and one Chechen were said to have linked up with the local Maute group.
Lorenzana also said he got information that some locals could have helped foreign fighters enter Marawi during the Tabligh, a convention of Sunni Islamic missionaries in Marawi that ended a day before the battle started. Tabligh Jamaat is reportedly a movement that calls on Muslims to return to Sunni Islam.
The clashes in Marawi erupted when security forces raided a house to arrest Isnilon Hapilon, a veteran Filipino militant of the Abu Sayyaf and regarded as IS's leader in the country. He is on the US government's list of most-wanted terrorists.
Authorities said they were taken by surprise when many gunmen from the IS-inspired Maute group emerged to protect Hapilon and then went on a rampage through Marawi.
Lorenzana said Hapilon helped IS communicate with the Maute group.
Hours after the violence erupted, President Duterte placed the entire Mindanao under martial law to quell what he said was an IS bid to establish a base in the country.
Duterte: Siege to end in 3 days
Duterte said the clashes in Marawi would be over in "about three more days."
He also admitted that ensuring the safety of civilians while running after the terrorists poses a challenge to security forces. The government could have ended the clashes in 24 hours if it did not follow the "rules and values of civilization."
"This will be over in about three more days. At a gross… disparity. Many rebels have died. But the government did not fail to do what it was supposed to do," the President told reporters in Cagayan de Oro Saturday night.
"I could have bombed everything there. I have 10 jets. All I have to do is to bomb the whole place and level it to the ground. But since we are in a civilized society and we are a member of the United Nations and of the Geneva Convention Protocol, I am having difficulties and we had to do it to the least maximum damage of collaterals especially civilians," he added.
MNLF to help soldiers, MILF back ceasefire
Duterte also said yesterday that about 2,000 forces of the Moro National Liberation Front would join the fight in Marawi.
Duterte said he has accepted MNLF founder Nur Misuari's offer to provide additional troops.
"He (Misuari) has offered 2,000 and I said I'm willing to take in 2,000 as regular troops of the armed forces of the government. That offer also goes to the NPA (New People's Army)," he told reporters in Olongapo City.
"If you no longer want to fight, I'm not asking you to join my force. You just surrender and I'll give you the houses and I will expand the land reform program of the government. I will find the money," he added.
While Duterte is ready to talk peace with the MNLF and the NPA, he insisted that he would not negotiate with the Maute terrorists
"It's too late to be talking peace. I will not be talking to you," the President said in a speech before soldiers in Cebu City.
"You fight with all your strength because my order is to bring to me the heads of those sons of b******…You started the ruckus. We did not ask for it," he added.
Security officials originally sought to end the clashes with the Maute militants Friday last week. The military previously said the bandits were using civilians as human shields, making it difficult for ground forces to launch offensives.
Authorities had finally been able to negotiate a ceasefire in war-torn Marawi to rescue up to 2,000 civilians trapped for nearly two weeks in areas held by Maute militants.
Over 60 civilians were reportedly rescued from different villages amid sporadic gunshots from Maute snipers yesterday.
Zia Alonto Adiong, spokesman for the provincial crisis management committee, said yesterday's ceasefire was initially reached following a meeting last week between Duterte and the Moro Islamic Liberation Front (MILF), which offered to broker a halt in hostilities using contacts with the fighters in Marawi.
Unarmed MILF rebels had a four-hour window until noon to take civilians to safety, government rescue coordinator Naguib Sinarimbo said.
But journalists heard a sudden burst of gunfire and an explosion as rescue teams were entering the city.
"There are 2,000 people who need immediate help (after) 13 days without food. We do not know if the ceasefire has been breached," Adiong said, adding that a sudden surge in fighting had hampered the rescue efforts.
Lt. Col. Gerry Besana of the Army's 6th Civil-Military Operations Battalion said he and his men cried when they saw dozens of trapped Christians being escorted by Muslim elders who provided them sanctuary for almost two weeks.
"We have documented stories telling that the trouble created by these terrorists have opened the hearts and minds of people with different religions in Marawi City and those in other areas outside, to the reality that only by helping one another can we defeat terrorists," Besana told The STAR.
On Saturday, at least 185 people also made a daring dash for safety, including one of Marawi's most respected politicians who had hidden 71 Christians in his home and led 144 people through downtown streets strewn with rotting corpses.
The MILF is a breakaway group from the MNLF. The MILF has signed accords with the government aimed at forging lasting peace, giving up their separatist ambitions in return for autonomy. But small hardline groups, including the Maute and Abu Sayyaf, have refused to negotiate and sought to unite behind IS.
Prayers called, Marawi school opening delayed
Manila Archbishop Luis Antonio Cardinal Tagle yesterday called on the Catholic faithful to pray for Muslim brethren in Marawi affected by ongoing clashes between government troops and local terror group Maute.
In a statement posted on the website of Catholic Bishops' Conference of the Philippines yesterday, Tagle said residents of the predominantly Muslim city need prayers that are equally important as relief goods.
"They may have not experienced a super typhoon but they are now encountering a different kind of humanitarian crisis not brought by typhoon but by violence," he added.
The Department of Social Welfare and Development sent an additional 10,000 family food packs for displaced residents staying at evacuation centers.
The Department of Education said the opening of classes in Marawi would be delayed.
"For obvious reasons, Marawi City and eight districts of Lanao del Sur will be delayed by two weeks. Schedule of classes will be adjusted so these will start early and dismiss early," DepEd said in a statement.
"The usual documents which are required will be dispensed with in the case of children from displaced families. We are also making adjustments for schools which will have increased enrollments and those which will have lesser students," it added.
Meanwhile, senators push for stronger policies and amendments to existing laws to ensure protection of children in conflict areas.
Senate Majority Leader Vicente Sotto III and Sen. Sonny Angara expressed alarm over reports of the presence of child combatants in Marawi City. – Alexis Romero, John Unson, Gerry Lee Gorit, Paolo Romero, Edu Punay, AFP