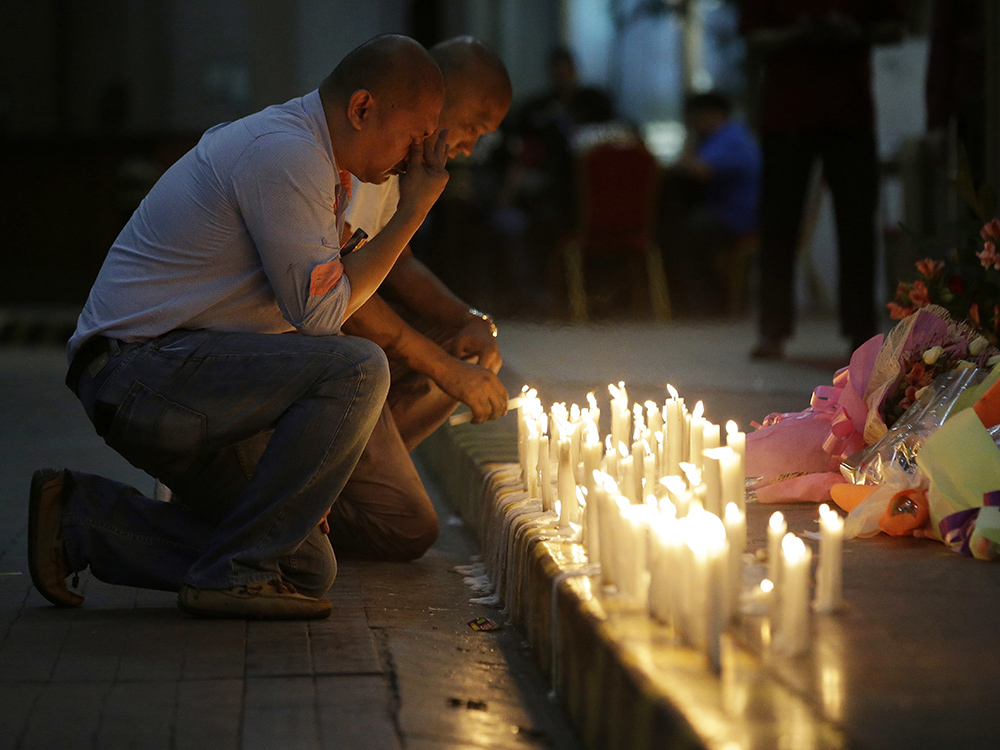 A man holds back tears as he lights candles for victims in an attack at the Resorts World Manila complex, Friday, June 2, 2017, in Manila, Philippines. Police say a gunman stormed a crowded Manila casino and used gasoline to set gambling tables on fire, creating clouds of smoke that swept through the crowds and killed dozens of people. AP/Aaron Favila
38 dead in casino rampage
PNP: No IS hand in Resorts World attack
MANILA, Philippines - Thirty-eight bodies were found inside a casino in Pasay City after a masked man burst in with an automatic rifle and set fire to a gaming room early yesterday.
Dozens of others were injured in a stampede as they rushed to leave Resorts World Manila after the man fired what police said was an M4 assault rifle and started the fire around midnight.
The burnt body of the gunman was found in a hotel room inside the complex about five hours later, Philippine National Police (PNP) chief Director General Ronald dela Rosa said.
Dela Rosa said the gunman only fired at a television screen and did not take aim at anyone.
Responding lawmen initially found 36 bodies in the casino, who they said died from inhaling smoke that had become toxic because of the carpet on the gaming room floors.
"The victims who suffered from suffocation went up to 36," National Capital Region Police Office director Chief Supt. Oscar Albayalde told reporters.
"Practically, (the bodies were found) in the gaming area of casino. They were all recovered from the gaming area. None were found in the rooms," he said.
Two more victims were later found in the second floor of the building yesterday afternoon. One of the victims was buried by debris from a portion of the ceiling that fell, while the other was found in one of the rooms covered with a blanket.
The gunman initially disappeared into the chaos of smoke and running people, leading to a manhunt through the complex that ended just after dawn when he was found dead in Room 510, according to Dela Rosa.
"He lay down on the bed, covered himself with a thick blanket, apparently poured petrol on the blanket and burned himself," Dela Rosa said.
Police said it appeared the suspect had killed himself after firing at officers searching the still-smoking building.
"Our assessment is he burned himself. He committed suicide," Albayalde added.
Police said earlier the man's motive was likely robbery and that the incident was not terror-related.
Security footage showed the gunman ignoring a guard who tried to question him at the complex's entrance, then going straight to the casino. He stuffed a backpack with gambling chips, fired his assault rifle at TV screens and set gambling tables on fire by pouring gasoline from a two-liter bottle he carried.
It was not clear how he smuggled the gasoline and rifle into the crowded casino.
"We are looking into a robbery angle because he did not hurt any people and went straight to the casino chips storage room. He parked at the second floor and barged into the casino, shooting large TV screens and poured gasoline on a table, setting it on fire," Dela Rosa said.
"He went crazy and ransacked the storage room," he stressed.
Police described the gunman as tall with pale complexion and a mustache and spoke English.
The gunman, who was initially described as a foreigner, carried no identification documents. The bag of high-value gambling chips that he carried – with an estimated value of P113 million to P130 million – was later found in a toilet.
Terrorism fears
Before the gunman had been killed and police had confirmed possible motive, there were fears that the incident was a terror attack.
Albayalde and military spokesman Brig. Gen. Restituto Padilla downplayed the incident as a mere "police matter," not a terror attack.
Albayalde and Padilla told a press briefing at Malacañang that they have not monitored any terror threat in Metro Manila.
Presidential spokesman Ernesto Abella also downplayed insinuations of a terror attack.
"Initial findings of police investigation of the Resorts World incident... show that there are no indications of terrorist activity," Abella said.
"All indications point to a criminal act by an apparently emotionally disturbed individual. Although the perpetrator gave warning shots, there apparently was no indication that he wanted to harm or shoot anyone," he said.
Abella also said the casino incident is not connected to the ongoing military campaign against the Islamic State-inspired Maute group in Marawi City.
Abella noted the gunman tried to grab millions worth of gambling chips before he died.
He said authorities are looking into the robbery angle.
"We really could not tell the motive of the perpetrator but apparently, he is mentally disturbed and as we can see, that's why we could not relate it to… We cannot relate it to terrorism is because he did not shoot anybody," Albayalde said.
"He just went inside, he burned the gaming tables … opened fire at the doorknob of the storage where the chips were kept and he stole P113 million worth of casino chips," he added.
Albayalde said CCTV footage showed how the gunman entered the casino complex through the parking level and into the gaming area past midnight.
No lapses
The attack sent hundreds of people fleeing through the complex and out into the night. More than 70 people suffered mostly minor injuries in the stampede to escape.
Resorts World Manila chief operating officer Stephen Reilly said 22 guests and 13 employees initially died in the incident.
"It is with deep regrets that we confirm there were 35 casualties in this tragic incident, of which 13 are employees and 22 are guests," Reilly read from a prepared statement.
Reilly said they are doing everything to extend assistance to the families of the victims.
"This is also a very difficult time for all of us here in Resorts World Manila. We consider our guests, patrons and our employees as family," he said.
According to Reilly, the gunman initially figured in a firefight with casino security men. He said the gunman managed to escape though severely wounded, and was later found in a room where he had set himself ablaze.
Reilly stood firm that there were no security lapses on their part.
He said the security guards inside the complex were not provided firearms as a rule.
"We had an armed intruder who entered into the property. He fired his firearm. He was in combat attire. Security inside the premises do not carry firearms only on the outside of the premises," Reilly said.
"They (security guards) did not engage because you've seen that it would escalate the situation. Unfortunately, the situation did escalate a bit further, moving towards gaming areas," he added.
Reilly also maintained their fire safety measures "had worked as it should do."
He pointed out the issue was not about the fire, but the thick smoke that engulfed the gaming section of the establishment and eventually killed their patrons.
"There is proper ventilation in the property. Unfortunately, I think a lot there was a degree of panic, which I understand when people hear gunshots they are going to hide for cover, evacuating the property quickly. They seek shelter and that is why they were overwhelmed by smoke," Reilly said.
"Unfortunately, those victims suffer from smoke inhalation," he added.
Resorts World officials led by Reilly read the names of the victims.
Among the fatalities were P Ling Hung Lee, Lai Wai Chung and Lai Yu Cheeh while the other 15 identified guests are Filipinos. They are Caccam Katherine Cervantes, Pacita Comquilla, Pomenciano Vargas Jr., Susan Abulencia, Jaime Gaboy Jr., Ariel Abrogar, Cliff Reyneira, Rolando Sison, Eluterio Reyes, Antonina Alanigue, Sheila Malicse, Carmelita de la Cruz, Mielle Oliveros, Pamela Silvestre and Elizabeth Gonzales.
Four of the victims remain unidentified, Reilly said.
He also identified 11 of the dead casino employees as Hazel Yangco, Jallah Ramos, Melvin Herrera, Arvi Gavino, BJ Pagsibigan, Rojie S Uy, Jessica Alindogan Merylle Gwen Ala, Lea Grace Mozo, Loudette Santos and Kay Nuguerra.
Reilly branded as speculation reports that the suspect was a previous guest at the casino who lost in gambling. He noted the police claim that the motive could have been simple robbery since the gunman tried to grab casino chips.
Reilly also hailed the police and security forces for immediately responding to the scene.
The Philippine Amusement and Gaming Corp. (Pagcor) said the incident was an isolated case of random violence "and was caused by a foreign-looking man who appeared to be deranged."
Pagcor said it will coordinate with operators of other casinos to ensure the safety of all guests and employees to prevent a similar incident from happening. – Christina Mendez, Robertzon Ramirez, Perseus Echeminada, Iris Gonzales, AFP, AP