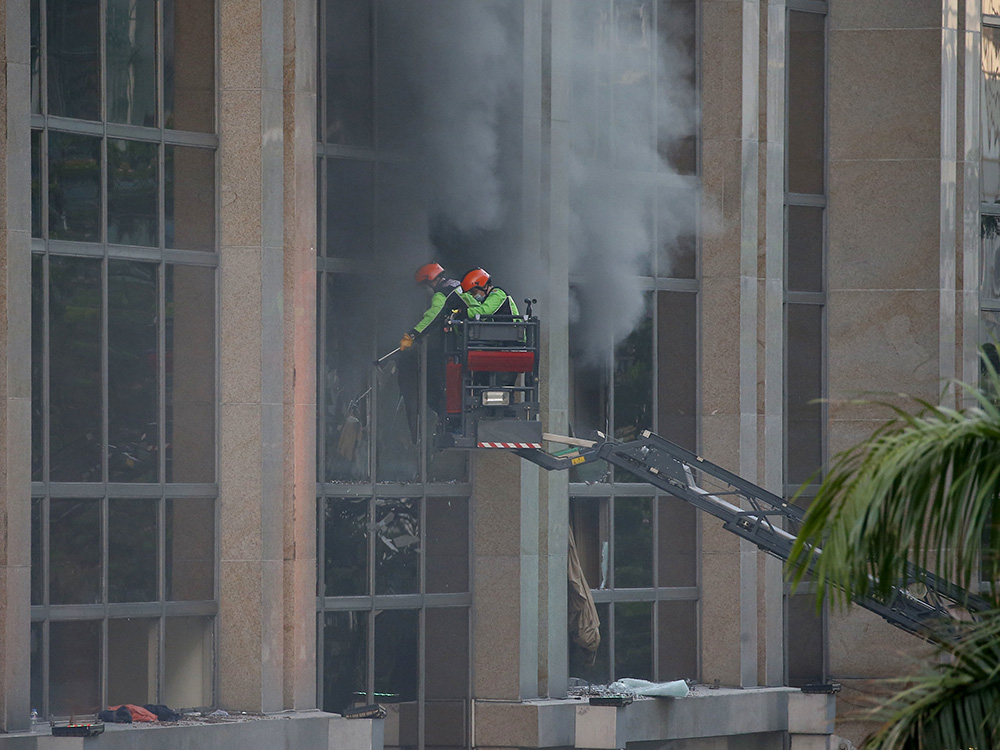 Firemen break the glass panels to allow the smoke to escape from the Resorts World Manila complex Friday, June 2, 2017 in suburban Pasay city, southeast of Manila, Philippines. A masked gunman stormed a hotel-casino complex in the Philippine capital early Friday, shooting up a TV screen, torching gambling tables and stuffing a backpack with casino chips before fleeing, authorities said. AP/Bullit Marquez
Travel alert issued against Philippines after Resorts World attack
(philstar.com) - June 2, 2017 - 5:31am
MANILA, Philippines — The United States, Australia and the United Kingdom have issued travel advisories warning their citizens to be very cautious in their travel plans to the Philippines.
The three governments came out with the advisories following the attack at Resorts World Manila casino in Pasay City on Friday, which left at least 36 people dead, including the suspect.
On its website, the US Embassy posted an "emergency message" urging Americans to "exercise caution and review" of personal security parts.
"Remain aware of your surroundings, including local events, and monitor local news stations for updates. Heed any instructions given by local authorities," the statement read.
The government of United Kingdom said its citizens should "avoid the area and follow the advice of local authorities" after the incident at Resorts World Manila, which is right across the Ninoy Aquino International Airport Terminal 3.
The Australian Embassy also issued a similar advisory, citing that the Philippines has "a more volatile security environment" caused by the "deterioration in security in Mindanao."
"Travellers are reminded of the high threat of terrorist attack in the Philippines, including Manila. Exercise heightened caution at this time," the Australian embassy said.
"Be vigilant about your surrounds. Monitor the media for information that may impact on your security. Follow local authorities' advice," it added.
On Thursday, President Rodrigo Duterte said that the crisis in Marawi City was purely spawned by the so-called Islamic State of Iraq and Syria. He was prompted to declare martial law in the whole of Mindanao last week following clashes between the government forces and the ISIS-inspired Maute group.
The Philippine National Police said that Friday's attack at Resorts World Manila was not carried out by international terror group ISIS but by a lone gunman who entered the resort-casino complex. — Kristine Daguno-Bersamina