At least 4 foreign fighters killed in Marawi clash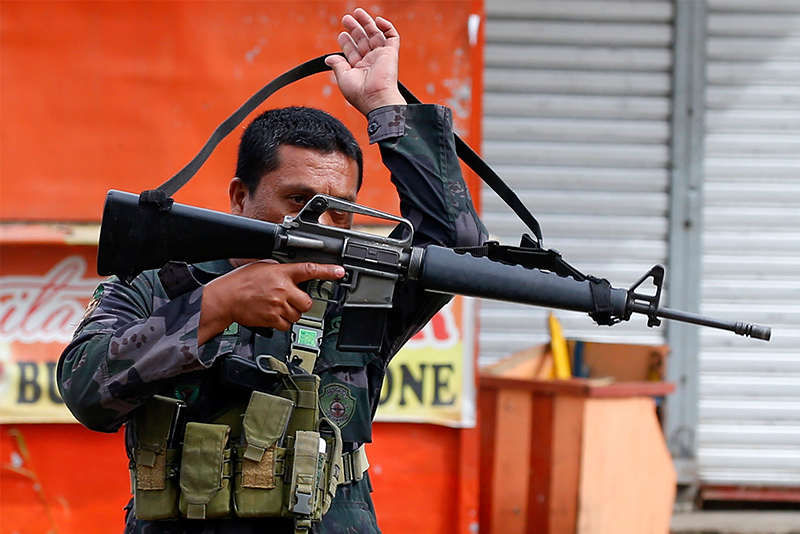 MANILA, Philippines (Updated 4:54 p.m.) — The military chief said three Malaysians, an Indonesian and possibly Arab extremists have been killed in Marawi City that Islamic militants planned to burn entirely in an audacious plot to project the lethal influence of the Islamic State group.
Gen. Eduardo Año told The Associated Press in an interview Tuesday that the military has made advances in containing the weeklong siege of Marawi city.
LIVE UPDATES: Martial law in Mindanao
He said a top Filipino militant is believed to have been killed and the leader of the attack was wounded in the fighting.
Año also told AP that the extremists plotted to set Marawi ablaze and kill as many Christians in nearby Iligan city on Ramadan to mimic the violence seen by the world in Syria and Iraq.
State forces now control most of the southern city, the military said on Tuesday.
The militants linked to the so-called Islamic State launched a bloody siege in Marawi nearly a week ago. The army launched airstrikes and went house-to-house to crush areas of resistance.
"They are weak," Año, the military chief of staff, said of the gunmen, speaking at a hospital where injured soldiers were being treated. "It's just a matter of time for us to clear them from all their hiding places."
Last week, the government said that foreign terrorists were involved in the attack, endorsing the idea that the incident was "invasion" despite having been sparked by a botched military raid. — Reports from the Associated Press