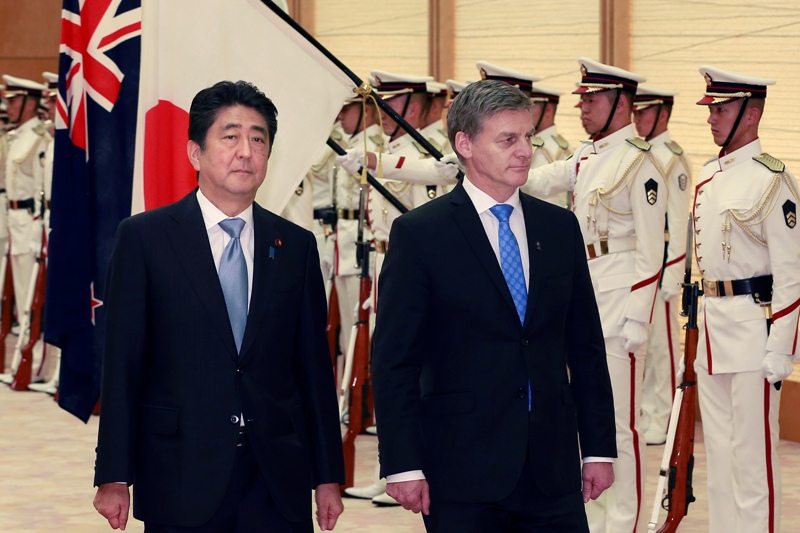 New Zealand Prime Minister Bill English, right, accompanied by his Japanese counterpart Shinzo Abe, reviews an honor guard prior to their meeting at Abe's official residence in Tokyo, Wednesday, May 17, 2017. AP/Shizuo Kambayashi, Pool
Japan, New Zealand underscore arbitral ruling on South China Sea, angering China
MANILA, Philippines — Japan Prime Minister Shinzo Abe and New Zealand Prime Minister Bill English have expressed concern over the disputed South China Sea following their meeting in Tokyo on Wednesday.
In their joint statement released after the meeting, the two leaders called on concerned parties to settle disputes by peaceful means in accordance with the United Nations Convention on the Law of the Sea and in light of the award issued by an international arbitral tribunal.
On July 12, 2016, the Permanent Court of Arbitration issued the award invalidating China's nine-dash line claim over the disputed waters. The court also ruled that Beijing violated its commitment under the UNCLOS for building artificial islands within the Philippines' exclusive economic zone.
The Philippines, under the Duterte administration, has decided to set aside the ruling in settling the dispute with China.
'Inopportune'
Abe and English called for the early finalization of a Code of Conduct in the South China Sea and full implementation of the Declaration on the Conduct of Parties in the South China Sea.
"They called on all parties to uphold freedom of navigation and overflight and ensure unimpeded trade while avoiding provocative actions that could increase tensions and erode regional trust and confidence, including land reclamation, building of outposts, construction and militarisation," the joint statement read.
Beijing, however, finds the statement of Japan and New Zealand "rather inopportune."
"Given all these, Japan still exerts itself in every possible way to stir up trouble and exaggerate what it called 'the tense situation' which does not exist at all," Chinese Foreign Ministry spokesperson Hua Chunying said in a press briefing Thursday.
Hua stressed that the arbitration case on the South China Sea has "already been turned over as a page of history."
Philippine-China bilateral talks
Beijing urged Tokyo to adjust its mindset for mutual trust between regional countries and for peace and stability in the region.
"We cannot help but wondering: what does Japan really want? Peace and stability in the South China Sea? Or is it exactly peace and stability in the South China Sea as well as improving relations between China and the Philippines and other ASEAN member states that worry Japan so much?" Hua said.
The Philippines and China are set to hold the inaugural meeting of their bilateral consultation mechanism on the South China Sea dispute on Friday.
"The two sides expect to have friendly exchanges during this meeting on the relevant maritime issue and properly manage disputes through bilateral dialogues so as to create favorable conditions for the final settlement of the relevant dispute and ensure a good atmosphere for the sound and steady development of bilateral ties and the smooth progress of practical cooperation in various fields," the spokesperson said.
RELATED: China expects to 'disperse suspicion' in planned talks with Philippines