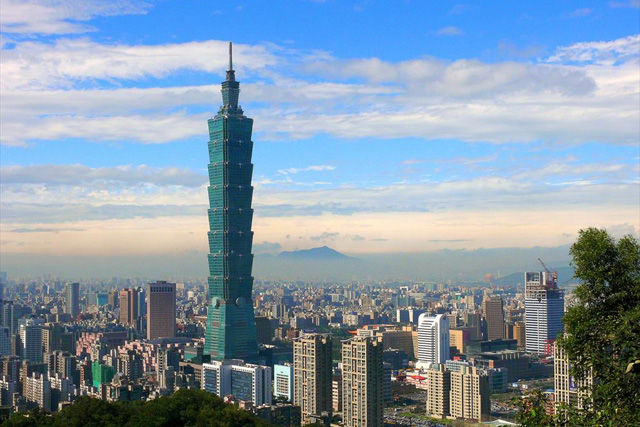 Taiwan President Tsai Ing-wen's government has announced that it was postponing its plan to grant visa-free entry to Filipinos. Taipei 101
Taiwan postpones visa-free entry for Filipinos
(Philstar.com) - May 17, 2017 - 4:49am
MANILA, Philippines — Taiwan has deferred its plan to give Filipinos visa-free entry to the island state this June, its economic and cultural office in Manila announced, as it advised prospective travelers to follow existing visa regulations and procedures in the meantime.
In a statement, the Taipei Economic and Cultural Office (TECO) in the Philippines said that Taiwan's Ministry of Foreign Affairs (MOFA) had recently announced the postponement of its plan to give Philippine nationals visa-free entry for a period of one year starting this June, citing the need to "complete relevant administrative procedures and inter-agency coordination."
According to the TECO, the MOFA is expected to release the full details of the implementation of the visa-free travel plan and its exact start date of implementation in September or "at an appropriate date in due course."
"The Ministry of Foreign Affairs (MOFA) of the Republic of China (Taiwan) has recently announced that the implementation of visa-free entry to the ROC (Taiwan) for Filipinos has been postponed in order to complete relevant administrative procedures and inter-agency coordination," the TECO statement said.
Gary Song-Huann Lin, the Taiwanese representative to the Philippines, said that the grant of visa-free travels to Filipinos remained their priority, and this deferment was only meant to ensure smooth operations, more effective immigration procedure and the safety of all passengers.
"[T]he Philippines is considered as an important partner of Taiwan, so we are really making efforts to welcome more Filipino visitors to visit Taiwan, and the postponement of the visa-free arrangements is only intended to conduct seamless operations, facilitate the entry to Taiwan, and enhance security and safety for everyone," Lin said.
The proposed visa-free arrangement for Filipinos was announced in April as part of its "New Southbound Policy" to enhance economic and cultural ties with South and Southeast Asian nations. Taiwan has, under the policy, adopted a number of visa liberalization measures for Filipinos since 2016.
Despite the postponement, TECO said that since October 2016 the Philippines had been included in its e-visa program intended for Filipinos who wish to go to Taiwan for a short visit.
"[F]or Filipinos who wish to visit Taiwan for tourism or a short visit, they are advised to continue to apply for either free Travel Authorization Certification (TAC), or payable e-visa (single entry:NTD1,632) or the payable appropriate proper visa stamped in the passport (single entry:P2,400, multiple entry:P4,800)," it said.
In addition, TECO said that starting June 1 this year Filipinos who had been issued with Taiwanese visa (except labor visas with remarks "FL" or "X") over the past 10 years may apply for TAC free of any fee. The said TAC allows multiple entries to Taiwan, valid for 90 days with every stay up to a maximum of 30 days.
Based on Taiwanese government data, the number of tourists from these countries climbed to 68,000, a 42.8-percent increase. This growth was the biggest in four years.
Aside from tourism, other priority areas for Philippine-Taiwanese relations were trade, investment, agricultural, technology, economic, cultural, educational and people-to-people cooperation and exchanges between Taiwan and the Philippines.
Taiwan said it would also implement a no-visa policy for all Southeast Asian countries during the Association of the Southeast Asian Nations Business Advisory Council's Prosperity for All Summit last April 28.