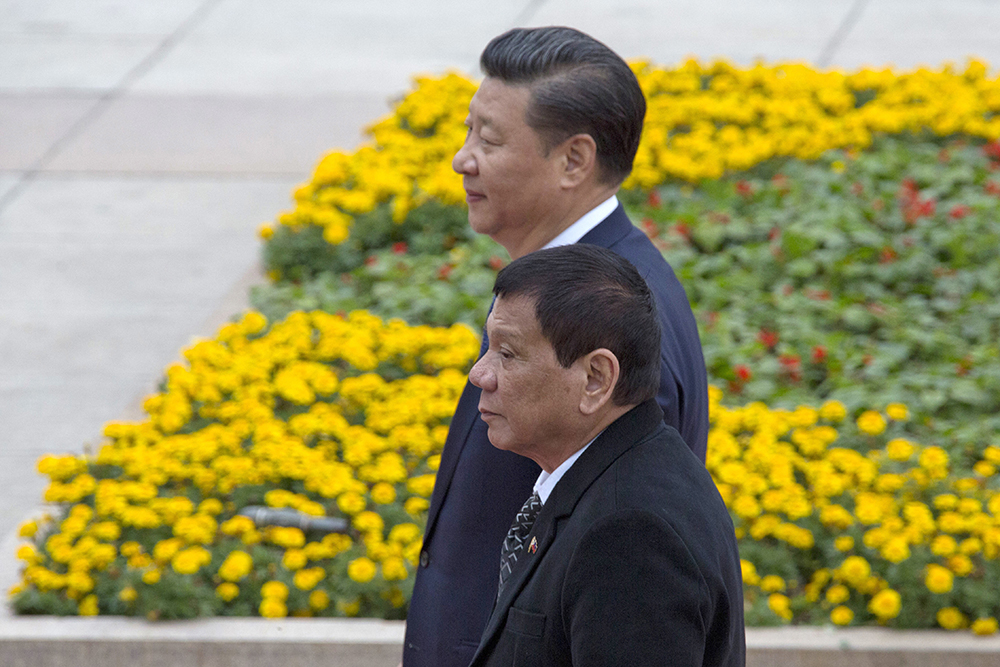 President Rodrigo Duterte yesterday skipped the opening ceremony of the Belt and Road Initiative, where President Xi Jinping led the rites in ushering countries into a China-defined new world order of connectivity, trade and economic development. AP/Ng Han Guan, File
Duterte skips Belt and Road opening rites
BEIJING – President Duterte yesterday skipped the opening ceremony of the Belt and Road Initiative, where President Xi Jinping led the rites in ushering countries into a China-defined new world order of connectivity, trade and economic development.
After Xi's opening remarks, Russian President Vladimir Putin and Turkish President Recep Tayyip Erdogan delivered speeches at the China National Convention Center in the Beijing Olympic Park.
In his opening remarks, Xi called for joint efforts to build the Belt and Road into an avenue for peace, prosperity, innovation, progress and civilization.
"Spanning thousands of miles and years, the ancient silk routes embody the spirit of peace and cooperation, openness and inclusiveness, mutual learning and mutual benefit," Xi said.
The Chinese leader described the Silk Road as a spirit of great heritage of human civilization.
Apart from Xi, Putin and Erdogan, the other heads of states and delegates include officials, entrepreneurs, financiers and journalists from over 130 countries.
UN Secretary General Antonio Guterres, World Bank president Jim Yong Kim, and Christine Lagarde, managing director of the International Monetary Fund also attended the event.
Duterte's absence came after he said the summit was a welcome development, calling it a new page turned in the history of the Philippines, China and the Association of Southeast Asian Nations (ASEAN).
Duterte, known to be a nocturnal person, arrived past 11 p.m. on Saturday after a working visit in Hong Kong and some private time with his family.
He earlier attended the World Economic Forum (WEF) for the ASEAN in Phnom Penh, Cambodia.
Acting Foreign Affairs Secretary Enrique Manalo reportedly represented the President. While Duterte had announced the appointment of Sen. Alan Cayetano, the new foreign secretary has yet to be confirmed by the Commission on Appointments.
Sought for comment, Malacañang issued a statement from the Department of Foreign Affairs (DFA) about the Philippine delegation attending the first day of the landmark event that winds up today.
"The Philippines attended the Belt and Road Forum for International Cooperation, which was officially opened today by Chinese President Xi Jinping in Beijing," the statement read.
It added, "the Philippines listened with much interest to President Xi's opening remarks."
"We note that he described the Belt and Road as a bridge for peace, a road to prosperity, a way to boost inclusive growth and balanced development, and to promote equality. We share his view that we need a peaceful environment to achieve our developmental goals," the DFA said.
"We are looking forward to the One Belt One Road initiative in promoting a prosperous and peaceful community of nations," it added.
Among those present were Trade Secretary Ramon Lopez and Energy Secretary Alfredo Cusi.