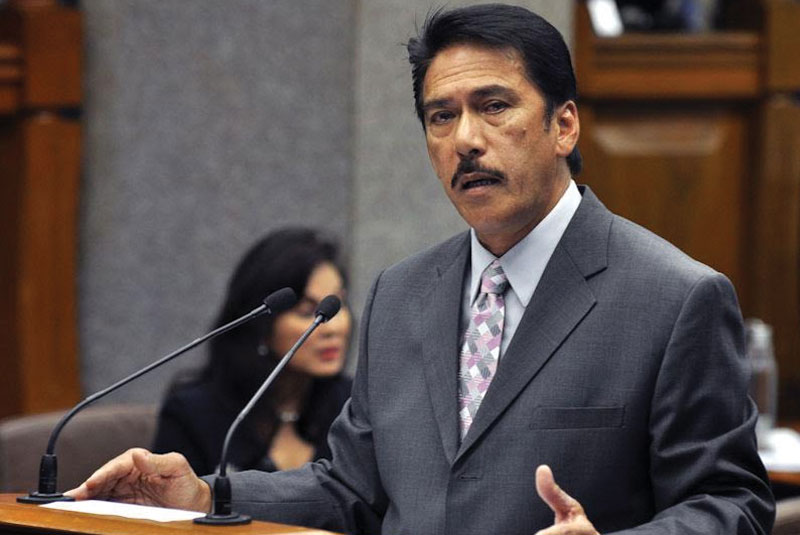 Sen. Vicente "Tito" Sotto III faces an ethics complaint over his "demeaning" single mother remark to Social Welfare Secretary Judy Taguiwalo. File photo
Sotto faces ethics complaint over remark on unmarried mothers
MANILA, Philippines — Representatives of various women's groups on Thursday filed ethics complaint against Sen. Vicente "Tito" Sotto III over his "demeaning" remark about Social Welfare Secretary Judy Taguiwalo being a solo parent.
The eight representative of women's groups filed the complaint against Sotto and other members of the Commission on Appointments before the Senate Committee on Ethics and Privileges, which Sotto chairs.
The following are the complainants:
Jean Enriquez of Coalition Against Trafficking in Women - Asia Pacific and the World March of Women (WMW)- Pilipinas,

Clarissa Militante of WMW,

Amparo Miciano Sykioco of Pambansang Koalisyon ng Kababaihan sa Kanayunan,

Judith Pamela Afan Pasimio or Lilak (Purple Action for Indigenous Women's Right),

Judy Ann Chan Miranda of Partido ng Manggawa,

Ana Maria Nemenzo of Woman Health Philippines,

Myrna Hernandez Jimenez and

Josua Mata of Sentro ng Mangagawa Pilipinas.
In their complaint, the groups said that Sotto, who last week drew flak for his comment that single mothers are referred to in street slang as "na-ano lang", normalized partiarchal views and trivialized the abandonment of responsibility over children.
They added that he also showed insensitivity and disregard for the hard work of every single mother.
"Senator Sotto manifested that he views single/solo mothers as less-than others; demeaning and disparaging women in the same position and making them easy targets of jokes and ridicule," the complainants' affidavit read.
"As legislator, he has undermined national policies that have underpinned laws such as The Solo Parents Welfare Act or Republic Act 8971 and the Magna Carta of Women, RA 9710," they said.
The groups reiterated that the function of the CA is to confirm executive appointments as mandated in the Constitution. They added that it is part of check and balance between the legislative and executive departments so that they will determine if the appointees are fit and competent within the qualification.
'CA members silent'
However, the groups found it alarming that not a single CA member corrected nor commented on Sotto's remark that is why they are included in their complaint.
"When members remain silent, it is tantamount to tolerating the sexist acts and remarks of Senator Sotto toward Judy Taguiwalo," the groups said.
"Worse, the comments solicited laughter, making those who did so as insulting and downgrading as the one who uttered insults," they added.
The groups prayed that the Sotto will inhibit himself as chair and member in the proceedings of the Ethics committee.
Gender-sensitivity training
They also asked the committee to impose a sanction on Sotto commensurate to the insult he made to all women, reprimand CA members for failing to comment or correct Sotto, and require all senators and staff to undergo gender sensitivity training facilitated by the Philippine Commission on Women.
For his part, Sotto who earlier apologized for his remark, said he will inhibit himself from the ethics complaint.
"As soon as I receive this officially, that is the first thing that I will do, I'll read but I will inhibit myself," Sotto said in a recorded ambush interview.
Sotto has said that he is sorry if people were offended by his remark, adding they did not get the joke. He added that people laughed when he made the comment, indicating it was not really offensive.