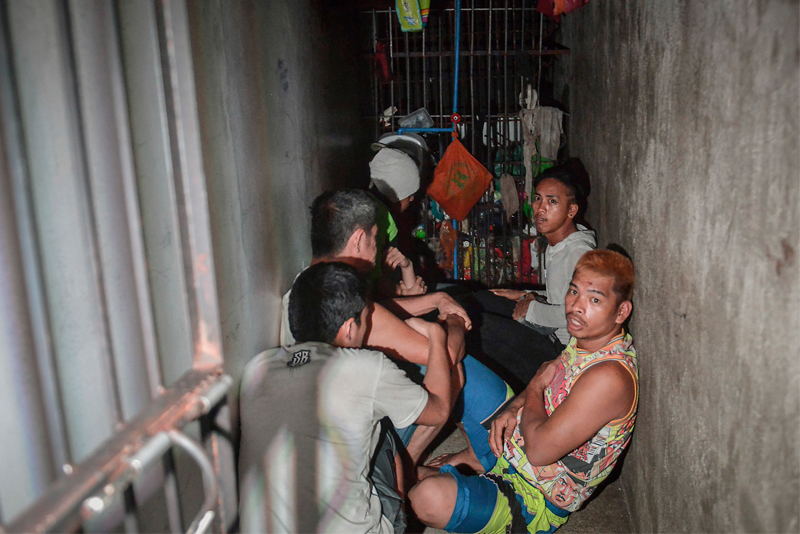 In this Thursday, April 27, 2017 photo, detainees crouch on the floor inside a secret jail after being discovered by the Commission on Human Rights at Police Station 1 at Tondo district in Manila, Philippines. Philippine police relieved a station chief and his staff on Friday after human rights representatives discovered the secret jail cell inside the Manila station where a dozen detainees complained they were being held for extortion. AP/Ezra Acayan
Manila cops charged over 'secret cell'
MANILA, Philippines — The Commission on Human Rights (CHR) on Wednesday filed a complaint before the Office of the Ombudsman against police officers assigned at the Manila Police District (MPD) station in Tondo where a secret detention cell was discovered two weeks ago.
CHR commissioner and officer-in-charge Karen Gomez-Dumpit led the submission to the Ombudsman of the records and sworn statements of investigators who took part in the surprise inspection at the MPD Station 1 on April 27.
"This is the most shocking and dehumanizing violations of detained person in the Philippines to date, and we expected the Philippine National Police (PNP) to take this matter seriously," Dumpit told reporters after the filing of the complaint.
"We hope that the PNP will fully cooperate with the CHR and the Office of the Ombudsman in holding the erring police officers accountable for their actions and lapses that have violated their mandate and motto to serve and protect," she added.
In her letter to Ombudsman Conchita Carpio-Morales, Dumpit said they have found sufficient cause for the Ombudsman to investigate MPD Station 1 commander Superintendent Robert Domingo and other personnel assigned at the station for violation of various laws.
"The CHR special team discovered the presence of 12 detainees, three of whom were women. The closet-sized cell, which is approximately one by five meters, is dark with no light and windows, and has one ceiling fan and only one male urinal, which forced the detainees to defecate in plastic bags," read the letter.
"The detainees were discovered to have slept in sitting position for lack of space and with no provision of beds, and that some had not eaten for days. Some detainees have also alleged that they were beaten and electrocuted," it added.
Dumpit noted that the names of the 12 detainees were not in the station logbook. They also alleged that the police were trying to extort money from them in exchange for their release.
Among the violations cited by the CHR include grave threats, arbitrary detention, grave coercion, robbery/extortion and several provisions of the Anti-Torture Law, which explicitly prohibits the existence of secret detention cells.
The CHR also urged the Morales to investigate Domingo and the other unnamed police officers for possible administrative sanctions.
Dumpit said they will leave it up to the Ombudsman to come up with appropriate action and investigation over the matter.
She maintained, however, that their evidence is strong to warrant the filing of charges against the police officers.
The CHR official said they will study the possible filing of a supplemental complaint against MPD chief Senior Superintendent Joel Coronel under the principle of command responsibility.
"We will be continuing our own investigations on the matter and cooperate with the Office of the Ombudsman for the speedy resolution of this case," she added.