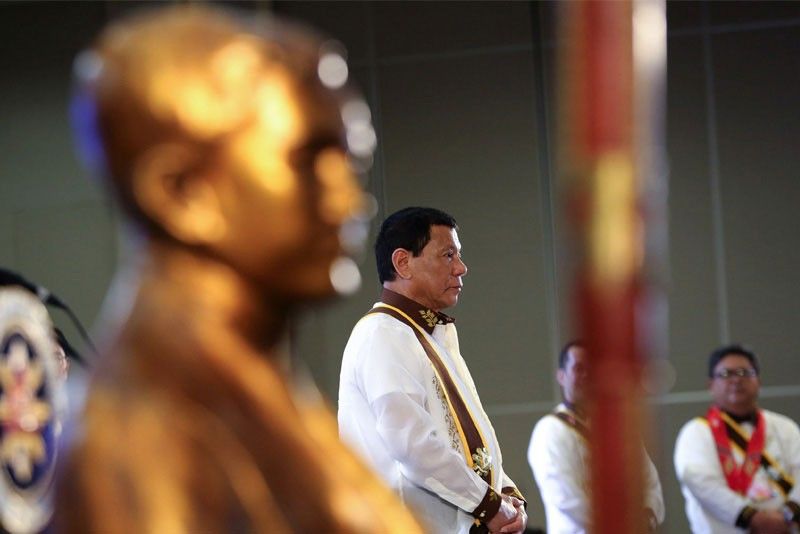 President Rodrigo Duterte declined yesterday the honorary doctor of laws degree offered by the University of the Philippines following strong criticism from his opponents.
PPD/Robinson Niñal Jr, File
Duterte declines UP honorary doctorate
Janvic Mateo
(The Philippine Star) - April 20, 2017 - 12:00am
MANILA, Philippines - With opponents saying what he deserved was a "doctor of loss, honoris cursing," President Duterte declined yesterday the honorary doctor of laws degree offered by the University of the Philippines.
He explained that he does not accept awards "as a matter of personal and official policy."
"With due respect to the University of the Philippines, I do not accept (awards). Even when I was mayor, I do not accept (awards)," the President said in an interview in Bohol yesterday. "Wala sa pagkatao ko (It goes against my personality)."
Duterte clarified that he is declining but not rejecting the offer.
"To use the word 'reject' is not good. I simply declined," he explained.
Earlier, Commission on Higher Education chair Patricia Licuanan, co-chair of the UP Board of Regents (BOR), confirmed that the body has agreed to offer the President the degree honoris causa.
"In keeping with tradition, the UP will confer an honorary degree on the President. President Duterte has yet to accept," Licuanan said in a text message to The STAR.
UP community up in arms
Even before Duterte declined the honorary degree, students, alumni and other members of the UP community are opposing the decision of its administration to offer Duterte an honorary doctor of laws degree.
Student regent Raoul Manuel, a member of the UP Board of Regents, said honors are not deserved by a president who supports the killings of citizens and leaders of progressive groups.
"Honors must not be given to a president that declares all-out war against his people to quell their struggle for just and lasting peace, and re-imposes death penalty to legitimize the killing of the poor," he said in a statement.
"Moreover, it is ironic that a university, which has then and now fought against state fascism, will now recognize a president that allowed the burial of (Ferdinand) Marcos in the Libingan ng mga Bayani – much against the will of the Filipino people," he added.
Manuel is the student representative to the 11-member BOR, the highest policymaking body of the university.
Sen. Francis Escudero has clarified that he did not move to grant Duterte an honorary degree but he also did not object when the motion was made during the April 5 BOR meeting.
'Doctor of Loss, Honoris Cursing'
On social media, students and alumni started a campaign against the conferment of the degree using the hashtags #DuterteNotWorthy and #NoDegreeForDuterte.
"By giving honor to a man who challenges basic human decency, discourages public dissent, promotes a culture of impunity and lauds extrajudicial killings, UP is taking a major step backward in upholding Honor and Excellence," a circulating post read.
Some netizens resorted to sarcasm or directly poked fun at the issue.
"Saw this on Facebook: dapat daw ang ibibigay ng UP kay PDutz ay Doctor of Philosophy, Honoris Cursing (what UP should give President Duterte is Doctor of Philosophy, Honoris Cursing)," STAR columnist Boo Chanco said.
"Mas bagay kay Duterte ang Doctor of Loss degree kaysa Doctor of Laws, tutal marami nang nawala sa Filipinas dahil sa kanya (What is more suitable to Duterte is Doctor of Loss, not Doctor of Laws. Anyway the Philippines already lost many things due to him)," Twitter user @_knowwell posted.
Former University of the Philippines vice president for legal affairs Theodore Te has joined the opposition. But Te, now spokesman for the Supreme Court, clarified that he is only voicing his opinion which is not in any way related to the SC.
In a post on his Facebook account, Te said he finds the plan rather offensive to the reputation of the premier university and believes that the President does not deserve the award.
"I rise in my personal capacity as a UP alumnus twice over, a former tenured faculty member, a former VP for Legal Affairs, a taxpayer and a Filipino to express how offended I am that my University and my College would even think of conferring this highest of honors on one who, more than any in recent history, has encouraged impunity and weakened the rule of law," Te stressed.
He also disagreed with BOR's position that an honorary degree to the President as well as the Chief Justice and the Senate President is a tradition of the state university.
He explained that he had served with many BOR members before and that none of them, no matter how untenable their position on a given issue, would simply invoke tradition as an argument.
Paolo to critics: You can have honorary degree
Presidential son and Davao Vice Mayor Paolo Duterte defended his father, telling critics of his father to back off.
"To the so-called learned individuals who frown upon the plan of the University of the Philippines to grant an honorary doctorate degree to the President, you can have that honorary degree for all we care," Paolo said in a statement.
"Given that and knowing my father, he does not give a heck with any honorary degree simply because he knows he did not work hard for such a degree.
"He has always been a simple man, satisfied with what he has and works hard to make a difference not just for his family but for the Dabawenyos and now the Filipino nation," he added.
But the younger Duterte said their family is still thankful to the UP Board of Regents for considering his father for the honorary degree.
Several supporters of Duterte also urged him not to accept the award.
"If you ask me, President Duterte doesn't need an honorary degree from UP. It has lost its honorable essence anyway when P-Noy received one," De La Salle University professor and known Duterte supporter Antonio Contreras said.
Not the first time
It was not the first time that the conferment of an honorary degree was met with protests by members of the UP community.
In 2011, several groups protested the decision of UP to offer then president Benigno Aquino III the same degree. Aquino accepted the offer and delivered the commencement address in UP Diliman that year.
According to UP vice president for public affairs Jose Dalisay Jr., 12 Philippine presidents were conferred with honorary degrees.
Aside from Aquino, also conferred with honorary degrees were former presidents Manuel Quezon (1929), Sergio Osmeña (1930), Manuel Roxas (1948), Elpidio Quirino (1949), Ramon Magsaysay (1955), Carlos Garcia (1959), Diosdado Macapagal (1965), Ferdinand Marcos (1966), Jose Laurel Sr. (1969, posthumous), Corazon Aquino (1986) and Fidel Ramos (1993).
Former presidents Joseph Estrada and Gloria Macapagal-Arroyo were also offered honorary degrees by the university, but they declined. – With Edith Regalado, Edu Punay, Paolo Romero