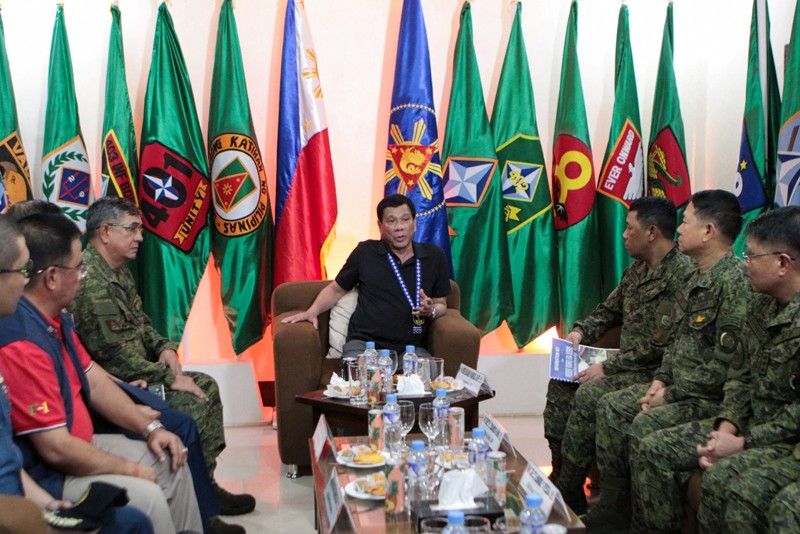 President Rodrigo Duterte told cub scouts at the Scouts' Celebration Day at the Palace that he would like them to join the Reserve Officers Training Corps (ROTC) for them to learn how to use guns in fighting the country's enemies.
PPD/Albert Alcain, file
Duterte tells Boy Scouts: I need soldiers
MANILA, Philippines — President Rodrigo Duterte on Monday told young scouts who were at Malacañang for an event to enter the Philippine Military Academy so that the country would have soldiers who would defend it from threats.
The chief executive made the comments at the Scouts' Day Celebration in the Palace, where he also encouraged the children to join the Reserve Officers Training Corps so they would learn how to use guns against the country's enemies.
"I need soldiers. Psst! Tingin dito. Kailangan ko ng boy scout, kailangan ko ng sundalo. Hindi naman lahat baka gusto ninyo?" Duterte said.
Duterte said that the country had already acquired a number of air and naval assets, but it does not have a sufficient number of pilots and navy officers who would man them. The president blamed this shortage on the abolition of the ROTC because of the death of a university student in 2001.
"Kailangan ko ng estudyante sa PMA kasi marami na akong eroplano, wala akong piloto. Marami akong barko, wala namang mag-Navy kasi dito tinanggal nila just because there was a hazing and resulted in the death of one ROTC. Yung gobyerno abolished the ROTC," he said.
The National Service Training Program Act was passed in 2002 made ROTC optional and voluntary. This law gave students an option to choose among ROTC, Civic Welfare Training Service (CWTS), and Literacy Training Service (LTS).
Cub scouts: Learn discipline, not 'libertarian' attitudes
To fill this gap, the president turned his attention to the kids in front of him.
The president told the cub scouts listening to his impromptu remarks that he wanted them to join the boy scouts, the Preparatory Military Training (also known as Citizen's Army Training or CAT), and eventually the ROTC where they would learn how to shoot a gun and fight the country's enemies.
The president said: "Kayo gusto ko lumaki kayo, mag-boy scout, mag-PMT, tapos maging ROTC kayo para may training kayo sa baril at paano makipag-away ng kalaban."
"Now walang nag-ROTC, walang alam kung sinong maghawak ng baril. Walang aral kung paano makipag-away sa mga kaaway natin," the president said.
Duterte assailed the prevalent "libertarian" attitude in the country for the decline in the number of entrants to the ROTC program. He said that this had resulted in a very relaxed attitude among the young, leading them to drinking and even drugs.
"Ito ngayon sobra ang libertarian attitudes ayaw na mag-boy scout, ayaw na mag-PMT, ayaw na mag-ROTC, walang alam kung hindi mag-inom, mag-rumble, sirain ang bayan at pumapasok ng droga," he said.
According to Libertarianism.org, libetarianism is a philosophy that emphasizes personal and economic freedoms as well as personal autonomy.
The president said that many people were hooked on drugs because they were not able to imbibe the discipline taught in the Boy Scouts, PMT and ROTC.
Addressing the young in his audience, Duterte said: "Meron bang addict sa inyo? Nakita niyo? Yan mga yan walang ginawa kasi walang disiplina. Kung dumaan sana yang ng Boy Scout, PMT, ROTC with a sense of responsibility. Kung may pumasok na mga dayo, walang alam itong mga to kundo mag-inom, mag-droga. Kaya kayo ang inasahan ko. Ready kayo?"
Since assuming the presidency last year, Duterte and his allies have been pushing to make ROTC mandatory again among senior high school students.