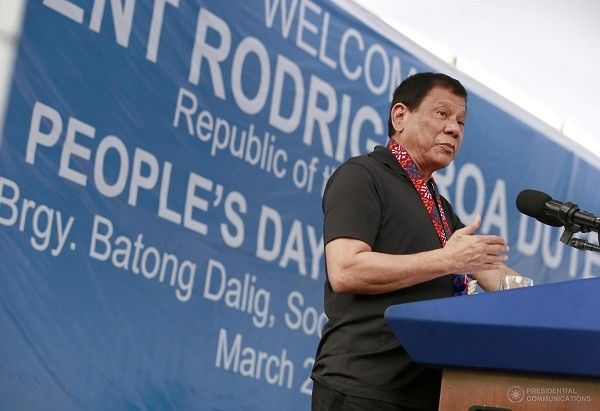 President Rodrigo Duterte, seen giving a speech in this March 29, 2017 photo in Barangay Batong Dalig, Socorro town in Oriental Mindoro, severely criticized some media organizations on Thursday for their unfair coverage of his administration.
PCOO/Rolando Mailo
Duterte blasts media organizations for 'unfair, twisted' coverage
MANILA, Philippines (Updated 8:03 p.m.) — President Rodrigo Duterte gave an expletive-laden speech against two Philippine media organizations on Thursday as he blasted their alleged propensity to lie and distort his statements.
The president's remarks at the oath-taking of newly-appointed government officials and members of Philippine Councilors' League are his latest against some media organizations he perceived to be unfair in their coverage of his administration.
Duterte used as example the coverage of a newspaper and a television station of some of his pronouncements on the government's war on drugs and during his presidential campaign last year.
He accused a newspaper of twisting and cherry-picking his words to make his war on drugs seem like a war on the poor.
"Alam mo kung maniwala kayo diyan sa mga [media], maraming ano diyan virulent ang ano... Lalo na yung mga istasyon...lalo yung ABS (ABS-CBN), Inquirer, natalo yung kandidato nila," the president said.
"They become really vicious and virulent. Ganun yan. Mabasa, makita mo naman talagang tinitwist nila. Yung slant na slant. Sinasadya nila. They do not complete the sentence. They zero in on the adjective or kung however you describe the situation."
The president angrily said, "Tingnan mo yung Inquirer. Ang sinasabi ko sila ang may sabi na pinapatay ko raw ang mahihirap. Alam mo ang Inquirer kahapon, talagang ... Basura talaga yan pati yung eleksyon. 'The poor will be killed.' Tingnan mo kung mag-slant."
The president accused the media corporations of portraying him negatively because their preferred candidate in last year's election lost.
"Galit sila kapag natalo yung kandidato nila. Hindi ko na lang pinapakinggan, hindi ko na lang binabasa. Except, of course, yung factual news kung ano nangyari tong araw na ito, pero itong mga opinion na araw na ito they have a lot of ass talaga as in ass," he said.
The president has been known to make remarks that are later on clarified and explained by his spokespersons and subordinates. The administration has also taken to blaming media for reports that do not portray it in a good light.
Before the president's speech on Thursday, presidential spokesman Ernesto Abella accused the New York Times of being part of a "well-funded campaign" to discredit Duterte.
Presidential Communications Secretary Martin Andanar, who has since been tasked with administrative work, has also locked horns with reporters in the past.
He previously alluded to Duterte critics bribing journalists covering the Senate to attend a press conference where retired policeman Arthur Lascañas claimed to be a member of the supposed Davao Death Squad vigilante group. Andanar later claimed he did not accuse the Senate media of accepting bribes.
In January, Andanar also accused reporters covering Duterte of misquoting the president's remarks on martial law. This prompted a protest from the Malacañang Press Corps.
"The media has no obligation to please or satisfy its sources because its loyalty is to the citizens, those who will be affected by the actions of people who are far more powerful than them," the group said in a statement.
Election coverage hit
Last year's media coverage also did not escape the president's attention as he slammed news organizations that reported on the alleged P200 million in his bank accounts.
Duterte dared anyone to prove that he indeed had P200 million in his account. He said that if someone would be able to do this, he would immediately resign.
"Tell them to get a statement. Bakit ako magbigay sa kalaban ko? Is there really P200 million sa account ko, I will resign tomorrow. Yan ang hamon ko sa lahat. If my children get involved in corruption, I will gladly step down. Yan ang totoo," he said.
"Dapat may magsabi sa inyo ngayon, p***** i** niyo, sinobrahan ninyo ang kalokohan ninyo. Dapat talaga. Somebody should say 'p********.' Baka takot magsabi. Pag makita kitang may-ari, 'p*******, bastos ka'," he said.
Duterte also did not like media speculations on his health after an oxygen concentrator was seen in some photos that appeared on his birthday.
"Marami pang speculations diyan na may sakit ako. Bakit ang lolo mo, hindi namatay? Gago talaga itong mga p******. Kayong mga Prieto, kayong mga Lopez did your grandfathers live forever?" he said, referring to the owners of the two media companies.
Environment Secretary Gina Lopez, incidentally, is from the same family that owns ABS-CBN. She was previously head of the ABS-CBN Foundation.
The chief executive said that there was no reason for him to lie. He added that he was a "straight" person who would just tell the truth.
He said that he regretted running for the presidency because of the press peddling lies about him.
Duterte also hinted that he might have a daily show on government station PTV-4 to counter the negative press coverage he has been receiving.
Inquirer: We uphold highest standards of journalism
The Philippine Daily Inquirer, one of the companies severely criticized by the president, released a statement, saying that it "takes exception to President Duterte's remarks" and emphasized that since its founding in 1985, it has been observing the highest standards in journalism.
"The Philippine Daily Inquirer takes exception to President Duterte's remarks that the newspaper has been unfair in its coverage of him and his administration," Jose Ma. Nolasco, the paper's executive editor, said in a statement.
"Since its founding in 1985, the Inquirer has upheld the highest standards of excellence in journalism. Even as we've courageously pursued the truth in our coverage, we've endeavored to get the administration's side of any controversy," he added.
The newspaper said that it even runs a weekly column that publishes the views of Cabinet officials on administration polices and even the personality of the president himself.
Nolasco said that its wide readership and awards, prizes and citations from local and international organizations "attest to its adherence to accuracy, fairness and balance in its reporting."
ABS-CBN has yet issue as statement as of this post.
The National Union of Journalists of the Philippines, meanwhile, defended the Inquirer and ABS-CBN and criticized Duterte for what it called a "brazen abuse" of his authority.
The group said that such words from the chief executive showed little appreciation for democracy and governance and the mindset of a tyrant who flaunted the laws of the land just because he was a public official.
"It was a brazen abuse of your immense power as chief executive of this land and only shows how little, if any, appreciation you have of democracy and governance," NUJP said.
"It is a mindset of the petty tyrant who mistakenly believes public office is an entitlement that allows you to flaunt the laws of the land that both grant you power and ensure the checks that prevent you from abusing that power."
It said that it would not expect any apology from the president considering his past actions on similar issues. It added that to expect the president to apologize was "an exercise in futility."
It also vowed to continue informing the people of what's happening the country despite Duterte's curses, threats and tirades against the press.
"But one thing we can assure you of, Sir, your curses and your threats cannot and will not prevent us, the community of independent Filipino journalists, from fulfilling our duty to inform the people as best we can of what is happening to our country, whether you agree with what we report or not," the group said.
'Oligarchs'
Duterte also assailed the Prietos and Lopezes, the families who own Inquirer and ABS-CBN respectively, describing them as oligarchs and "full of s***."
"That's what ails the Philippine society. It's the corrupt media, the Prietos and the Lopezes who are money-faced and the Church. The oligarchs of this country," the president said.
"Journalism is antagonistic. That's their role. Huwag lang sobrahan (just do not cross the line). Kayong mga Prieto, Lopez, you're full of s***," he added.
Duterte said he is ready to counter the tirades against him using state-run television station PTV 4.
"Eh di ako kuha ako ng programa araw-araw dito sa PTV 4 bastusin ko rin kayo (I'll just have a daily program in PTV-4 and I'll malign you there)," the president said.
"Kung ganun, puputahin ko kayo araw-araw. Iistorya ko mga buhay ng anak niyo. Huwag ninyo masyadong sobrahan. Di naman ako maghuremantado (If you're like that. I will curse at you everyday or I will make stories about your children. I will not go berserk). I will give your dues also," he said during an event of Go Negosyo also on Thursday.
Duterte also lambasted the Catholic Church anew for the supposed abuses committed by the clergy. The Church, the religious affiliation of more than 80 percent of Filipinos, has been criticizing the spate of killings linked to Duterte's war on drugs.
"That religion will become passé in the next 30 years," the president said. — with a report by Alexis Romero