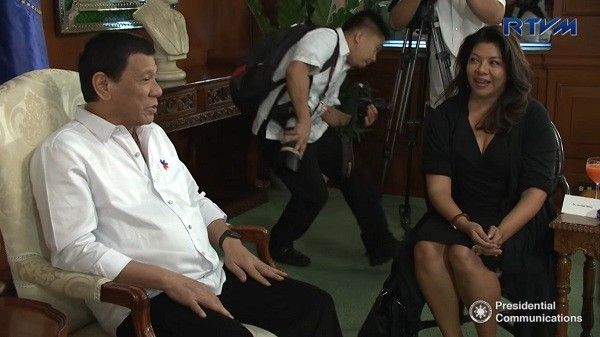 Department of Social Welfare and Development Assistant Secretary Lorraine Badoy sarcastically advised the European Union (EU) to engage in child pornography.
RTVM Screen Grab
DSWD asec to EU: Engage in child porn, that's what you're good at
MANILA, Philippines — An assistant secretary of the Department of Social Welfare and Development (DSWD), the government agency tasked to promote and protect the rights of the poor and vulnerable sectors of society including children, sarcastically advised the European Union (EU) to engage in child pornography.
DSWD Assistant Secretary Lorraine Badoy, a staunch supporter of President Rodrigo Duterte, lambasted the president's critics.
Aside from her advice to the EU, she also told critics such as Sen. Antonio Trillanes and Vice President Leni Robredo in a Facebook post to learn a craft such as crocheting and baking.
"Tapos yung mga taga EU, mag online child porn muna kayo. Dyan naman kayo magaling eh," she said.
"In the meantime, learn a craft. Mag-gantsilyo club muna kayo, Trillanes, Leni, etc. Bake ng red velvet cupcakes."
The EU and other international groups and organization have consistently criticized the government's conduct of its campaign to eradicate illegal drugs. Thousands have been killed in its wake although the exact figures vary.
Badoy said that toppling the government at this time is inadvisable considering the latest surveys showing that nine out of 10 Filipinos were supportive of him and the current results of Time magazine's 100 most influential people of 2017 online poll.
"Nothing and no one can stop it right now. He is beloved. Just look at the TIME Magazine survey of Top 100 Men and Women for 2017. He is the runaway top guy at 13% with no less than the pope, a poor second at 3%. And Vladimir Putin. And Mark Zuckerberg. And Justin Trudeau. And Bill Gates. All at 3% each," she said.
"Plus 9 out of 10 Filipinos right now approve of him. Wrap your dim minds around that, you clowns. Nine out of ten," she added.
Badoy also told those planning to remove that president to wait for him to commit a serious error so people would turn against him and his approval ratings would drop.
"THEN and only THEN would it be the time to let your cash flow to pay the EU idiots with galls as huge as Goodyear blimps to call for the president's resignation, or to talk before the UNDOC in your singsong voice and creepy smile with your made up numbers about killings and blah blah blah, and too, whatever shit the cub scouts Trillanes, Alejano are up to," Badoy, who was appointed by the president, said.