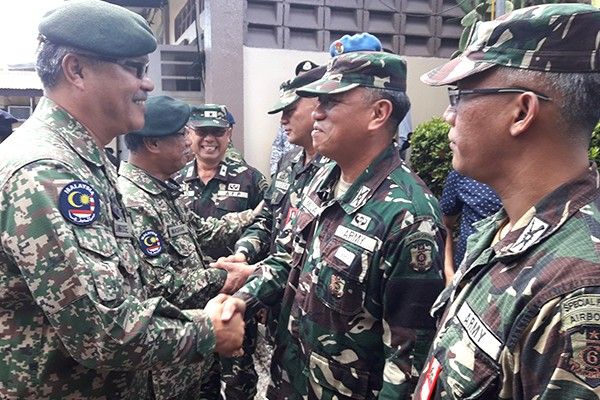 The erstwhile chief of the Malaysian-led International Monitoring Team, Gen. Wira Zamrose (left) and his successor, Gen. Paiman Masrani, huddle with Philippine Army officials present in Tuesday's IMT leadership transition rites in Cotabato City.
John Unson
Outgoing IMT chief: Jihadists, 'rido' threats to Mindanao peace
John Unson
(Philstar.com) - March 14, 2017 - 3:20pm
COTABATO CITY — The outgoing chief of the Malaysian-led International Monitoring Team (IMT) has warned that "rido" and the spread of misguided jihadists in Mindanao could imperil the southern peace process.
Malaysian Army Gen. Wira Zamrose on Tuesday said stakeholders to the Mindanao peace process should work harder in addressing cases of "rido," which means clan war in most Moro dialects.
He said multi-sectoral cooperation is also needed in preventing the expansion to many areas of local extremists boasting of allegiance to the Independent State of Iraq and Syria (ISIS).
Zamrose completed this week his 12-month peacekeeping mission in Mindanao's conflict-flashpoint areas covered by the 1997 ceasefire accord between Malacañang and the Moro Islamic Liberation Front (MILF).
He relinquished on Tuesday the IMT leadership to compatriot Gen. Paiman Masrani, who is also from the Malaysian Army.
.
Zamrose's subordinates in the IMT had also been replaced with a new batch under Masrani.
The IMT, comprised of military and police personnel from Malaysia, Brunei and Indonesia, and non-uniformed conflict resolution experts from Japan, Norway and the European Union, has been helping enforce since late 2003 the interim truce between the government and the MILF.
"I have urged some senior MILF leaders not to let misguided Islamic militants get through their communities," Zamrose said.
He said clan wars involving big groups in certain areas covered by the government-MILF ceasefire pact have also been affecting the peace overtures of both sides.
"In addressing rido we need the utmost cooperation of the MILF, the local communities and the Philippine police and military sectors. Once security forces intervene without coordination, undue encounters happen. That should be avoided," Zamrose said.
He said local sectors and government agencies involved in the Mindanao peace process should also work together in putting end to the continuing rise of local ISIS-inspired groups.
"The presence of these groups can eventually affect the peace process," he said.
Major Gen. Carlito Galvez, Jr., commander of the Zamboanga City-based Western Mindanao Command of the Armed Forces of the Philippines, earlier said there are now more than 50 terrorist cells, patterned after ISIS, in Lanao del Sur and in parts of central Mindanao.
The largest and most active of these fanatical extremist factions, the Maute terror group in Butig town in Lanao del Sur, has been sowing havoc in the province for two years now.
The Maute terrorists, led by siblings Omar and Abdullah Maute, are enforcing a ruthless Taliban-style justice system in areas where they operate and are using the black ISIS flag as their revolutionary banner.