Robredo considers legal action over online slander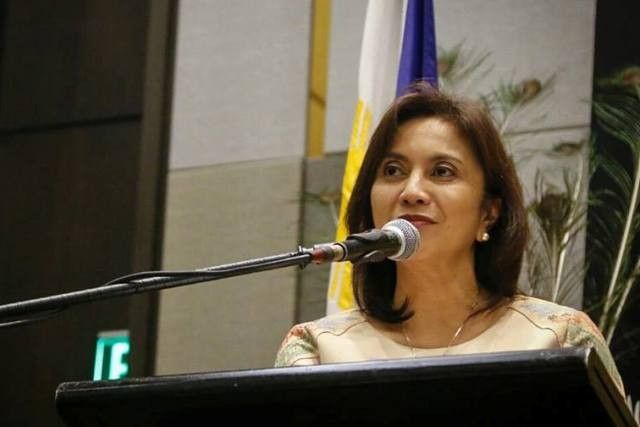 MANILA, Philippines — Vice President Leni Robredo is considering legal action against the people behind a website that she said is spreading lies about her and her family, including her late husband Jesse Robredo.
In a statement on Monday, the vice president reminded friends, allies and supporters to "always strive to keep our engagement honest and respectful" but admitted that "personally, I am greatly offended by this constant stream of lies."
She said that she believes that in the end, the truth will prevail and that "we must always find the strength and courage to rise above and stay true to who we are."
She said, however, that "it is increasingly becoming clear that we can no longer simply keep silent and endure," adding that "in the coming days, we shall be studying the various options, including legal action, for a principled response against these [attacks]."
The statement was released in response to We Are Collective, an anonymous group critical of the vice president that released an article online alleging the late Interior secretary was linked to jueteng and drugs when he was Naga City mayor. The anonymous group also alleged that he had a political rival killed.
The vice president, while not directly naming the group, dismissed the allegations as misinformation and lies.
"Some of those who wish to attack my integrity and character began a campaign to spread lies... Their attacks are vicious; not even my children are immune to their assault," she said earlier this month.
The We Are Collective website has been taken down over intellectual property violations for using copyrighted images of Vice President Robredo and of President Rodrigo Duterte. Information from the website has been reposted on Facebook, however.
"We must put a stop to the massive and orchestrated campaigns of defamation and deceit that have come to characterize our public spaces, particularly social media, of which Jesse, me, and our family have also been victimized," Robredo said Monday as she urged victims of similar attacks to "stand with us."
She said that "we must fight against the lies, the abuse, and the slander we have been subjected to by figures who hide behind anonymity."
In January, supposedly leaked emails discussing an alleged destabilization plot against Duterte were linked to her office by bloggers Sass Rogando Sasot and Thinking Pinoy, who later identified himself as Rey Joseph Nieto.
Presidential Communications Secretary Martin Andanar conducted a podcast interview with them and said that the government would investigate the alleged destabilization plot.
Results of the supposed investigation have yet to be released. — KE Javier